DutchCulture videos and podcasts 2022
Find an overview of this year's videos and podcasts, for example Artists in Conversation: Germany, Equal Exchange when working abroad and our Country Focus.
Artists in Conversation - Edition Morocco: rebalancing fe/male energy
In July, we organised in collaboration with Female Economy the Morocco edition: watch the very intimate and lively dialogue between like-minded artists. Together with Dutch theatre company Female Economy (FE) DutchCulture organised the Morocco edition of Artist in Conversation. Our country advisor Myriam Sahraoui - who is also co-founder of FE - hosts a very heartwarming, personal and intimate discussion between FE makers Adelheid Roosen and Ola Mafaalani with Ghassan el Hakim of the Moroccan musical theatre company Kabareh Cheikhats.
Country Focus: South Africa - Considering the present, acknowledging the past, looking to the future
Last June, the #cocreateIDENTITY Experience took place in Cape Town, organised by the Dutch Embassy and Consulate General in South Africa, together with South African partners. It was the final event of the #cocreateIDENTITY Programme (2020-2022) in South Africa with cultural activities and open dialogues around questions of identity and transformation in the context of the cultural heritage that connects South Africa and the Netherlands. Among the activities were the performances of Krotoa (Eva van de Kaap) at Artscape Theatre and Ons Perspektief at the Castle of Good Hope in Cape Town.
For our online Country Focus: South Africa, we invited some of the participating artists of the #cocreateIDENTITY Programme, to talk about their experiences and dive deeper into Dutch-South African artistic co-creation. With Sylvia Vollenhoven (SA), musician and composer at the Dutch music theatre company Volksoperahuis Jef Hofmeister (NL), performing artist Mathijs van Til (NL), photographer Lindsey Appolis (SA) and Consul General of the Netherlands in Cape Town Sebastiaan Messerschmidt (NL).
European Literature Night 2022: To be in a time of war
For the 2022 edition of the European Literature Night, EUNIC Netherlands invited writers to think about the effect of the war in Ukraine on Europe's past and future. How can writers speak up? How can the literary imagination create understanding and insight into the history that has led to this war? Have we been naïve or even blind, taking our security, freedom and rule of law for granted? Is our past still the same, or should we revisit it, and reconsider its fundamental lessons? And what are the lessons for the future?
Watch the video with Thomas Heerma van Voss (The Netherlands), Katja Petrowskaja (Ukraine), Laura Freixas (Spain), Nataša Kramberger (Slovenia), Dana Grigorcea (Switzerland/Rumania), Jitka Bret Srbová (Czech Republic) and Rein Raud (Estonia).

Country Focus: Poland – Far too many stories to fit into so short a programme
We offer you a glimpse into the current conditions of the Polish cultural sector. Into stories, excitement, frustrations and hope in Poland. Because there are many of all these, right now. We start with an overview by Polish art critic Karolina Plinta, who will tell us about some key characteristics of the sector. Three stories will follow her introduction. Małgorzata Ludwisiak, curator and former director of the Ujazdowski Castle, had to leave her position under unclear circumstances and found her new purpose far from the capital. Grzegorz Reske, a theatre director from Lublin who has been working in the Netherlands for six months and therefore has fresh experiences and views on the differences between the performing arts sector of the two countries. And finally, Bik Van der Pol will tell us about their work and subjective perception of the Polish art scene.
An Afropean Evening with Johny Pitts
What does it mean to be black in today's Europe? That's what British writer, photographer and tv-presenter Johny Pitts attempted to find out while travelling the continent back in 2015. He captured his findings in the impressive travelogue Afropean: Notes from Black Europe. Johnny Pitts was a guest at the Forum on European Culture in 2020. Together with De Balie, partner of the Forum, we hosted an evening to present the Dutch translation of the book: Afropeaan, Notities uit Zwart Europa.

Together with Johny Pitts, we immersed ourselves in 'Black Europe' with sounds, words, images and music through the lens of several Dutch artists.
Live stream opening of 'The Other Story, Moroccan Modernism' in CoBrA Museum
From 15 April until 18 September 2022, guest curator Abdelkader Benali (1975) will fill the Cobra Museum of Modern Art in Amstelveen with Moroccan art. For the first time in the Netherlands, some 40 Moroccan artists will be brought together to provide an overview of the development of Moroccan modern art from the country's independence in 1956 to the present day.
The opening of the exhibition took place during a live stream, in which we take you on a tour around the most interesting subjects and objects of the exhibition, together with guest speakers and moderator Myriam Sahraoui, DutchCulture's Morocco advisor.
DutchCulture podcast: tips & tricks for working in the United Kingdom after Brexit
Working as a Dutch (based) artist, musician, dancer or performer in the UK has not been very easy since Brexit. In this podcast, we will help you find your way. How to get an ATA carnet for your musical instruments? Do you need a visa? Kilian Kayser, percussionist of the Amsterdam band Personal Trainer performed twice in the UK last year and shares his experience in our 15-minute podcast (in Dutch).
Below is the podcast, in both Spotify and Soundcloud format.
Media
Image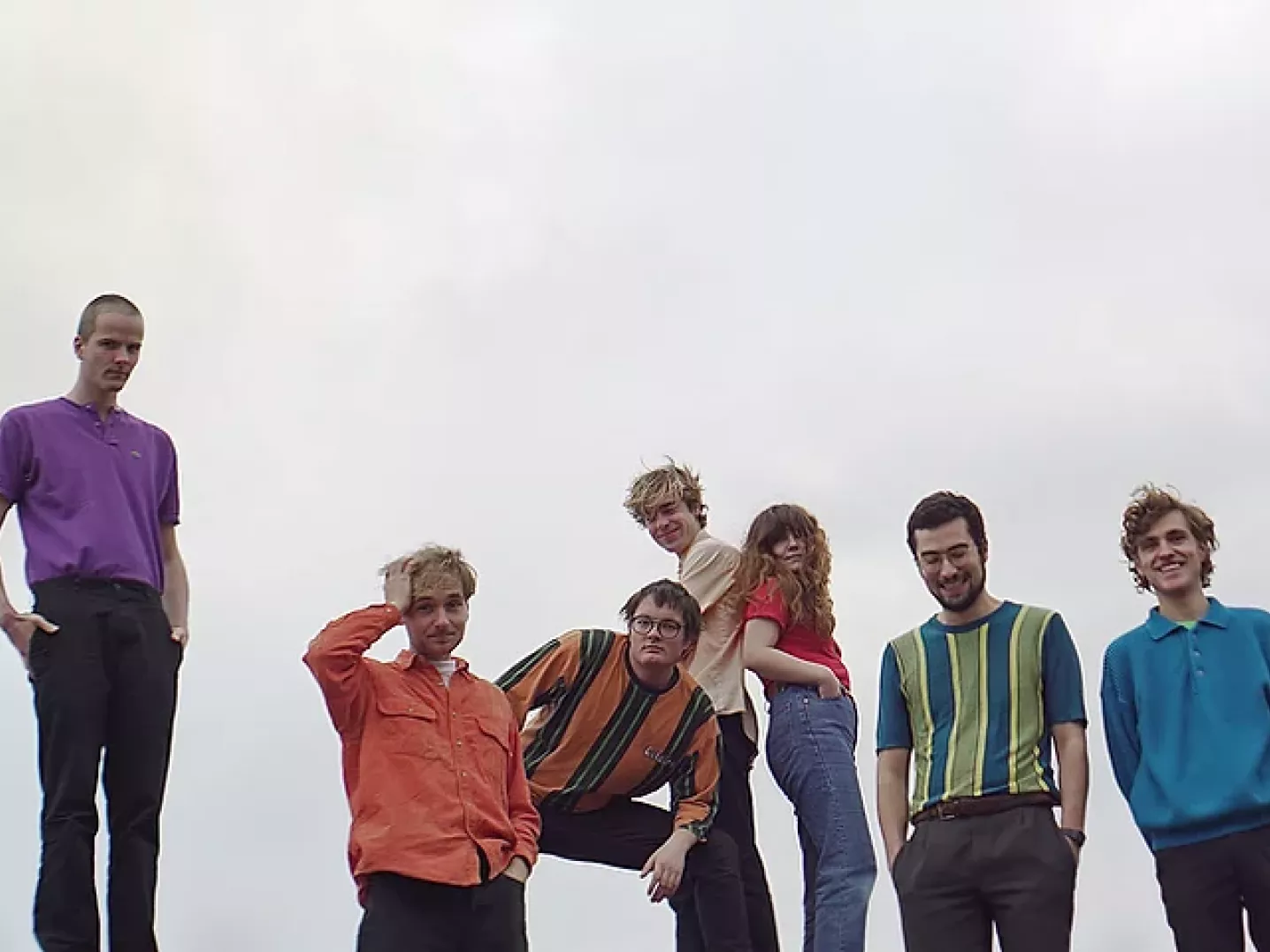 DutchCulture on Tour
DutchCulture on Tour reist langs de provincies in Nederland om lokale makers en organisaties te helpen bij hun stappen naar werken in het buitenland. Er zijn adviseurs aanwezig met kennis van specifieke landen, Europese subsidiemogelijkheden, mobiliteitsvraagstukken, erfgoed en informatie over residenties wereldwijd.
Bijvoorbeeld: wat kun je doen om je internationale netwerk te vergroten? Hoe vind je professionele partners in het buitenland? Welke programma's en subsidieregelingen bestaan er voor kunstenaars om internationale samenwerking aan te gaan? En wat voor rol spelen de Nederlandse ambassades hierin? Meld je aan voor een of meerdere infosessies met onze adviseurs via het inschrijfformulier. Zo helpen we je minstens één stap verder in je buitenlandambities.
Equal exchange when working abroad
We have been hosting a session on mobility and reciprocity. For example, when working abroad: how do you not only work for your own advantage but also give back to the community you are visiting? How can this visit be a co-production based on reciprocity and what are concrete examples of this? What is holding us back from co-creating and working on a basis of equal exchange?
We looked at this topic from the perspective of the individual artist to large festivals and funding bodies that deal with the same questions.
Artists in Conversation - edition Germany
Artists in Conversation is a series of broadcasts by DutchCulture in which we learn about cultural climates abroad. By offering artists the opportunity to engage in conversation with each other, we not only get to know the artists and their practices, but also the cultural sector of the environment they work in. Every edition of the series consists of a dialogue between an artist from the Netherlands and an artist from another country. Moreover, upcoming talents will be given the opportunity to present their work during the programme.