The wonderful world of biomaterials: GROW exhibition
On April 6 the Amsterdam-based Fashion for Good Museum will open its doors virtually for their first GROW exhibition.
It's time to discover the world of mushroom or pineapple-based leather, orange silk and biodegradable glitters made of eucalyptus. Under the theme of GROW, Fashion for Good explores the possibilities of sustainable biomaterials in fashion, offering alternative products and processes for one of the most polluting industries of the world. The exhibition features products, designs and ideas of Dutch and international brands and makers, such as Iris van Herpen, whose work is widely recognised as most experimental and forward-thinking, and the iconic Swiss brand Freitag, famous for recycling truck traps for bags and accessories. The first GROW exhibition aims to inspire and educate a broad audience of consumers, designers and investors.
Media
Image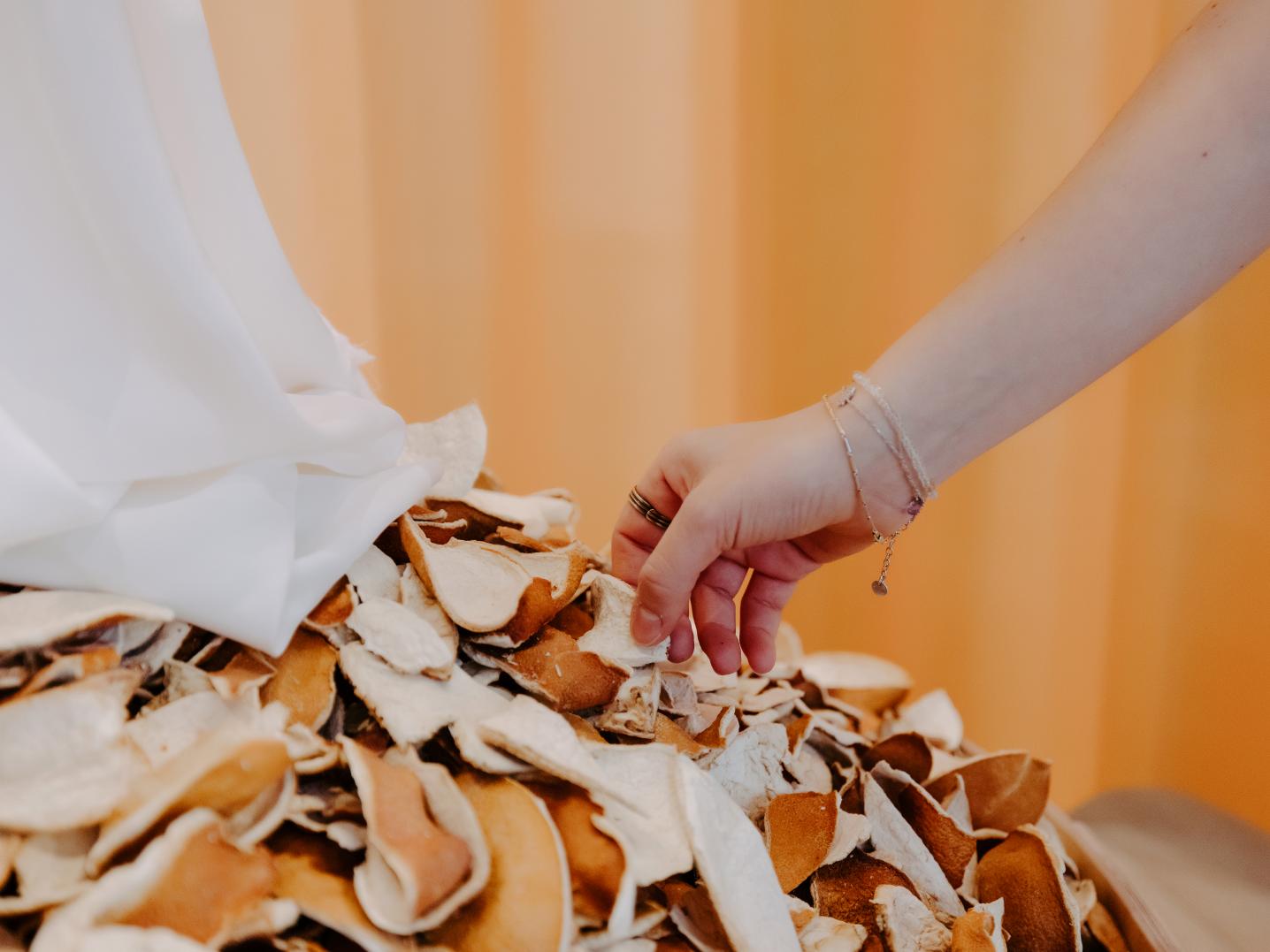 Defining biomaterials
Although biomaterials such as wood and cotton are omnipresent in many industries, there's much room for innovation, development and education, especially in the fashion industry. And what makes products and their raw materials actually sustainable? To answer this question Fashion for Good did research, in collaboration with sustainability innovation company Biofabricate and published the outcomes in a report, before curating the exhibit. Their goal was to define what biomaterials actually are, what different forms and origins biomaterials have and to share their insights with other organisations and brands in the fashion industry, explains Anne-Ro Klevant Groen, marketing and communications director at Fashion for Good.
Since there are many different sorts of materials with a natural origin, the report's definition of biomaterials include all kinds of biosynthetic materials and biofabricated ingredients as well. Besides their natural origin, the production process of innovative biomaterials must be sustainable and they should be durable in use. Furthermore the material must be recyclable or biodegradable after use of the product, to contribute to a circular industry.
Infinna as an alternative for cotton
A striking example is the development of cotton-like fibers, called Infinna, that can infinitely turn cotton-rich textile waste, paper and cardboard into new fibers for the textile industry. Hereby the Finland-based Infinited Fiber Company, who came up with the material, offers a solution for the fact that the quality of cotton fibres decreases over time. Moreover, infinite fibres can be rapidly applicated on a large scale in the fashion industry. Fashion designer Reuben Selby, whose creations are being displayed in the exhibition, collaborated with Infinited Fiber Company and used textile consisting of Infinna mixed with organic cotton.
Media
Image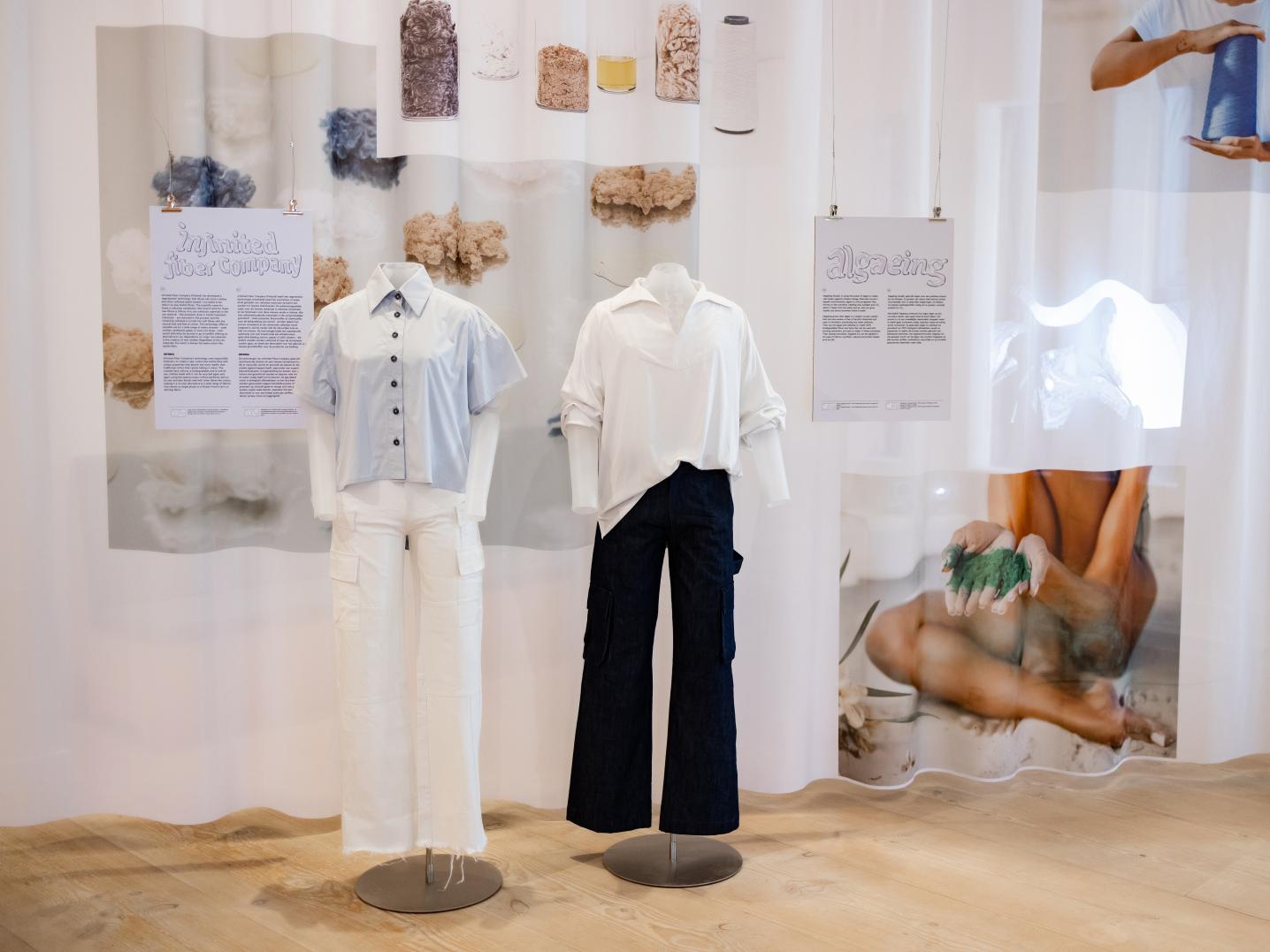 Change the industry
Fashion for Good was founded in 2017 to promote and stimulate a sustainable and responsible clothing industry, in various ways and on different levels. It has close partnerships and collaborations with big brands such as Adidas and Stella McCarty to inspire and connect the fashion industry with creative, affordable and sustainable solutions. Besides, Fashion for Good funds and supports sustainability and tech companies and provides a platform for young pioneers with visions for the future of fashion. At the end of 2020 the Museum of Fashion for Good at Rokin in Amsterdam was officially opened.
Talent programme
GROW is the first exhibition at the Fashion for Good Museum. Due to the current lockdown the entire exhibit is made available for an international audience through virtual tours. The opening of the exhibition also marks the deadline for the GROW Talent programme application. As of July 2021, during a three-month programme a group of young Dutch fashion designers, a visual content creator and copywriter with international ambitions will delve into the innovative and creative adaptations of biomaterials. Their goal is to create and curate the second tempting and educative GROW exhibition, showing the future of sustainable fashion. Hopefully they can contribute to the implementation of sustainable innovations in the products and fabrication processes of extensive international fashion brands.
Media
Image
Where and when to see
For the time being, virtual tours are through the museum are the only way to experience GROW. The museum hopes to open their doors at Rokin soon, where visitors learn about biomaterials not only with their sight, but also touch. The exhibition will be open till October 2021.