NewGen - Above & Beyond: 24 hours on the internet, a digital Dutch city trip
NewGen - Above & Beyond: 24 hours on the internet, a digital Dutch city trip
Discipline
Art & Science
Audiovisual Media
Digital Culture
Journalism
Music
Cesar Majorana - writer, film critic, artist, podcaster - takes us on a digital Dutch day trip, guiding us past his favourite online corners and hangouts.
In our article series NewGen - Above and Beyond, DutchCulture asked young writers from around the world to catch impressions of the ripples created by young creatives, makers, artists, and cultural professionals in their cities. In this series of articles, we travelled to Casablanca, Paramaribo, Warsaw, and Bristol to see the world through the perspective of a new generation of artists and cultural professionals. What is specific about the way they shape and create their work? What themes are they putting forward and what's their take on working across borders?

For this special edition, we asked Cesar Majorana to take us on a digital day trip through a virtual Dutch city, showing the ways in which platforms and creators are innovating how we interact with culture. Cesar was a panellist during our NewGen event Feet on the Ground, Work in the Cloud, where we discussed the relationship of emerging artists with the digital realm. Cesar is an alumnus of the Sandberg Institute but is more commonly known as a writer, columnist, and broadcaster at the VPRO. His passion and fascination for the internet manifest in the curation of the Instagram archive Why Vloggers Cry, with which he won a Social media award back in 2018, and now has resulted in the study of the smell of the internet, developed with "The Hmm". Who needs the algorithm when you've got Cesar?
Detours into different ponds
When the world wide web was invented, a few important decisions were completely overlooked. For example, there's no standard function for daily contact, so all our social relationships have been kidnapped by big social media companies. You can hardly speak to your family without Mark Zuckerberg selling ads in between.

Moreover, and this is worse, due to big tech hosting most of our daily lives, we are now stuck with algorithmic recommendations. I don't know how you feel about it, but I won't let a computer tell me what I like best. My preferences don't lie somewhere externally from me, waiting for a computer to fetch them, and besides - the main reason for the existence of such algorithms is that they provide an excuse to show you more ads. Although this whole guide is based on the idea that you are a visitor, in most places you will come online you will not be the customer but the product (this, you probably already learned by travelling the web).
What I sense the internet misses, is a sense of infrastructure. Our mobile browsers, upon opening, show us the sites we visit most. Every day billions of people come online to walk roughly the same route they always take. It is getting harder and harder to take a detour, to go swimming in a different pond.

All of the tips below exist either on the fringes of culture or right in the middle of it. But what they have in common is that they use the medium in which they appear (this can be Instagram, a discord server, or just an HTTP site) in a unique way - be it by capturing the hearts of audiences with sheer uniqueness, or by surpassing our expectations of a platform, communicating not only to our eyes but to our hearts. (I know this sounds trite, but hopefully, my brief descriptions will help you feel the same).
Let's begin
I start my day with the drawings of Rogier Roeters on Instagram, which feel like a shot of espresso from the purest Colombian coffee beans. Rogier draws what most people don't even dare to think aloud. His work has taken off in recent years, you see it now in Instagram stories far outside your own social bubble, but where other artists would diffuse their work, playing up to a major audience, Rogier his art still hits pure and fresh from the brewery all day. It's filled with truths that may wake you up.
Does the art world exist?
Had coffee? Time for your first existential wandering of the day. For example, about the question: what are you making art for?
I did, perhaps totally lost, without a bachelor's degree, an art master's at the Sandberg Institute. There I had an intense conversation with a tutor where I said: art interests me, but I find the art world a scary place. The tutor fired the following questions at me, sternly: "but what do you mean by the art world? Why would that exist? And what does that have to do with your work?", and I really didn't have answers to them. Maybe there is no sense in speaking about an 'art world'. I also think that when I see the videos of Keep It Real Art Critics.

Their current video work is more of a Gesamtkunstwerk of the weird cast they have attracted over the years, but it is valuable to see their first few art criticism videos. They are problematic in some small ways (the collective has repeatedly come under fierce criticism for alleged racism by the Rietveld Academy, followed by accusations of glorifying sexual violence surrounding the film Honeypot, ed.), but also incredibly addictive. With a sensational and armed attitude, they fight their way along the front lines of the art world. They usually do this uninvited, but in doing so they expose that the art world, even if it does not exist, is sometimes a scary place. Besides that, their approach to funding (a Patreon-page where members get to see films first or receive tickets to events) is worth stealing.
Misfits with character
I still have to tell you about the soundtrack for this city tour. It is usually an eclectic mess, but coincidentally I am listening to everything from the Burning Fik label today. It is a label for misfits with character and, more importantly, talents that capture every inch of your attention. I am a huge fan of Firoza, Nelcon, and Abel. Their pop music is universally brilliant, online, and complex. It mixes internet aesthetics with the wittiness of a tweet and most of their lyrics fit straight underneath an Instagram photo as a caption.
If you have come this far in the guide, you will have noticed that I like to put forward big statements about the role of the internet in our lives (I also do this about my dinner, the weather, and the ads on TV, but for my writing about the internet I am paid weekly by the VPRO Gids where I write a column about my online life).

Obsessed with the internet
When I want to talk to like-minded people about the web, I go to The HMM. A platform that is just as obsessed with the internet as I am. They have very creative online and offline events. There was one recently that they held in online multiplayer games - which suddenly brought us to a classic Runescape server to watch a lecture, and there was also an event during the lockdown where each speaker was on a different video chat platform. From Microsoft Teams to Zoom.

I visit their evenings and always learn new theories, people, and memes - a great yield. Their website is top-notch, you can also find previous events and dossiers there, but don't forget to join their discord server (if you look carefully you will find it on the site - discord servers are my favourite digital way to party crash a house party).


Favorite place in the cinema
The Eye Film Museum is our leading film institute (and their physical building is pretty hot too). They are very dedicated to the preservation of film heritage, which is why, when the usual streaming sites aren't gratifying, I visit the online film Eye film player. They have a fantastic collection of films from all over the world, including Dutch classics, contemporary works, and hidden gems. They do English subtitles as well. Plus, it's free and accessible from anywhere. Take a seat and enjoy the show.

And while you're at it: I've been making a very worthwhile podcast with Eye and my broadcasting-home VPRO: Op De Vijfde Rij (It translates to 'on the fifth row' which is my favorite place to sit in the cinema). It's not a review show, but more of a gonzo-journalist project, where I delve into all types of weird film stories or follow young talented makers in their artistic journeys (it's in Dutch. If you're willing to jump in start here;
Evening relaxation
Time for a drink! I love stumbling into the radio show of Extra Extra magazine, which is broadcasted worldwide from Rotterdam. I have been able to present an edition that lasted for 12 hours, but you can also choose from their selection of read short stories, music playlist or other audio work when you visit the website. Somehow 'online radio stations' are this old invention, pre-dating algorithmic playlists, that hold up really well if you need music for the office or a long walk. Their curation features amazing up-and-coming talent alongside prominent names in art, architecture, literature, theory and pop culture. Their cross-platform existence (it's a magazine, a radioshow, a podcast, a physical event) feels very natural.
Media
Image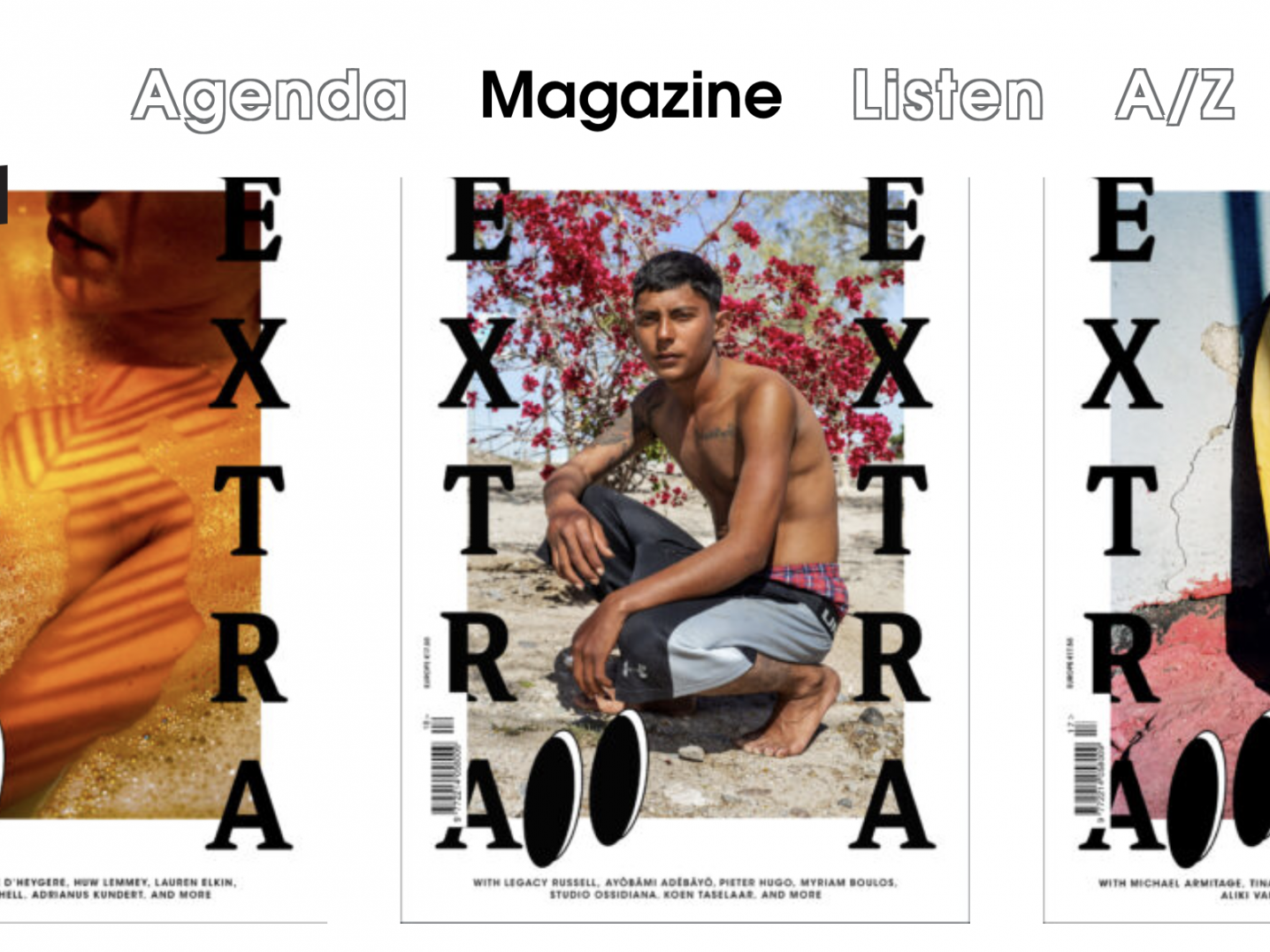 Ready to go to bed? Have trouble sleeping?
The Poetry International website is a goldmine. I go there to listen to the work of my favourite poets, usually when I have trouble falling asleep. Many of the poems are available in audio and almost all of them are provided with (very good) English translations. It's seldom that you stay on a page for a long time anymore, but due to the sheer size of their archive (and the somewhat clumsy indexing), I can stay on this site forever. A few of my favourites are: The Anthology of Fear, by Maria Barnas, the following scan will last five minutes by Lieke Marsman, and If You Leave by Ellen Deckwitz.

After some poetry, you can turn off your screen. Tomorrow is a new day full of possibilities on the internet. You will need the rest.