Een podcastserie over 50 jaar ICB. Podcast #2: Verstrengeld Erfgoed
Een podcastserie over 50 jaar ICB. Podcast #2: Verstrengeld Erfgoed
Nu corona internationale culturele samenwerking vrijwel stil heeft gelegd, blikken deze podcasts niet alleen terug maar ook vooruit op ontwikkelingen.
In samenwerking met de Boekmanstichting presenteert DutchCulture een podcastdrieluik over 50 jaar internationaal cultuurbeleid. In tijden waarin corona internationale samenwerking nagenoeg stil heeft gelegd, blikken deze podcasts niet alleen terug maar ook vooruit op de belangrijkste ontwikkelingen.
In hoeverre is internationaal beleid nog een afspiegeling van het cultuurpolitieke debat? Hoe verhouden lokaal en internationaal cultuurbeleid zich tot elkaar? Welke weerslag moet ons verstrengeld verleden hebben op de manier waarop we over erfgoed praten? Onder leiding van programmamaker en schrijver Mirthe Frese gaan drie auteurs uit Boekman over zijn of haar artikel in gesprek met een kenner uit het veld.
Podcast #2: Verstrengeld Erfgoed
In podcast #2 gaan historicus en senior onderzoeker bij het Koninklijk Instituut voor Taal-, Land- en Volkenkunde Esther Captain en kunstenaar en curator Richard Kofi in gesprek over internationaal erfgoed. Hoe gaan we anno 2021 om met de paradox rond koloniaal erfgoed? Waarom is de term gedeeld erfgoed problematisch? Wat is het perspectief van de wetenschap, curatoren en kunstenaars hierop? Niet alleen Captains artikel uit Boekman #125 wordt aangehaald om de complexiteit van verstrengeld erfgoed weer te geven, maar ook het recente advies van de Raad voor Cultuur over de onvoorwaardelijke teruggave van roofkunst. De verschillende belangen die hierbij een rol spelen en de machtsverhoudingen die worden blootgelegd maken het een ingewikkeld proces. En welke rol is hierbij weggelegd voor musea, archieven en universiteiten?
Beluister hier podcast #2: Verstrengeld Erfgoed.
Of luister via ons Spotify-kanaal.
Media
Image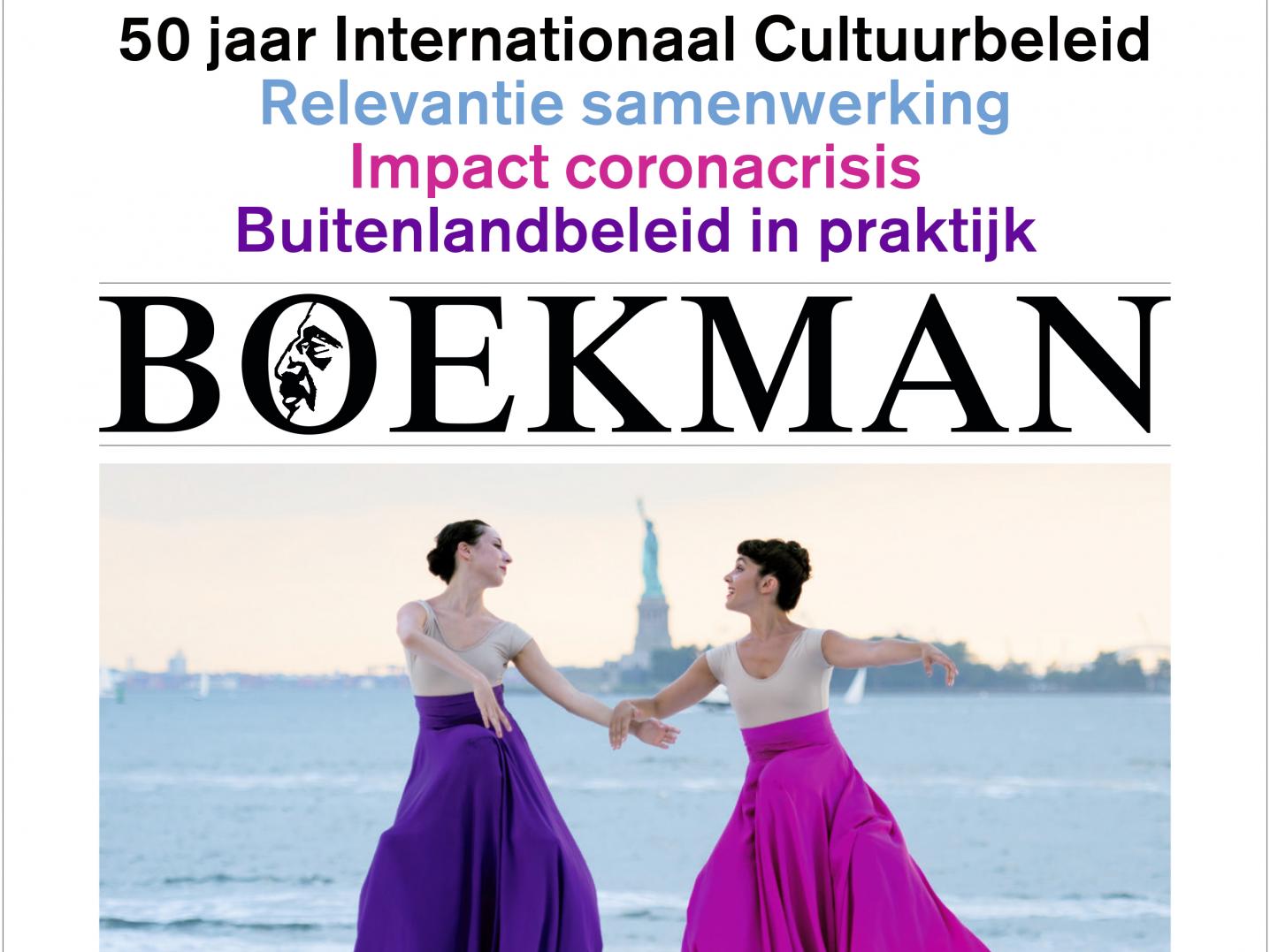 Podcast #3, te beluisteren vanaf 19 februari, heeft als onderwerp: "van cultuur voor iedereen naar cultuur door iedereen". Hierin gaan Conrad van Tiggelen en Yassine Boussaid met elkaar in gesprek.
Deze podcastserie kwam tot stand in een samenwerkingsverband van DutchCulture en de Boekmanstichting. De presentatie is in handen van programmamaker en schrijver Mirthe Frese. De podcast is onderdeel van het Boekman Tijdschrift #125: 50 jaar internationaal cultuurbeleid en Boekman Extra #22.