Seminar on the joint future of Indonesia and the Netherlands
Image
Image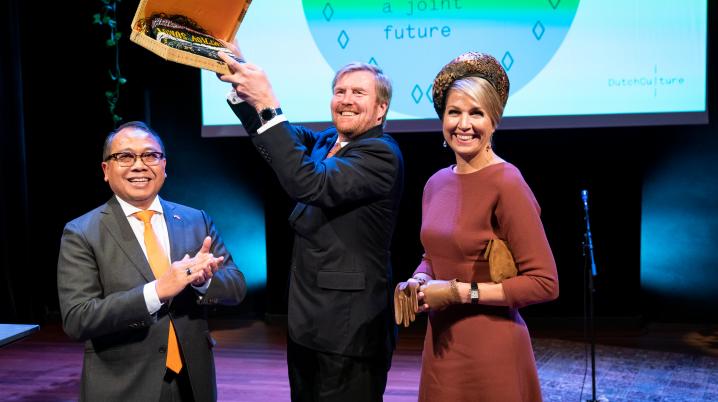 Seminar on the joint future of Indonesia and the Netherlands
The seminar was organised on February 18 ahead of the upcoming state visit and was attended by His Majesty King Willem-Alexander and Her Majesty Queen Máxima.
The seminar aimed at providing insights on four selected key themes that Indonesia and the Netherlands closely cooperate on. Several experts shined their light on the topic and informed Their Majesties and all the guests present on the recent developments and expectations for the future.
Moderators Robin de Vogel, policy officer at the Ministry of Foreign Affairs, and Remco Vermeulen, advisor Indonesia at DutchCulture, opened the seminar, after which H.E. Mr. I Gusti Agung Wesaka Puja, Ambassador of the Republic of Indonesia in the Netherlands, spoke a word of introduction. He reflected upon the relationship of Indonesia and the Netherlands, with its interwoven histories, which has grown into one that is vibrant, encompassing and mutually beneficial thanks to many years of efforts. "The strong connection that is binding us due to our shared past could serve as a powerful asset," said Ambassador Puja.
Media
Image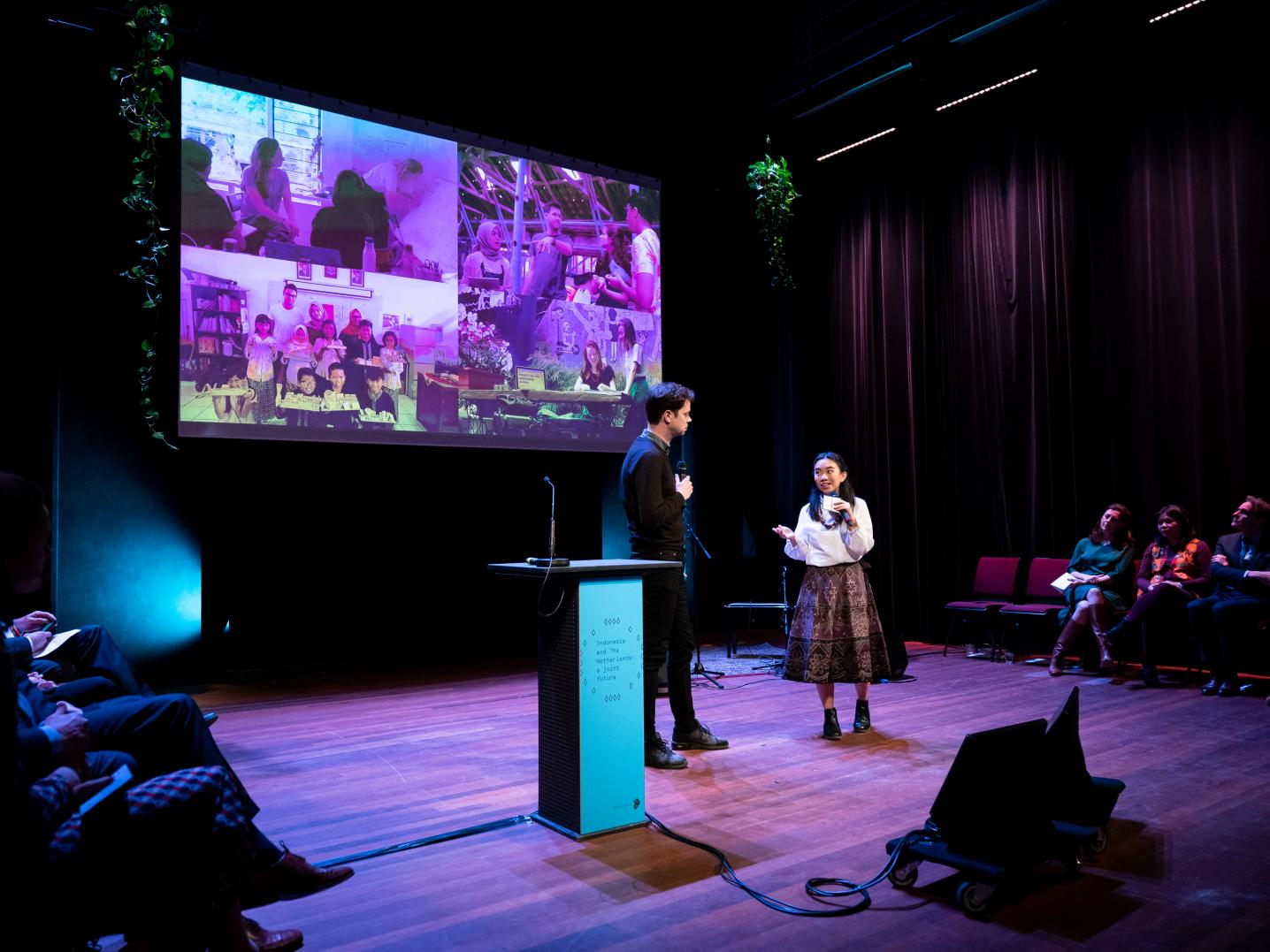 From past to future
The first theme introduced was From past to future. Gert Oostindie, director at KITLV (Koninklijk Instituut voor Taal-, Land- en Volkenkunde / Royal Netherlands Institute of Southeast Asian and Caribbean Studies) and professor of colonial and post-colonial history at Leiden University, addressed how the shared history of Indonesia and the Netherlands had and still has a deep impact that cannot be undone. He emphasised that efforts being made into a fresh and inclusive understanding of the past is nothing less than a duty. "It is only through deep conversations among Indonesians and Dutch that we can further this process, and that we might hope to start moving on, beyond our mutual postcolonial sensitivities." With the growing openness and self-reflexivity that Oostindie observes nowadays, he thinks there is a world to gain in engaging with and move beyond the uncomfortable past, with not only historical research but a range of artistic efforts as well. After Oostindie's speech, Grace Leksana was invited to reflect. Leksana just finished her PhD in post-New Order memories in Indonesia at KITLV. "The result may be a common understanding of the past, but it can also, and more likely, result in different interpretations of the past," she stated. Leksana posed the idea that the fundaments of our shared future might be built not on commonalities, but on differences.
Art and culture
Secondly, the focus was on art and culture. Dutch and Indonesian artists and culture-makers are increasingly finding each other to collaborate on a work of art, production or design. This was firstly illustrated by a conversation between Dries van Wagenberg, designer and programme manager at Dutch Design Foundation, and Vivian Marentina, designer and Master student at TU Delft. They zoomed in on how the problems Indonesia and the Netherlands are not that different, but the scale and the way they are being dealt with are. The co-creation project 'What if Lab: a sustainable society' that they both worked on, is aimed at finding long-term solutions by bringing together professional experience and cultural exchange from both countries. Marentina: "Co-creation and curiosity are the key to success. It is not only our nationalities that add value, but also working with different backgrounds."
These cultural exchanges were further addressed by Viktorien van Hulst, director of Theatre festival Boulevard. She emphasised the importance of listening to stories and experiences of different communities. The festival now commits to making the exchange of experiences a fundamental part of their programme. Van Hulst closed off with saying that "art is an excellent medium for sharing histories, and for showing us the way towards building a shared future."
Media
Image
Circular economy
The third theme was circular economy. A theme both countries are focussed on in order to find solutions for waste problems. At the seminar Freek van Eijk, CEO of Holland Circular Hotspot, stated that waste is dealing with the past whereas circular design is about anticipating the future. Furthermore, he emphasised how involvement of both Indonesian and Dutch companies is essential to scale up the circular economy. Anne Marieke Eveleens, cofounder and COO at the Great Bubble Barrier, followed this speech by zooming in on plastic pollution. Her company found a solution in a system that is called a Bubble Barrier and she spoke her hope onto working with the 'plastic pollution warriors' in Indonesia to combat plastic in the rivers together.
Media
Image
Knowledge diplomacy
The seminar thereafter focussed on knowledge diplomacy. Jet Bussemaker, chairperson of the Advisory Board of the Orange Knowledge Programme of Nuffic, shared her belief that education and research play an important role in the bilateral relationship between the Netherlands and Indonesia: this should be translated into concrete action and guided by an integrated approach. She shared how the programmes and collaborations in education managed by Nuffic deliver partnerships and young people that are well-skilled as knowledge ambassadors. An alumna of the StuNed programme is Stella Juventia from Indonesia, who accentuated the mindset change she experienced. Where she was used to a 'silo approach', she discovered whilst studying in the Netherlands the power of a transdisciplinary approach. As an example she mentioned the concept of diversified farming that was developed with Indonesian ideas and applied in the Netherlands – a solution that was found by learning from each other.
"We will need new technologies, new forms of behavior, new ethics, and so we need new interdisciplinary research. And that's why to me educational and research cooperation should be the pivotal part of Dutch-Indonesian relations from now on" according to Wim van den Doel, the final speaker of the seminar. Van den Doel, head of the Leiden-Delft-Erasmus Universities Alliance, discussed the partnership between Indonesia and the Netherlands and presented a specific example that he hopes will foster educational and research cooperation between the two countries further: NWO (Dutch Research Council) and the Netherlands Embassy in Jakarta are organising for the first time the Week for Indonesian Netherlands Education and Research (WINNER) this June 2020, a special week of events that will foster collaboration in education and research in the future.
Ambassador H.E. I Gusti Agung Wesaka Puja closed the seminar by presenting a special gift to Their Majesties. The gift was a kain ulos, a handwoven cloth from North Sumatra in Indonesia. A symbolic gift to look forward to the state visit of Their Majesties to Indonesia this March 2020 and the future relationship between the two countries. Exactly what the seminar was aiming for.
Media
Image