Blog: Remco's working visit in Indonesia 2019
Blog: Remco's working visit in Indonesia 2019
Remco Vermeulen, country advisor Indonesia, is on a working visit in Indonesia and reports daily on the practices of cultural exchange on the spot.
Monday 14 October 2019
Finding common ground
Artists Rizal Iwan from Indonesia, and Francesca Pichel and Dionne Verwey from the Netherlands point out that within their collaboration, there is a continuous shift of dynamics between them. With all three coming from a different background, they are motivated to find common grounds and similarities as a group, also from an artistic point of view. Their performance Three Fishes Out of One Bowl Trying to Find a Common Ground is therefore about three people from different backgrounds who come together to find the place in time where their own histories intersect. Read more here!
Media
Image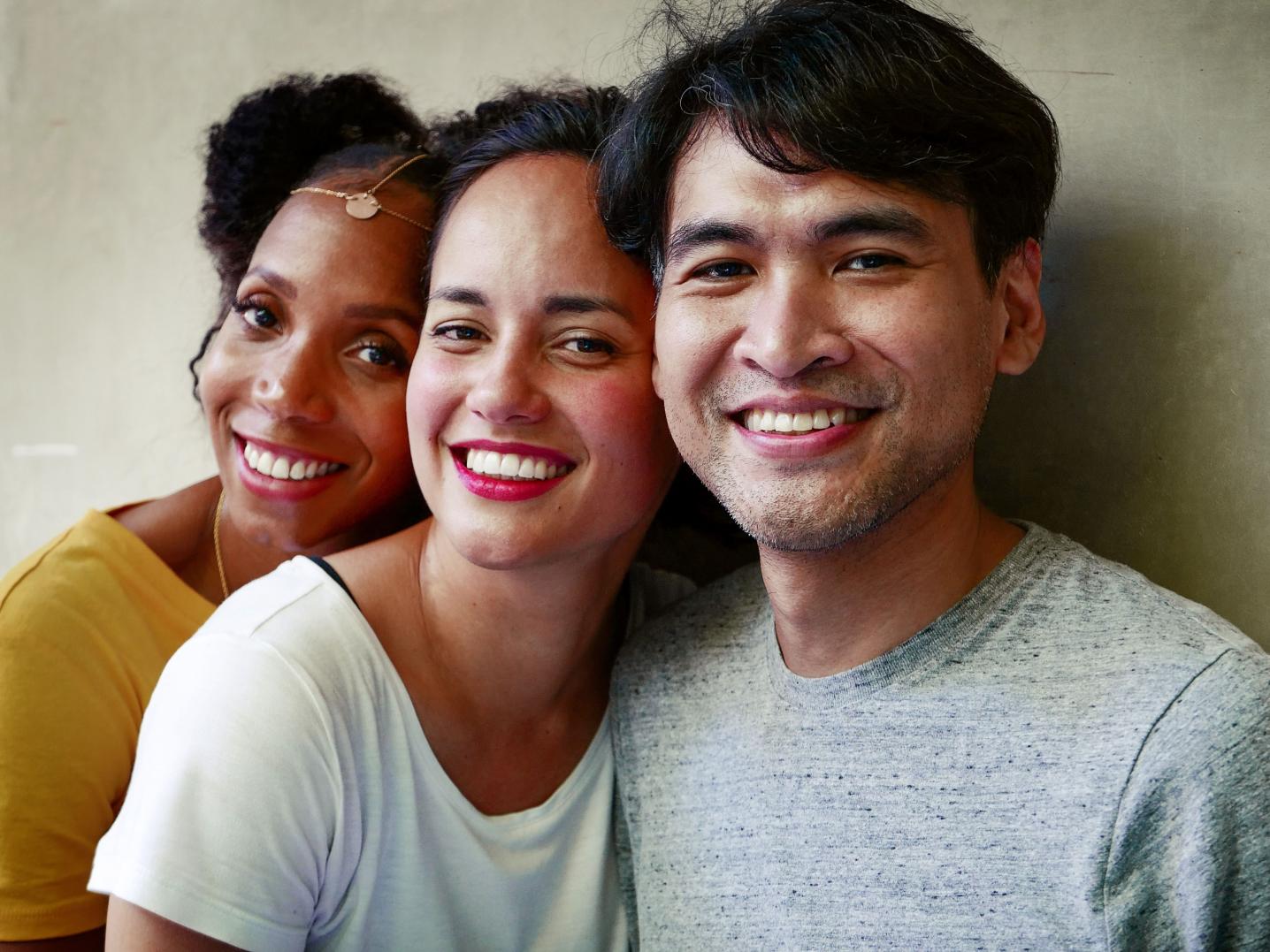 Sunday 13 October 2019
Storytelling is not always easy
"Understanding your (grand) parents is the biggest sign of respect", performer Rizal Iwan states. It is the beautiful conclusion of two panel discussions on the difficulty of collecting and sharing family (hi)stories. In the two panel discussions, 'our' artists were well-represented: Francesca Pichel, Rizal Iwan and Dionne Verwey in the first, and Esmay Usmany, Felix K Nesi and Angelina Enny in the second.

Some of the lessons learnt: acknowledge the land you live on, make an effort in acknowledging its history and traditions. Unraveling your family's history does not require a certain methodology, just start with asking questions to your parents and grandparents. Stay open to other people's emotions, even though they may not be the same as yours. It is important for children to have a role model to whom they can relate. And finally, there is no such thing as one truth: there are as many truths as there are people: but when you try to collect many different truth, you can get a better sense of an overall, more inclusive and complete story.
Media
Image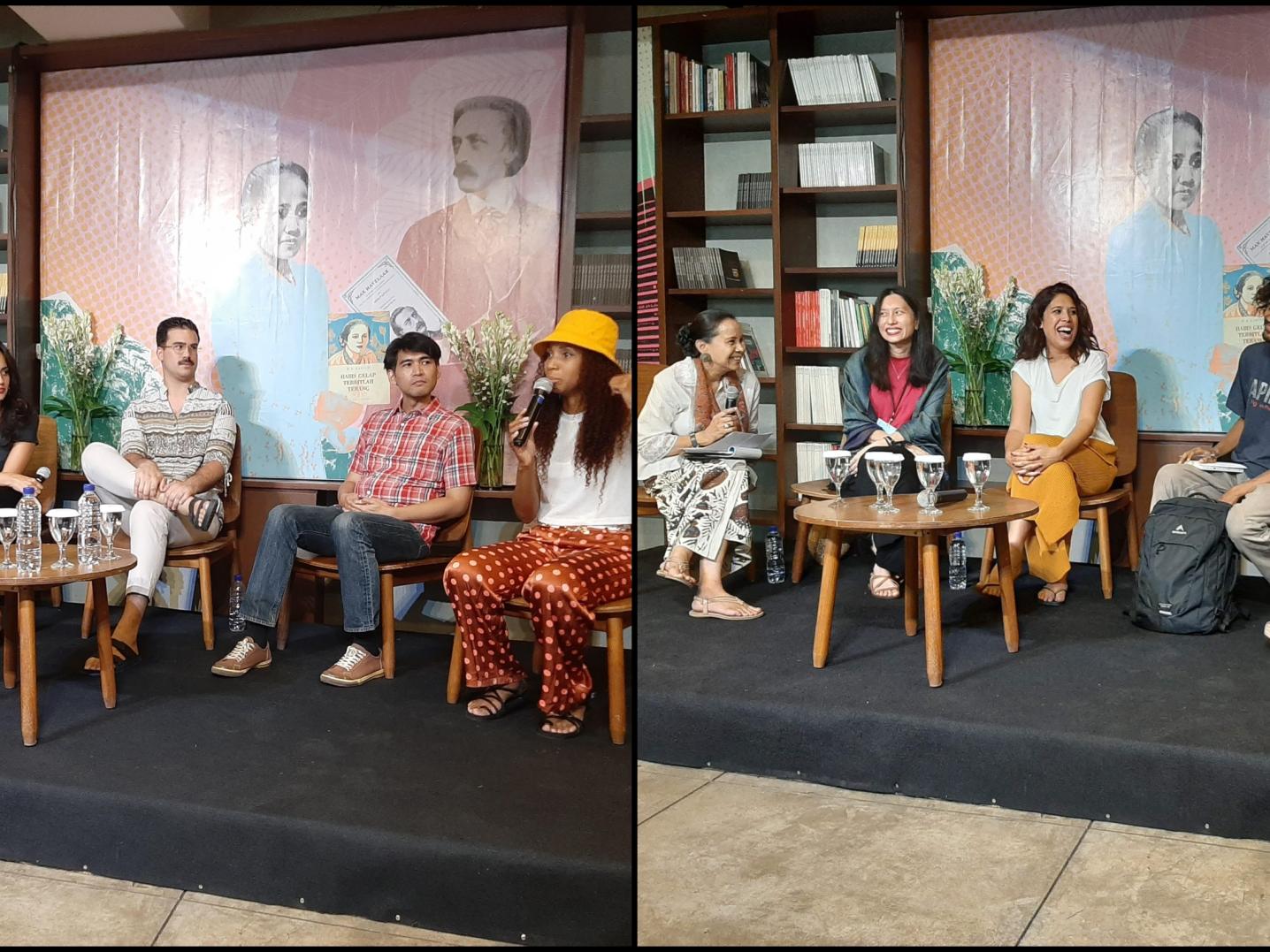 Saturday 12 October 2019
Your story is my story
In the circular space with white washed walls, Adrian Mulya and Maria Lamslag wonder whether their respective Chinese-Peranakan and Indo-Dutch families could have crossed paths. Armando Ello and Felix K Nesi have co-produced a photo series of the influence of colonialism on Timor today. Lala Bohang and Lara Nuberg share a few of the letters they exchanged on the topic of voilence in the Dutch colonial period and War of Independence fought in Indonesia and its influence on their families. And as part of the opening of these three exhibitions, Ardjuna Candotti and I told the stories of how the our Indo-Dutch grandparents met: Ardjuna told my grand parents' story, I told that of hers.
Media
Image
Magical storytelling
Young writers read from their own work underneath a dark, starry sky. Well it would have been starry except for Jakarta's smog and city lights. The works they read from are diverse and have one thing in common: they cover several social(ly sensitive) topics such as sexuality, the pressure of losing weight, infidelity and the educational system. The Indonesian writers read in Bahasa Indonesia, clear and as masters of their trade. Simultaneously, the English translations are projected on a screen next to the stage. The audience, it seems around 200-300 people are attending, laugh, frown and nod recognition. Among the writers are the Indonesian Lala Bohang and Felix K Nesi, and the Dutch Esmay Usmany. Well-known novelist and festival director Ayu Utami introduces the session. Afterwards, the attendees are invited to a literary dinner on another roof terrace of cultural centre Komunitas Salihara, in 'rijsttafel' style. In the end, Dutch and Indonesians find each other in that one common passion: eating.
Media
Image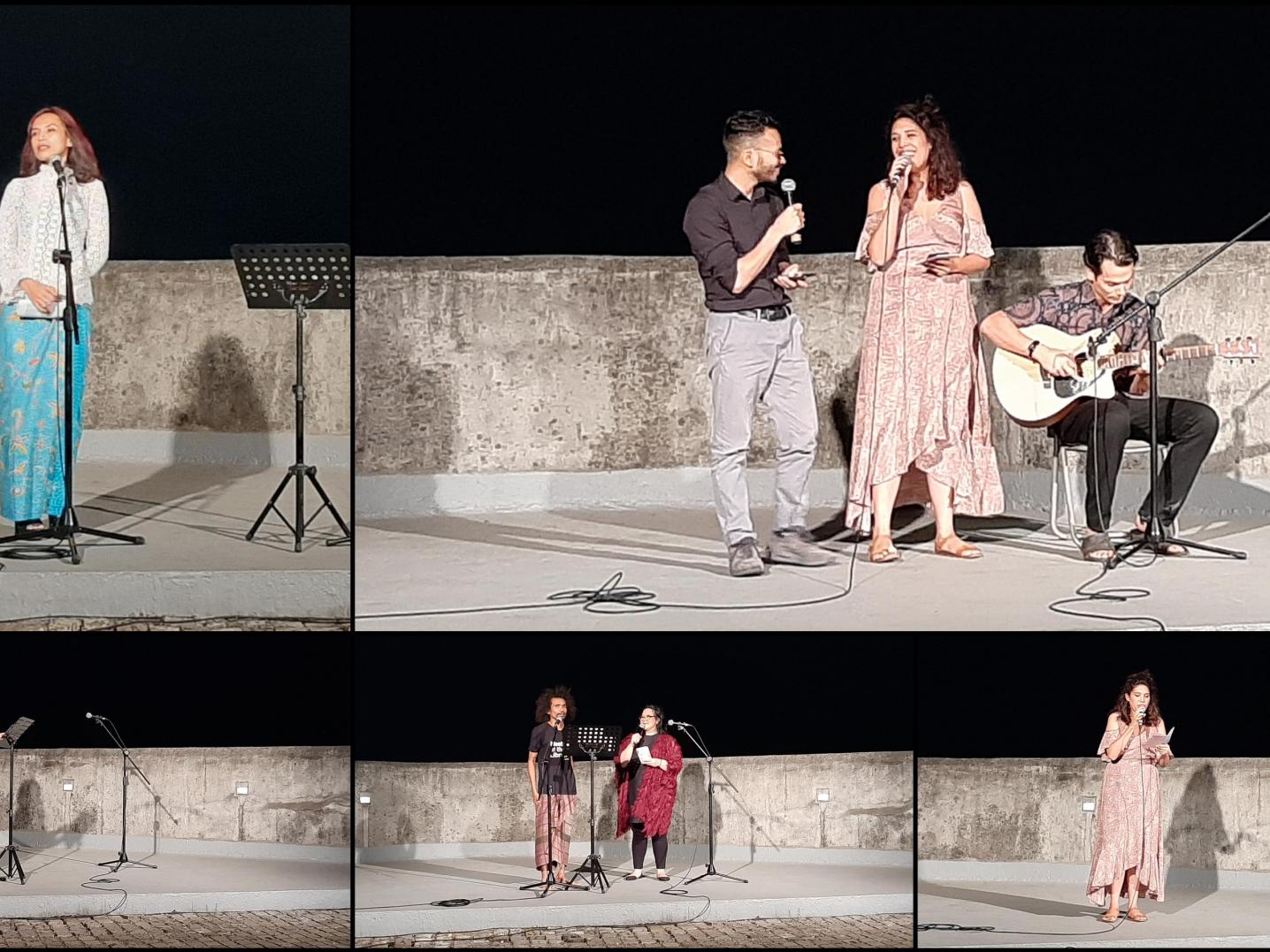 Friday 11 October
The night before LIFEs
Outside the air is warm with traffic fumes and the smell of food stalls, but inside the modern steel-hardwood-concrete-glass interior is gently cooled by the AC. Students sit in groups drinking iced tea and work with laptops, play with their phones or simply giggle softly. The wifi signal is immaculate. The flatscreen tv has the festival trailer with artist interviews on repeat. Technicians walk back and forth, hanging up banners or setting light and sound for the upcoming performances.

One by one the artists, both Dutch and Indonesian, arrive, every one being greeted with cheers and hugs from the others. It feels like a group of friends coming together for a long overdue kumpulan, or reunion. Stories about the long trip to get here, by plane from the Netherlands and other parts of Indonesia, or by car through Jakarta's persistent traffic jams fill the little cafe. It is long dark when the group gets up to get dinner at the nearby outdoor foodcourt. Of course, every kumpulan requires makan-makan. Behind the chatter, the tension is slowly rising. Only one night of sleep before the Literature and Ideas Festival of Komunitas Salihara starts.
Media
Image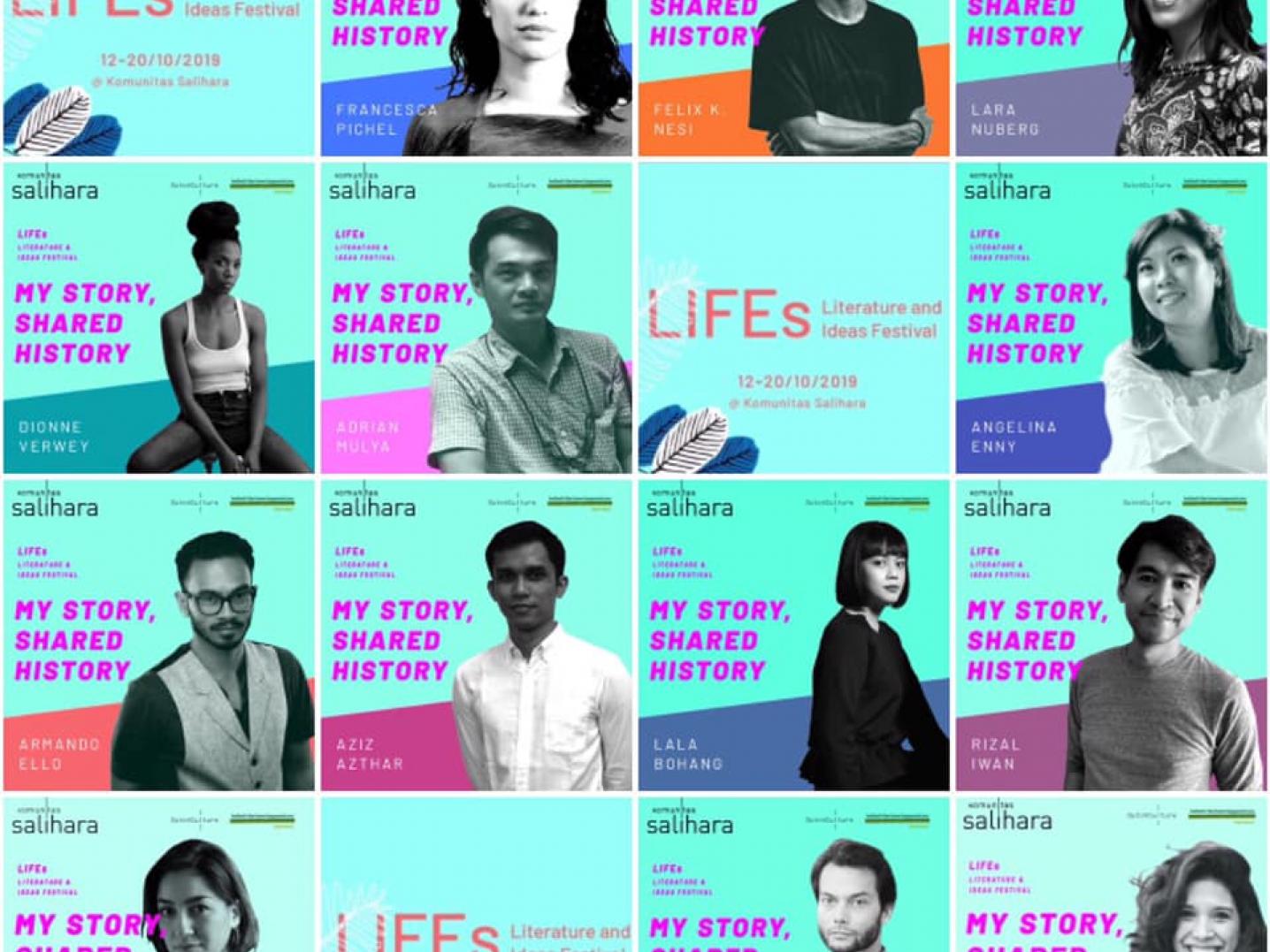 Thursday 10 October 2019
The story of heritage conservation
Today I had meetings, and on- and off-topic conversations, with the curatorial team of the upcoming exhbition'Segar Bugar: the story of conservation in Jakarta from 1920 till present'. This exhibition is curated by artist collective ruangrupa and Pusat Dokumentasi Arsitektur (Centre for Architectural Documentation) and co-funded by DutchCulture. 'Segar bugar' translates to 'fit and healthy' and refers to 'jamu', a traditional herbal drink; this jamu is a metaphor for heritage conservation (Curious what this means? Keep an eye out for further information to be shared through our website!).

The exhibition will reveal the story of heritage conservation in the city of Jakarta, through the phases of 'Menjaga vitalitas' (Maintaining vitality), 'Mengembalikan stamina' (Restoring stamina), 'Menyegarkan jiwa' (Invigorating the soul) and 'Menambah gairah' (Stimulating passion). Yes, those are all jamu-related terms, but do refer to the different consecutive political regimes Jakarta went through: the Dutch colonial period, the Japanese period, Sukarno's national-building, Suharto's New Order and today's Post-reformasi. Needless to say, I expect this exhibition is going to be quite the ride.
Media
Image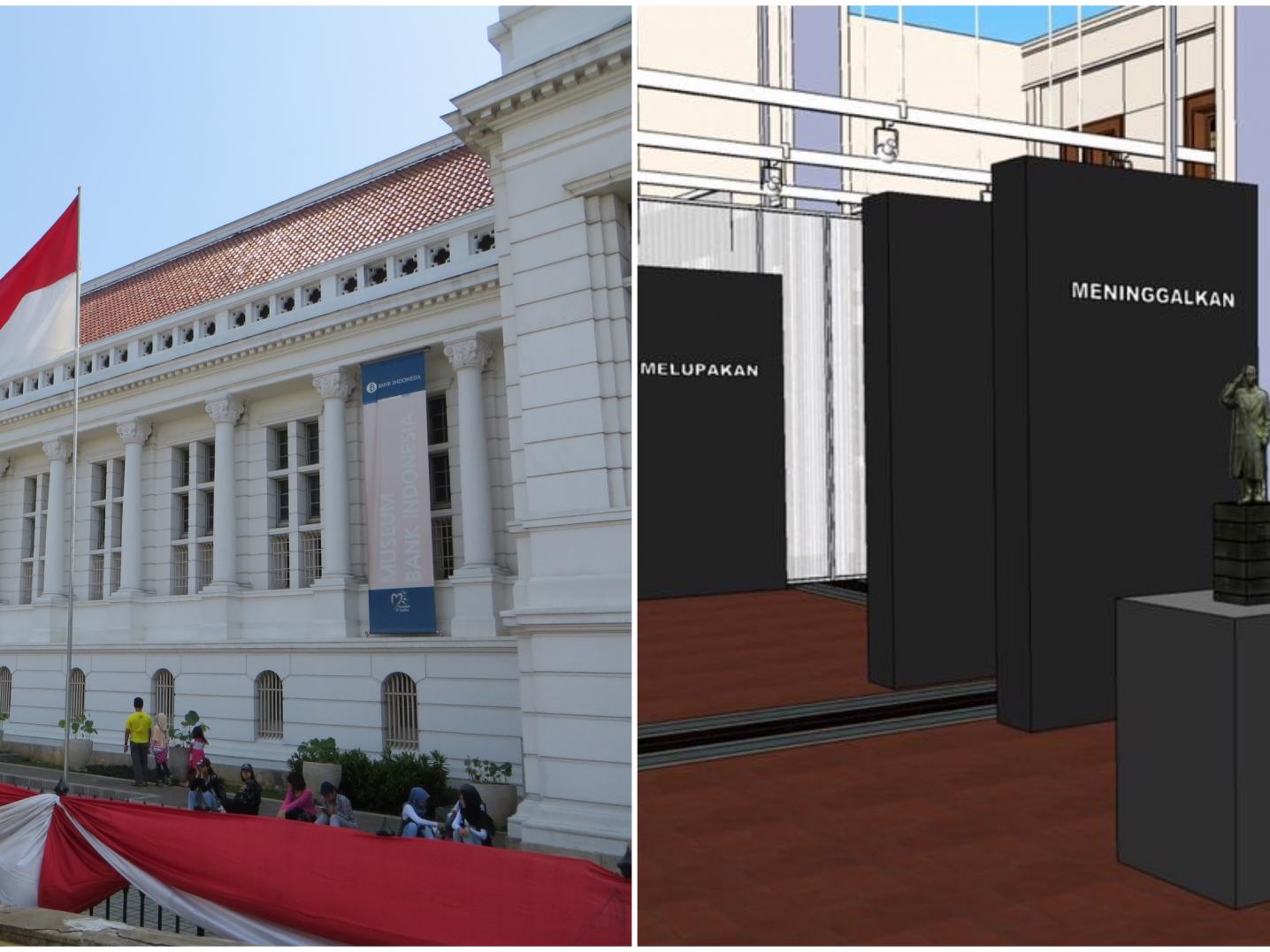 Wednesday 9 October 2019
A night at Erasmus Huis
When I arrived at the Erasmus Huis after an adventurous ride on the back of a GoJek motor, straight through Jakarta's rush hour, many, primarily young, people had already gathered in the entrance area. After the doors to the auditorium opened, it turned out the crowd was filling up most of the ca. 400 seats. Quite a turn-out! But the programme of tonight was quite exceptional, to say the least.
After opening words by Joyce Nijssen, manager of the Erasmus Huis, followed a quick-painting performance under the guidance of modern eclectic gamelan music by Dhalang Ki Gamblang and Wayang Gamblang Nusantara. Then the young Dutch singer Sanne Rambags took the stage with guitarist Bram Stadhouders and percussionist Joost Lijbaart for a short but mesmirizing concert influenced by many different musical styles from around the world, combined with a wayang (shadow puppet) performance.
The climax of the night was a modern and at times hilarious (if you speak Bahasa Indonesia...) take on a traditional wayang peformance by Dhalang Ki Gamblang, with music by Sanne, Bram and Joost in duet with the Wayang Gamblang Nusantara orchestra. A true, completely improvised, co-creation concert was the result. Beautiful example of a Dutch-Indonesian co-creation.
Media
Image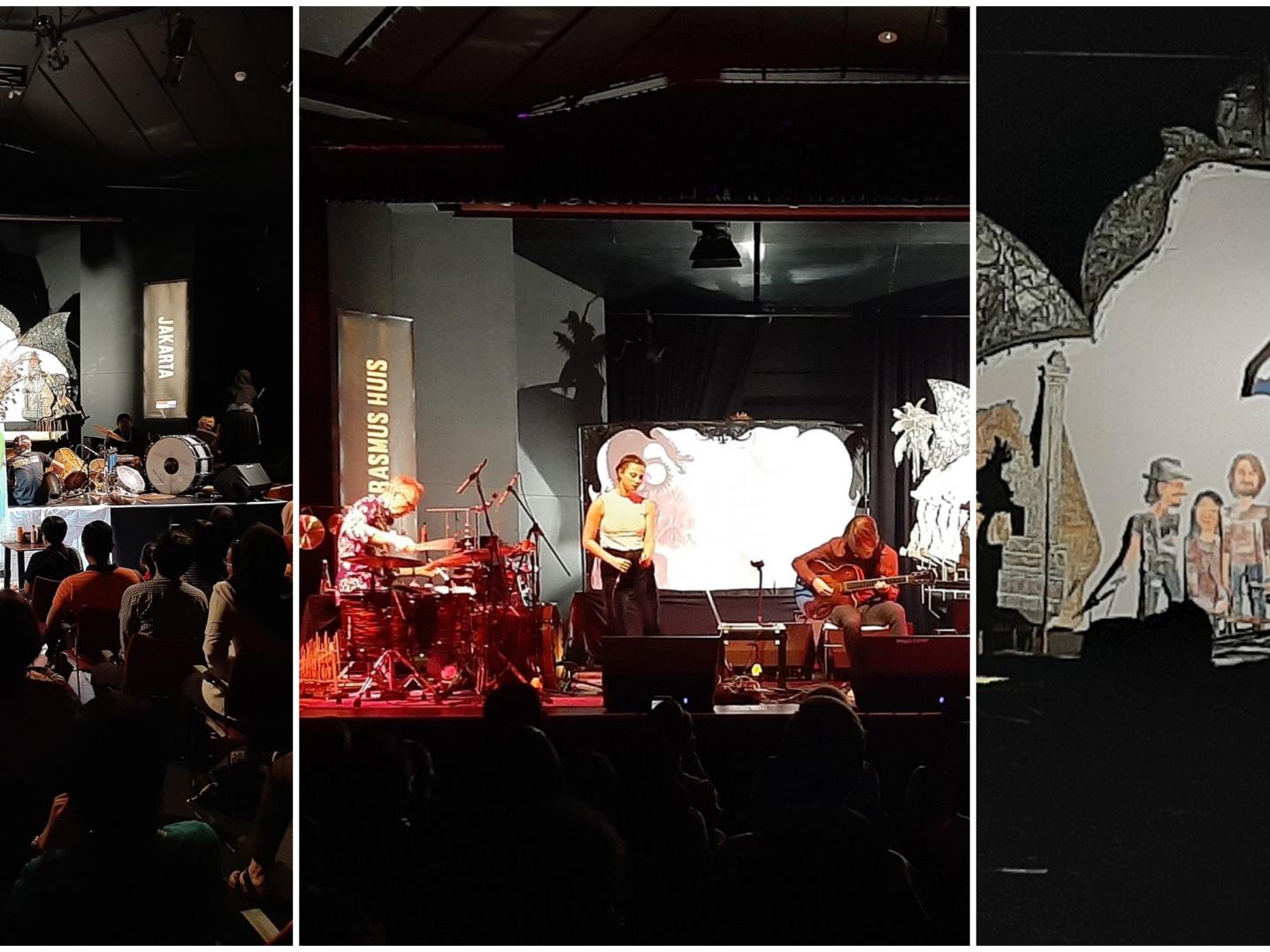 Tuesday 8 October 2019
Reactions Indonesian media on visit Rutte
The Indonesian media covered prime minister Mark Rutte's visit extensively. A few examples of the different headlines. Antara News and Republika refer to the prime minister's affinity with Bahasa Indonesia: "Dutch Prime Minister declared Indonesian language has a special meaning" and "Special meaning of Indonesian for the Dutch PM". Antara News also shares that "Netherlands expected to tackle discrimination against RI's palm oil". Koran Jakarta writes "Jokowi and the Dutch PM Discuss HR Improvement", while Kompas notes Rutte's view on the need of "Regional Cooperation To Maintain Global Order". Liputan6 covers that "Indonesia and the Netherlands Agree to Extend the Collaboration on the Jakarta Giant Sea Wall Project", with Berita Satu writing that the "Dutch PM Requests Issues of Islamophobia Not To Be Exaggerated". While the Jakarta Post analyses that "Jokowi, Rutte tiptoe around past war crimes", Tribun Manado concludes: "Jokowi and Dutch PM Cohesive in Batik: Call for Vocational Cooperation.
Media
Image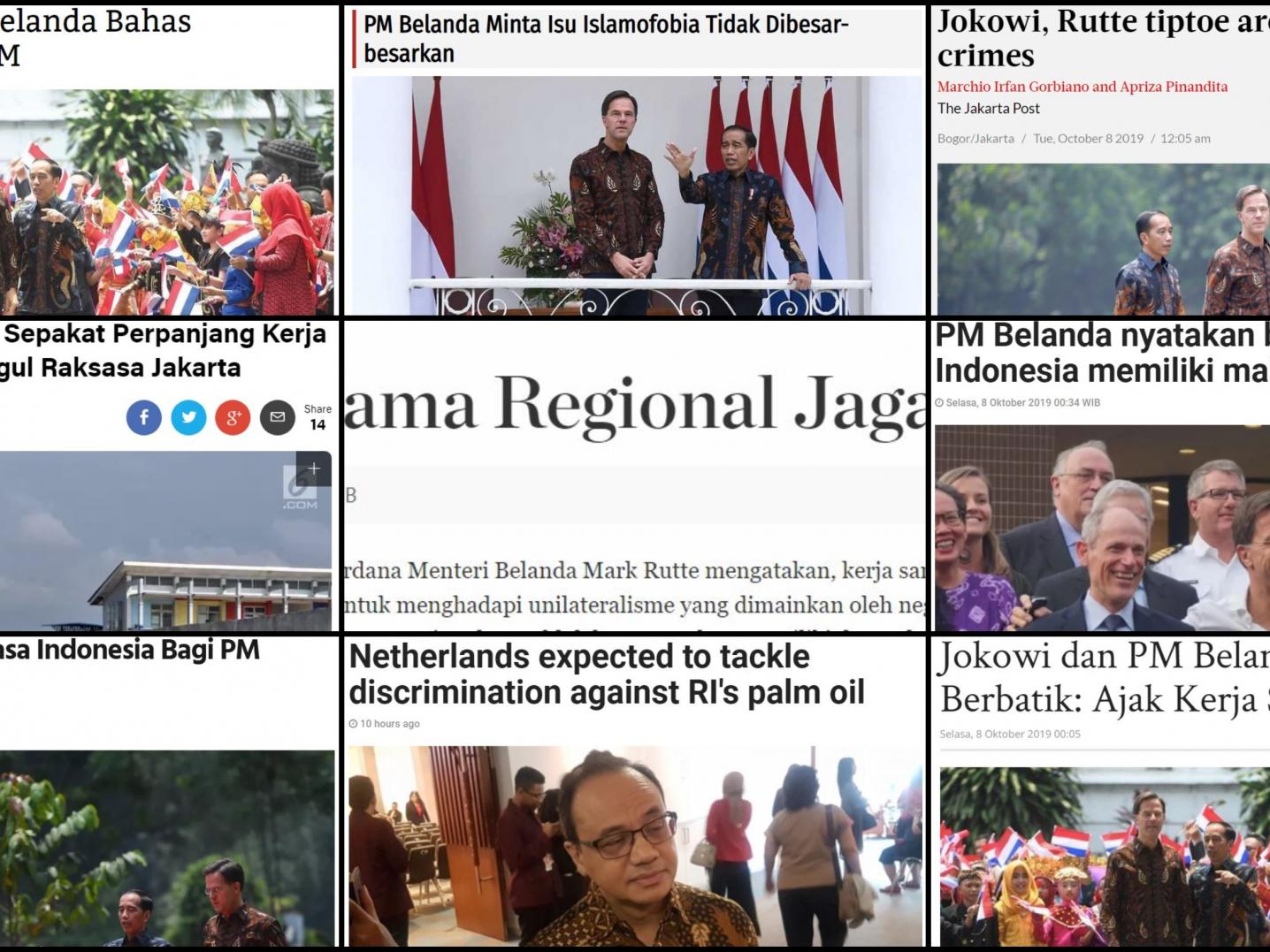 Monday 7 October 2019
Towards a shared future
In the Erasmus Huis, KLM Royal Dutch Airlines hosted a unique three-day(!) exhibition on their 100-year anniversary, especially commemorating its first intercontintental flight from Amsterdam, via many stop-overs, to Jakarta (then Batavia) in 1924. The celebration coincided with the official visit of Dutch prime minister Mark Rutte to Jakarta and Bogor.
As part of his full programme, Rutte spoke with Indonesian politician Dino Patti Djalal in a large room packed with students, young professionals, Dutch expats and journalists. The prime minister emphasized the warm relationship between the Netherlands and Indonesia, often enriched with personal connections. He also stressed the importance of cooperation between countries, not only bilaterally but also within regional blocks, such as within the EU for the Netherlands and within ASEAN for Indonesia.
Media
Image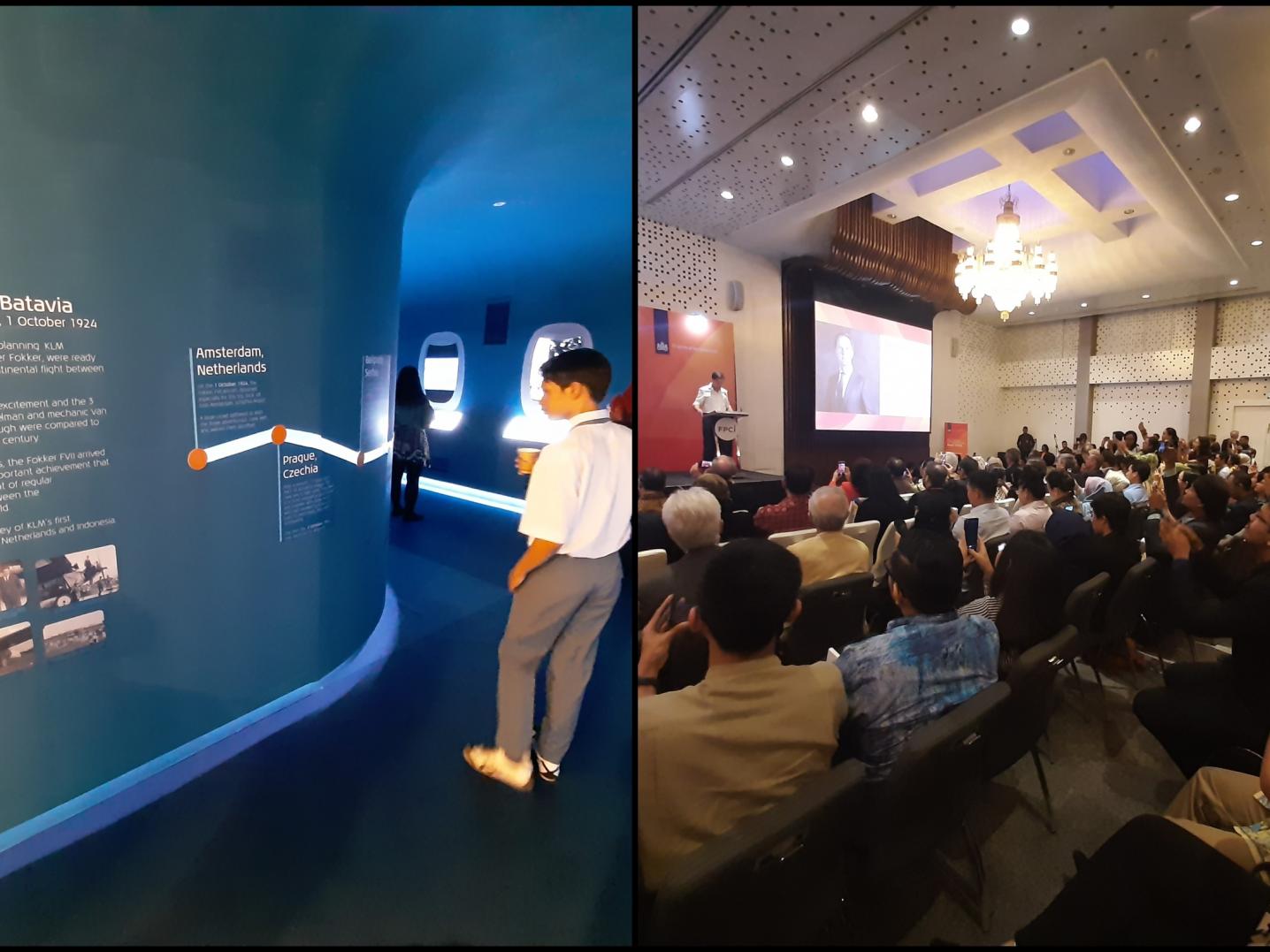 Sunday 6 October 2019
First exploration in Medan
During a stop-over in Medan, Sumartra, I had the opportunity to visit some very interesting sights in the historical inner city, thanks to the excellent guides of the Sumatra Heritage Trust (terima kasih banyak!). I got to see the dilapidated Medan Warenhuis which may finally be renovated by the local government in the near future (left on the photo), the Istana Maimun with its eclectic architecture with Malay, Islamic and Spanish architecture and which was designed by a Dutch architect for the Sultan of Deli (middle), and the absolutely impressive mansion of the wealthy merchant, partriarch and former Mayor of Medan, Tjong A Fie (right). Medan is definitely worth a (more extensive) stay!
Media
Image