Online symposium: Affecting Change through Artist-in-Residencies
Online symposium: Affecting Change through Artist-in-Residencies
Hotel Maria Kapel, Kunsthuis SYB and AiR Platform NL invite residencies, organisers, artists and their audiences for an online symposium.
Date(s)
Tuesday 8 December 2020 15:00
Thursday 10 December 2020 10:00
Thursday 14 January 2021 10:00
As 2020, a year of political and social turmoil draws to an end, we look inwards at our own role as artist-in-residencies. AiRs offer time and space for research and development and present new and fresh visual art projects to a local and (inter)national audience. AiRs are places where hospitality, reciprocity and inclusiveness form intrinsic parts of the institution's ways of working; between the artist and the host institution, as well as between the artist, local residents, and the public.
Residencies are strongly rooted in their local environments, where artists often directly engage with people and social issues from the locality of the residency. Following the social and political unrest and the drastically changed ways of life that face us all, as (small) institutions we are now considering ways to positively impact and shape our local contexts and roles in society. How do we work towards reconfiguring our positions and practice – in the midst of corona crisis and global protests against inequality?
Hotel Maria Kapel (HMK), Kunsthuis SYB and AiR Platform NL kindly invite residencies, organisers, artists and their audiences for an online symposium spread over three days. The symposium offers lectures, workshops and panel discussions to explore common challenges and aims to strengthen the Dutch and international residency network and art community.
With Anika Mariam Ahmed, Clare Butcher, larose larose, G, Harriet Rose Morley, Miriam Wistreich, Claudia Zeiske and more.
This symposium is an initiative of artist-in-residencies Hotel Maria Kapel and Kunsthuis SYB in collaboration with TransArtists – AiR Platform NL.
Please let us know what event you would like to attend by signing up through this form. We will be sending you a Zoom-link prior to the event, to access the conversation, as well as a reader.
Programme
Location: online
Tickets: free
Please sign up here

December 8
15.00 – 17.00 AiR network meeting with keynote Residing Reciprocally by Clare Butcher, including Q&A
Curator and art educator Clare Butcher will discuss questions of context-responsiveness, knowledge production and refusal concerning the shifting role of residencies in contemporary art ecologies of the global pandemic, as well as through historical case studies.
December 10
10.00 – 10.15  Welcome and introductions

10.20 – 11.00  Miriam Wistreich – Hotel MariaKapel: Slow Burn: Building Institutions of Care, including Q&A
Who do we care about and for? How can we qualify care as feminist politics and avoid the pitfalls of caring badly or too much? How can we build practices and spaces of care within the limits of an exploitative system, with which we are all complicit? In 2020 HMK takes time to reflect on what it means to host and care for artists, bringing together a range of voices to think about the politics of the artist residency and how we can navigate through the landscape of the art world with care.

11.00 – 11.30  Sekai Makoni & G: A Pair of Clogs and Two Brits
Join Sekai and G for a drink of your choice. Lay down and get physically comfortable to talk about the uncomfortable. Think of it as questions to ask yourself and why they still may need answering.

11.30 – 12.00  Moderated discussion with speakers and audience

14.00 – 16.30 Work sessions (sign up needed):
Anika Mariam Ahmed: Intercultural Dialogue
The artistic space offers room for different positions and perspectives. But within an art institution, there are also stories and contexts that we can overlook, ignore or take for granted. This workshop investigates the relevance of different contexts for artistic practice. Which sources and stories are relevant when making your work and how much do you want to share with an audience? What are our own blind spots in our ideas about art history and stories? Please note: participants will be asked to read two texts before the workshop, which will then be discussed – these will be sent to participants prior to the event.
Claudia Zeiske – Devron Projects: Hosting Translocality
Residencies often contribute to a locality in unexpected ways: in programmes in which local history, identity and current issues are the subjects of research, through exchanges between artists, local residents and other experts. At the same time, they relate to an (inter)national art discourse. What are the different ways — and conditions — for generating these specific localities, in the short and long term?
Ika Sienkiewicz-Nowacka – U-jazdowski Castle: Care, community, Laboratory
Nowadays one could easily recognise 'care' for today's world, for humans and nature, as a focus of and essential for artistic practice. Residence programmes, on the other hand, continue worldwide to serve as infrastructure and a safe space to artists' creativity, facilitating the need for space and time to reflect, connect, and engage in experiment and production. Who stands behind those institutional activities facilitating care towards the artists? In caring for residents, how might one learn to care for themselves? And what are the future of care and its role as a tool for artistic activities?
16.30 – 17.00 Roundup and closing session
January 14, 2021
14.00 - 17.00 Air network meeting and final discussion, with a contribution by artist larose larose
Media
Image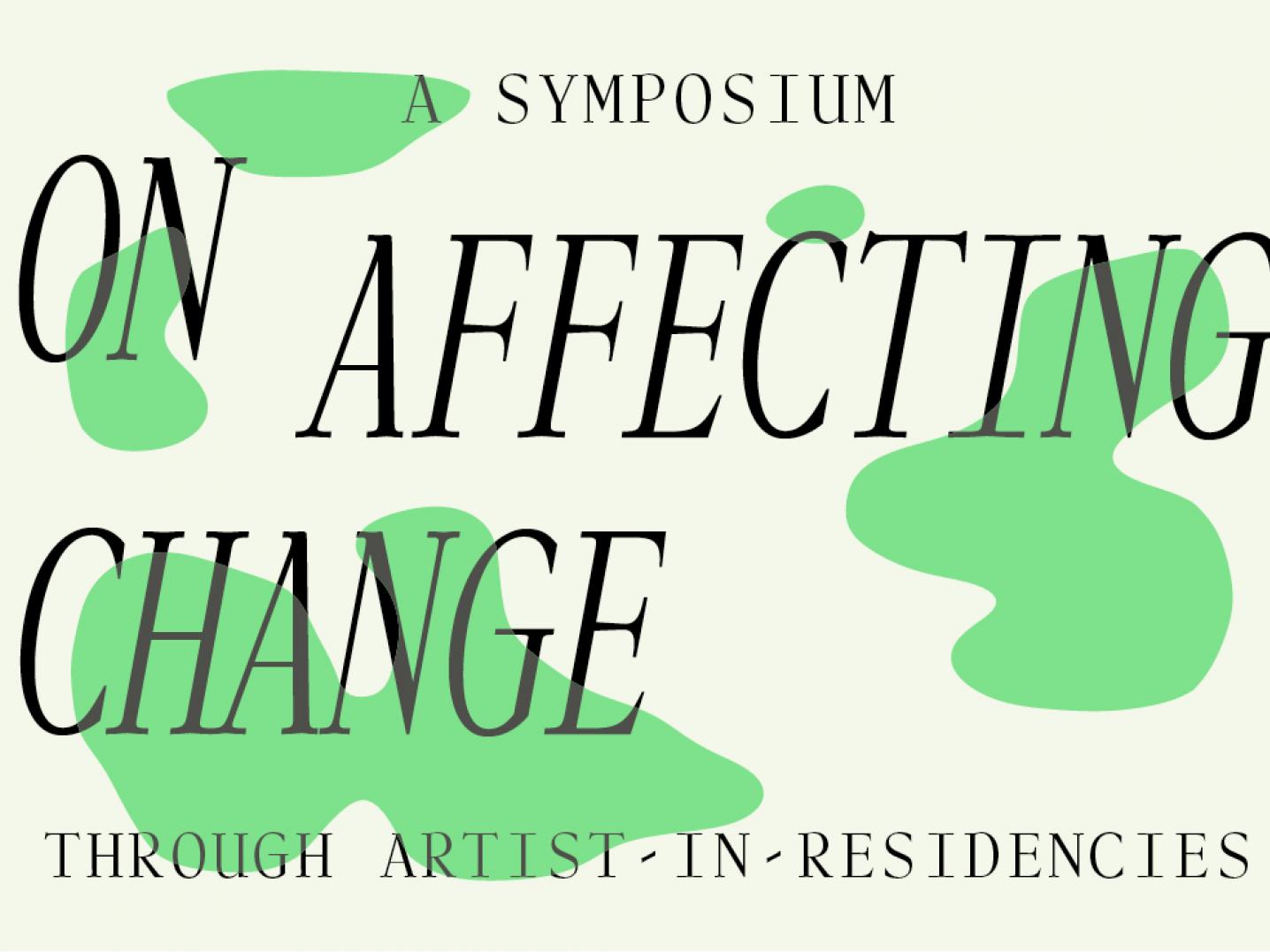 About the contributors
Clare Butcher is a curator and educator from Zimbabwe who cooks and collaborates as part of her practice. She is currently curator for Public Programming and Learning with the Toronto Biennial of Art's team. Clare is wondering what the future of gathering and learning together might be, and how art education could transform the curriculum. Previously she co-organised the programme unsettling Rietveld Sandberg with Judith Leysner and was an education coordinator for Documenta 14. Clare has worked with museums, academies and community groups and holds an MFA from the School of Missing Studies, an MA in Curating the Archive from the University of Cape Town, and participated in the De Appel Curatorial Programme.
Miriam Wistreich is a curator, educator and occasional writer and currently creative director at Hotel Maria Kapel, a residency and exhibition space in Hoorn, Noord-Holland. Together with artists Griet Menschaert and Maja Bekan she led HMK's 'year of reflection and redirection' through an experimental programme entitled Slow Burn, which has tried to understand how we can build institutions of care within neoliberal capitalism.
Sekai Makoni is an artist, podcaster, writer and workshop facilitator. Her work explores blackness, particularly centring the voices of black women in Europe through her podcast Between Ourselves. Her graduate work explores the black church, faith rituals and how to reimagine those spaces as queer affirming. As the artist in residence at Hotel Maria Kapel her work explored notions of rest, slowing down and guilt as it pertains to black women. Her current work considers the whiteness of the holistic health space and focuses on African diasporic approaches to maternal and menstrual health. Makoni also hosts panels and workshops on themes such as active listening and anti-racism as part of her artistic practice.

G is an artist and death doula currently at the Rijksakademie van Beeldende Kunsten.

Anika Mariam Ahmed is a painter living in Groningen, the Netherlands. She did her BFA in Painting and BA in English Literature in Dhaka, Bangladesh and MFA at Frank Mohr Institute in Groningen. Her paintings are intimate testaments of being present in the world, often from the viewpoint of an adolescent and in dialogue with everyday encounters. She is currently giving a workshop on intercultural dialogue at Frank Mohr Institute.
Claudia Zeiske is the founder of Deveron Projects, an international residency programme in the market town of Huntly in North-East Scotland. Here, the town is the venue rather than a gallery or arts centre. With a focus on the rural, Zeiske has a unique curatorial interest based on a balanced approach between artistic criticality and community involvement through developing projects with artists from across the globe.
Harriet Rose Morley is a multi-disciplinary artist, maker, educator and facilitator. She works across the disciplines of public art, sculpture, architectural spaces, furniture design, urban planning, and alternative education. Her work and projects often challenge our conceptions of the function of public art, urban objects and space; how they do and often don't function, and how they can be sources of humorous critique of urban architectural space and planning.

Ika Sienkiewicz-Nowacka is a manager of culture, curator and founder of the U–jazdowski residency programme in Warsaw. She graduated from Inter-Faculty Individual Studies in the Humanities (University of Warsaw) and holds the European Diploma for Culture Management (Brussels). She is a member of the Programme Council of Akademie Schloss Solitude. Her research interests centre on the significance of residencies within the fields of artistic and institutional practice. She carries out projects in which visual arts become a tool of social change and are used to shape and promote alternative models of social development.
About the initiators
Hotel Maria Kapel (HMK) is an artist-in-residence and exhibition space for contemporary visual arts in the city centre of Hoorn. HMK aims to support early practice artists in the production of new work and to promote exchanges between national and international artists, cultural institutions and the public. HMK's current annual program Slow Burn investigates the concept of care and asks how we can build institutions of care within a capitalist society with which we are all complicit.

Kunsthuis SYB is a residency in Beetsterzwaag, in Friesland. At Kunsthuis SYB, contemporary artists and curators are offered a workplace in the lee of the (art) world. Residents are selected on the basis of a project proposal and invited to work and stay at Kunsthuis SYB for six weeks. Artists are invited to develop their work through focused research, experiments and new collaborations. This year Kunsthuis SYB celebrates its 20th anniversary: an opportunity to reflect on this place where many artists have already thought about the role of art in society, about ecological issues and post-colonialist issues.
AiR Platform NL organises, together with the AiR organisations and their partners, meetings and programmes for mutual exchange of knowledge and experience. Building on the outcomes of previous meetings, research and symposia such as Working on the Margins in 2018 in cooperation with Kunstloc in Tilburg, TransArtists' AiR Platform NL works together with HMK and Kunsthuis SYB to investigate the key question of this symposium together with the guest speakers, the AiR organisations, funds and policymakers in the Netherlands.
The symposium is kindly supported by Pictoright Fonds.
For more information, please contact Heidi Vogels.