Embassy Culture Days: "Meeting with the other cultural attachés is a wonderful way to compare notes and exchange ideas"
The annual Embassy Culture Days is one of the most important events for Dutch embassy employees - keeping them up-to-date and inspiring them with new ideas.
By Bambi Bogert
It helps them to keep in touch with what is happening in the cultural field and with regard to international cultural policy in the Netherlands. The month of June saw this international meeting of minds taking place in the Hague, with excursions to diferent locations in Tilburg, Eindhoven and the Hague, organised by the Ministry of Foreign Affairs, Ministry of Education, Culture and Science (OCW), and DutchCulture.
"The idea is to mix sessions on international cultural policy, including shared cultural heritage, with inspiring field trips and discussions," DutchCulture's Wladimir Riphagen explains. "Some cultural attachés visit the Netherlands on a regular basis. But for others, this is something special that happens just once a year. It's an opportunity to see with their own eyes what is happening in the Netherlands. After all, cultural attachés need to be able to represent our country abroad, by promoting Dutch culture overseas."
Similarity in needs, challenges and concerns
This year, the cultural attachés and policy officers of twenty embassies were invited: Belgium, France, Germany, Italy, United Kingdom, Turkey, Russia, Morocco, Egypt, India, China, Japan, Indonesia, South Korea, Sri Lanka, South Africa, Suriname, Brazil, United States and Australia. During various events and excursions, there were plenty of opportunities for everyone to meet and mingle, together with staff members of the Ministry of Culture, DutchCulture and participating organisations. As many of them said: gezellig!
"For me, this was one of the highlights of the week," says Quirine van der Hoeven, cultural attaché in Turkey. "Normally we don't get to see each other face to face. Meeting with all the other attachés in person is a wonderful way to compare notes and exchange ideas."
Dalia Dawoud, who works at the Dutch Embassy in Egypt, agrees: "What was striking is the similarity in needs, challenges and concerns in different countries," she says. "The intensity varies, but for the most part, the essence is the same. This was pretty unexpected, especially comparing European countries to our region."
Ron Santing, who is stationed in Brazil, also found the Embassy Culture Days inspirational: "The diverse programme, packed with presentations, museums, and interesting speakers, made it a great success. And the talks I had with colleagues were very informative – it's always interesting to see how other people implement the international cultural policy in their part of the world."
Media
Image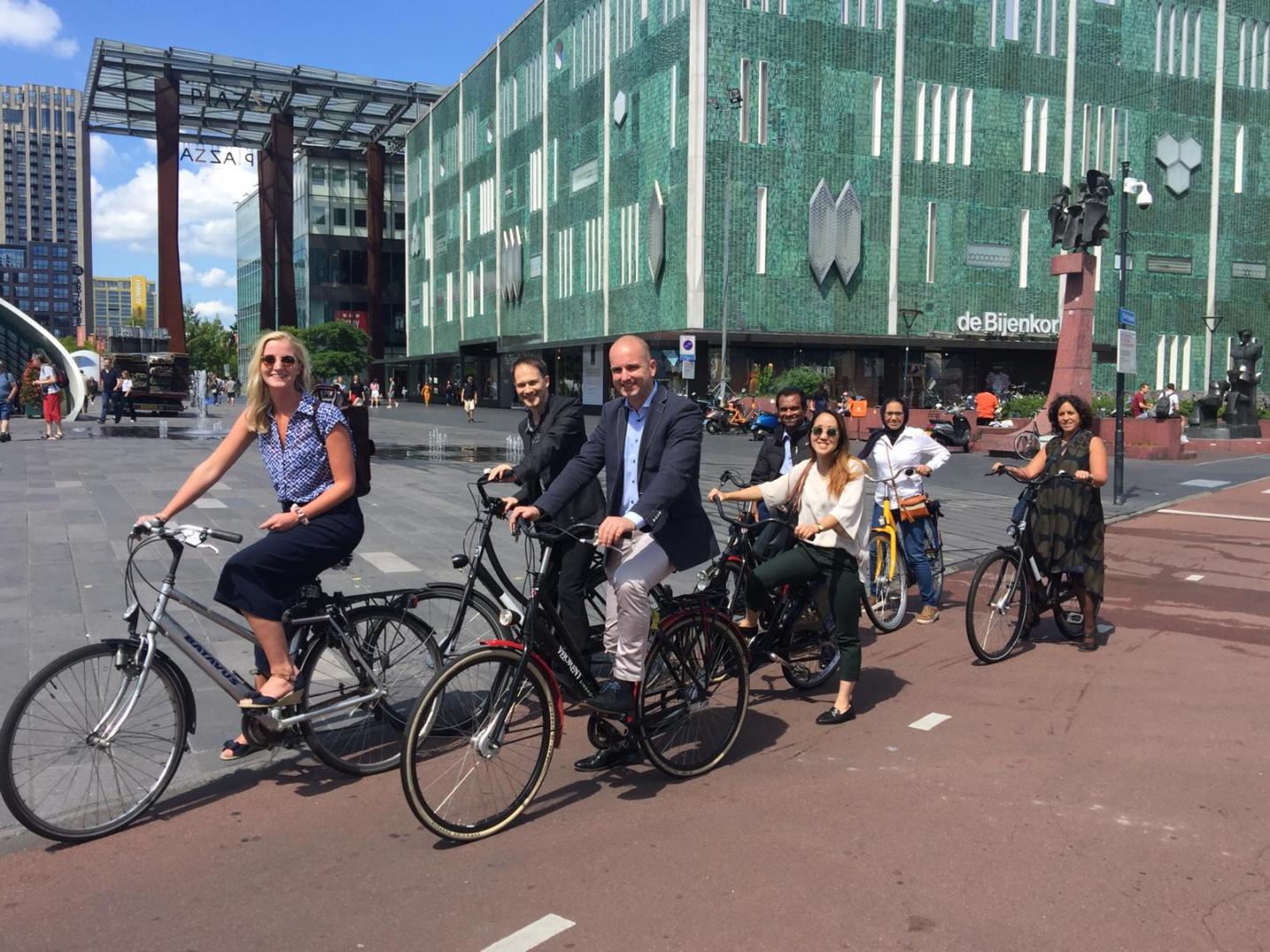 Social cohesion in the Schilderswijk
One of the excursions focused on social cohesion, and led a group of attachés on a guided tour through the Schilderswijk, a neighbourhood of the Hague that became infamous during recent decades for its high crime rates, problems with drugs and prostitution, and troubled youths. Today, it is still one of the most impoverished regions of the Netherlands, with high unemployment rates, over 120 different nationalities and many of its residents dependent on welfare.
However, in recent years proactive government programmes, as well as many grassroots initiatives, have sparked a major change. And although the neighbourhood is still not without issues, the will to overcome problems and rebuild the community is apparent in the positive attitude of many of the people who live and work here.
No high-brow or low-brow
"This is fantastic, just fantastic," says Bas Ernst of the Dutch Embassy in Italy, on visiting Theatre De Vaillant, a workplace learning company for the neighbourhood. Here, various training programmes are offered, as well as facilities aimed at making life easier for low-income residents who struggle to get by. Youths with learning difficulties are employed at the café, and gain worthwhile experience working in food and beverage.
People from the neighbourhood stop in for a cup of coffee or affordable meal, and can also bring their laundry, while their kids can play and enjoy story time in the special children's theatre. There are recording studios for budding singers and rappers, as well as theatre venues for fashion shows, plays and concerts. The organisation actively aims to introduce residents to different and unfamiliar forms of culture, by combining e.g. a show by a popular deejay with a classical musician. At De Vaillant, there is no distinction between high-brow and low-brow – culture is for everyone, and it is used to help elevate the local population.

"I wish we had the infrastructure to implement something like this in Italy," says Bas Ernst in recognition of the organisation's achievements. "People often think our main focus as cultural attachés is on the arts, but really it's about culture in the broadest sense of the word. One of my specific fields of interest is social architecture, with planning, design and literature as three of its core values. In this respect the Schilderswijk offers some incredibly interesting insights. Italy is of course different than the Netherlands. We struggle with our own issues of migration and urban challenges.. But I am definitely taking some ideas back with me."
Media
Image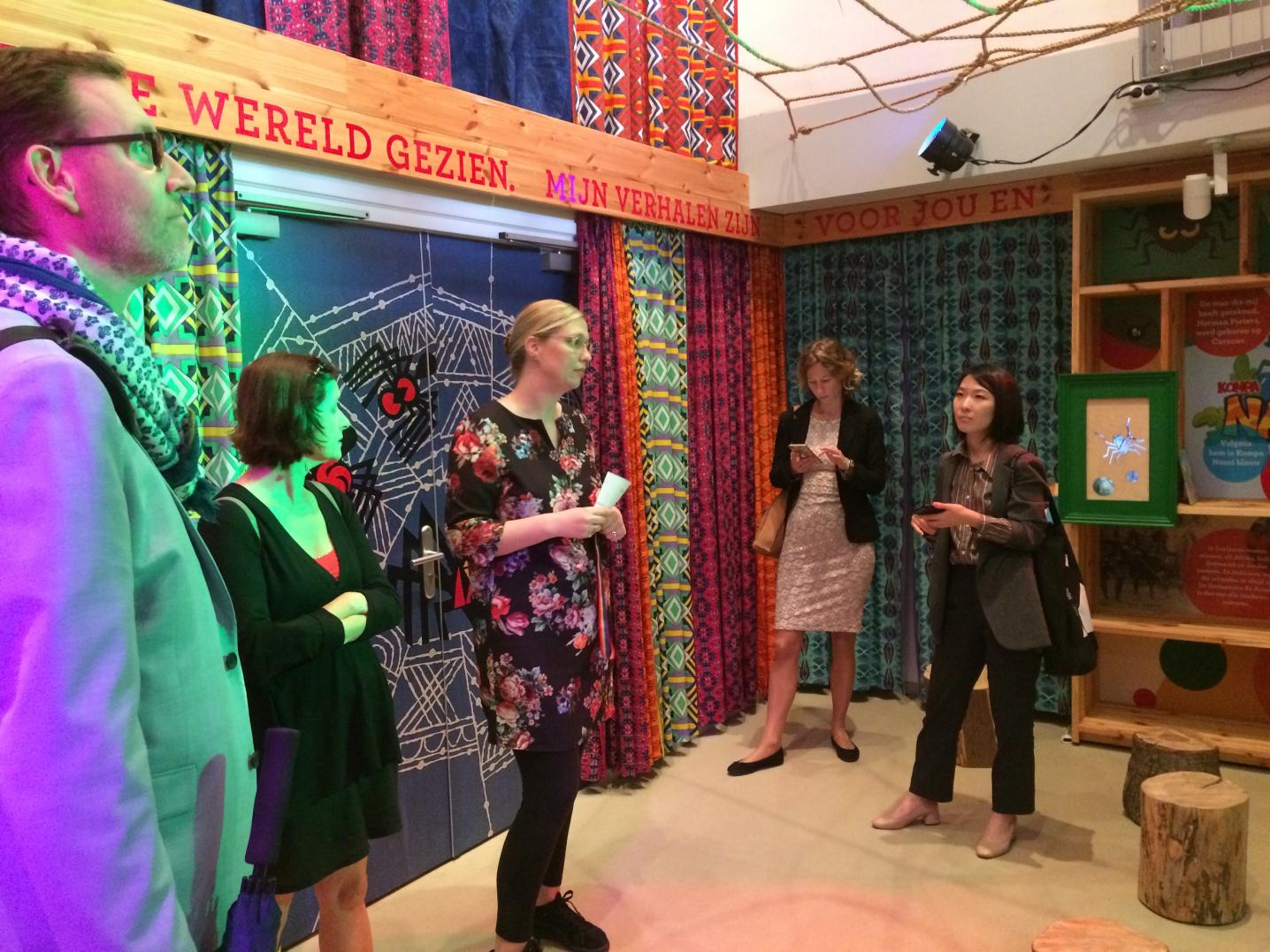 Working with the police
The excursion stopped at Samson as well: a community centre with a range of activities for the neighbourhood, including language classes for immigrants, job training and homework assistance. During troubled times, the centre played a crucial part in bringing residents together to improve the neighbourhood. Today, it remains a popular place of convergence, and continues to help empower women, immigrants and low-income locals.
This made a lasting impression on cultural policy officer Dalia Dawoud: "The guided tour is very interesting. I enjoyed hearing about the history of the neighbourhood, its interventions and present status. And introducing it from various aspects – the social fabric, urban issues, and gentrification – is very insightful. I particularly like the fact that there are many centres in the neighbourhood – each one acting as a base for different organisations, that target different groups in their own way. It's also very interesting that at Samson, as part of the work with the community, they don't just focus on the residents, but also on the police. This has helped create a connection between them and the locals… and over time, the police have become less hostile and are better able to work with the community. It's inspiring, and allows me to think of potential means of collaboration between the Netherlands and Egypt."
Colonial heritage at the Mauritshuis
For those who missed it, the small museum Mauritshuis – famous for its stellar art collection, including major works by Rembrandt and Vermeer – was the topic of a huge controversy last year, when it decided to remove a plaster bust of its namesake and founder. Johan Maurits van Nassau-Siegen was a 17th-century nobleman, who during the Golden Age served as the governor of 'Dutch Brazil'. He was known as an enlightened administrator, and additional to his love of the arts, worked closely with architects and scientists to map out the colony, adding valuable artefacts to his collection. But of course he was also part of a culture of colonialism, and as such was largely dependent on slave labour and personally involved in the trans-Atlantic slave trade. The removal of the bust – officially due to a reorganisation and because 'it could not be placed in the right context' – sparked a heated debate, with accusations of attempts to 'erase history', that even led to questions in Parliament.
So what better place to organise an excursion on the topic of 'colonial heritage'. A tour along buildings in the Hague that were funded through slave labour, housed enslaved people, and even a church with a formerly enslaved African minister, brought the Netherlands' colonial past to light, and it remains a sensitive issue to this day.
Media
Image
Echoes of the past
"It's a tough subject," says Claude van Wyk of the South African Embassy. "I'm not quite sure what to think of it. On the one hand, it's important to bring these things out into the open. But that doesn't mean that everything is okay now. As humans, we still have a long way to go. There is a lot of systemic racism, also in the Netherlands. Echoes of the past continue to effect our lives today. People often look to South Africa as the shining example of how to make amends, because of its culture of reconciliation. But even after the era of apartheid, South Africa continues to suffer with major problems. And I'm not sure what the solution is. I do know that sweeping things under the carpet is never a good idea. It's crucial that we learn about our history and learn how to talk about it. And it's good to see this is beginning to happen more and more now."
Dialogue and context
A dialogue is exactly what the Mauritshuis is aiming for with their exhibition Shifting Image - In search of Johan Maurits. Not only has (a replica of) the bust been replaced, it is now accompanied by a selection of the commentary received after its removal. Artworks in the exhibition – including portraits of enslaved people, maps of Dutch Brazil and depictions of nature and architecture in the colony – are highlighted with narratives offering varying perspectives, written by historians, artists and authors. It is perhaps a perfect example of the typical Dutch consensus-based decision-making known as the polder model.
Ron Santing, cultural attaché in Brazil, is one of the few participants already familiar with Johan Maurits. "Everyone in Brazil knows his name, and knows about the former colony where he served as governor," he explains. "So for me this was of specific interest. It has given me a lot more context about our colonial heritage and it's extremely informative. I'm so happy I got to see this during my visit!"
Mahendra Ratnaweera of the Embassy in Sri Lanka is enthusiastic as well: "My job primarily is to help Sri Lanka preserve and manage the shared cultural heritage. So the information on the role of colonialism is an important aspect of learning. Although the fields of arts and creative industry may not be too relevant in the Sri Lankan context, it is pretty much a key element in relation to cultural heritage. And there are many traces of Dutch cultural influences visible in Sri Lanka's history. In this respect, I would have to say my personal highlight was the excursion to the Mauritshuis. On top of the excellent collection of paintings, which told a tale of the country's colonial past, the bust of Johan Maurits really caught my eye. There indeed was a Sri Lankan, or colonial Ceylon, connection: two elephants engraved on either shoulder. You couldn't call for a better stamp of the colonial past than that."