Report: Afropean at the Forum on European Culture
Report: Afropean at the Forum on European Culture
November 1 marked the end of the exhibition 'Afropean', one of the Forum's many successful projects. We look back at the highlights of this collaboration.
The photo exhibition, masterfully curated by photographer Johny Pitts and Foam curator Kim Knoppers, officially opened on September 17. A day later, as an official programme part of the Forum on European Culture, the audience enjoyed a fresh look at Pitts' photos just before finding their seats for a compelling and entertaining evening. It was inspiring and insightful discussion of Johny's writing and his photography, moderated by de Balie's programme editor Rokhaya Seck. Along with Johny and the moderator, speakers Francio Guadeloupe, Lisette Ma Neza and guitarist Orville Breeveld all related in their unique ways to the artist's search for the Afropean identity. You can watch the programme below.
Riffs
The evening started with an almost instantaneous musical connection. Riffing off the main musical theme of Johny's short film Afropean Express, Orville Breeveld played as if he had accompanied him for years; it made the delivery of Johny's slam poem The Afropean Express an immediate success. Warm applause followed from the small audience gathered in the exhibition space at Foam.
After this, multi-talented Pitts (who writes, photographs, makes film and plays music) expanded upon the early beginnings of the project, answering to the questions from moderator Rokhaya Seck. Young slam poetry performer Lisette Ma Neza, seated in the first row, scribbled along furiously and then delivered an inspired spoken word intervention that served simultaneously as punctuation and summary of the discussion, accompanied by Breeveld on guitar. She went on to perform her intimate and harrowing song I can't breathe written in the wake of the murder of George Floyd. The combination of the words with an upbeat guitar pattern was at times eerie and uncomfortable but beautifully executed.
Media
Image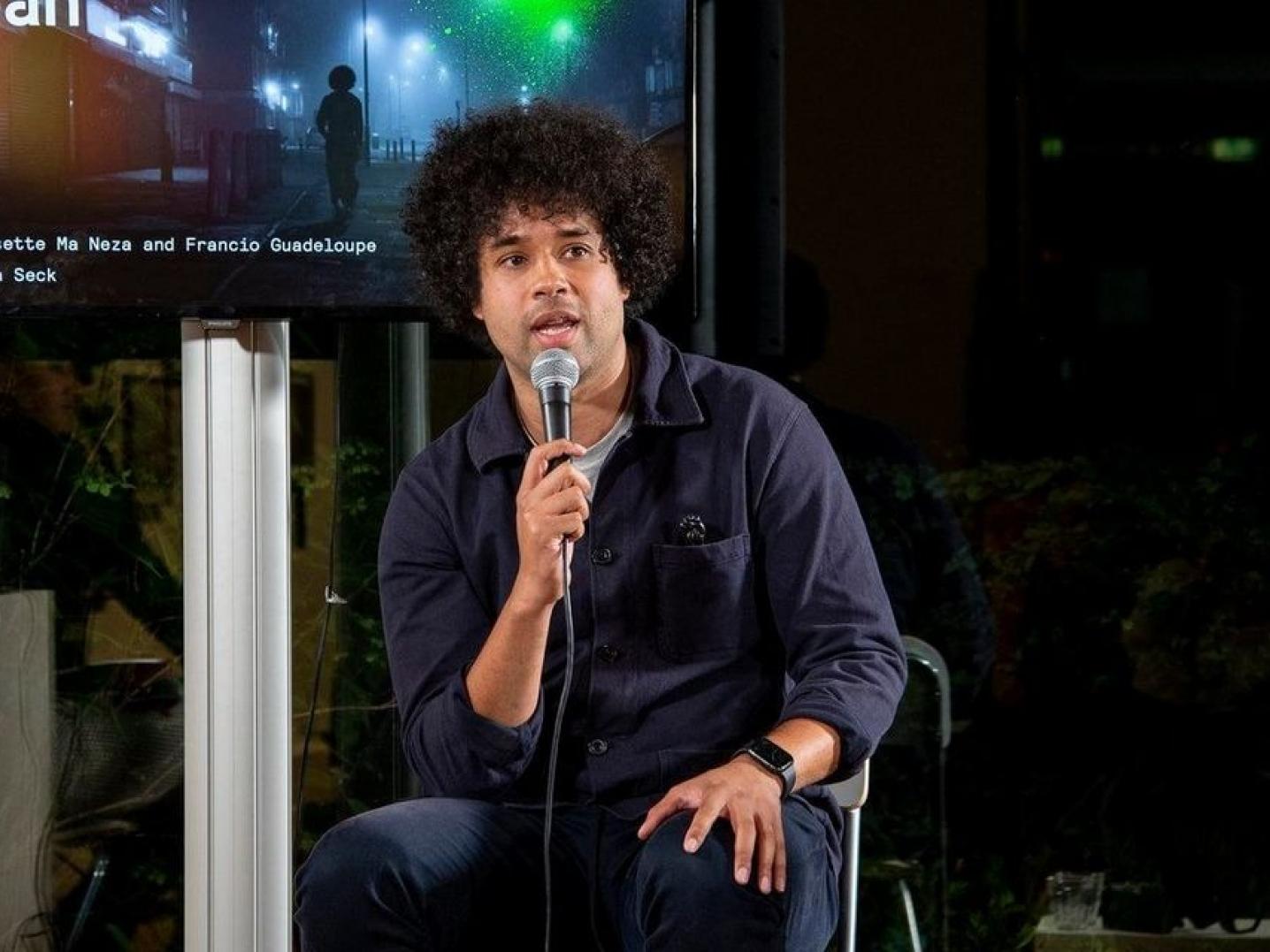 "Whole and unhyphenated" or "the dash as a bridge"
The talk that followed between UvA anthropologist Francio Guadeloupe and Pitts focused on the question of the hyphen or the dash, zooming in on the denominative aspect of Johny's quest and what a label can represent. Why would you spell Afropean as one word, and not use a word like Afro-European? Pitts: "I'd like to come up with a way of viewing the world that was whole and unhyphenated. I didn't want to be half this half that, and Afropean could be a portal to it. I wanted to bed blackness into Europe. It's a sort of a futuristic word that helps to piece the jigsaw together." Guadeloupe: "the dash between a word like Afro-Caribbean is important. The dash is also a bridge and allows for many alliances."
Guadeloupe and Pitts went on to discuss the particular liminal and exciting nature of port cities. Guadeloupe, who was in the process of finishing his work on Rotterdam and its unique cultural composition from an anthropological perspective, connected with Pitts who after finishing his journey had moved with his family to Marseille, the place that felt more like home and more Afropean than any of the other places he visited.
"I'm sure you're less sure now"
To close the programme after a round of questions from the audience, Ma Neza commanded guitarist Breeveld to evoke and 'play' the feeling of being lost as a child in a supermarket. For somebody aiming to evoke the feelings of a lost young boy, these memories sounded surprisingly happy and cheerful. Contradictions recurred in different ways throughout the evening. Accepting complexity and uncertainty within the hybrid notion of the Afropean remains central a central theme in the work of Pitts, which he describes as a quest, an ongoing discovery of the 'bricolage of blackness'. In the final stage of the evening, Ma Neza aptly recognised this search.
Media
Image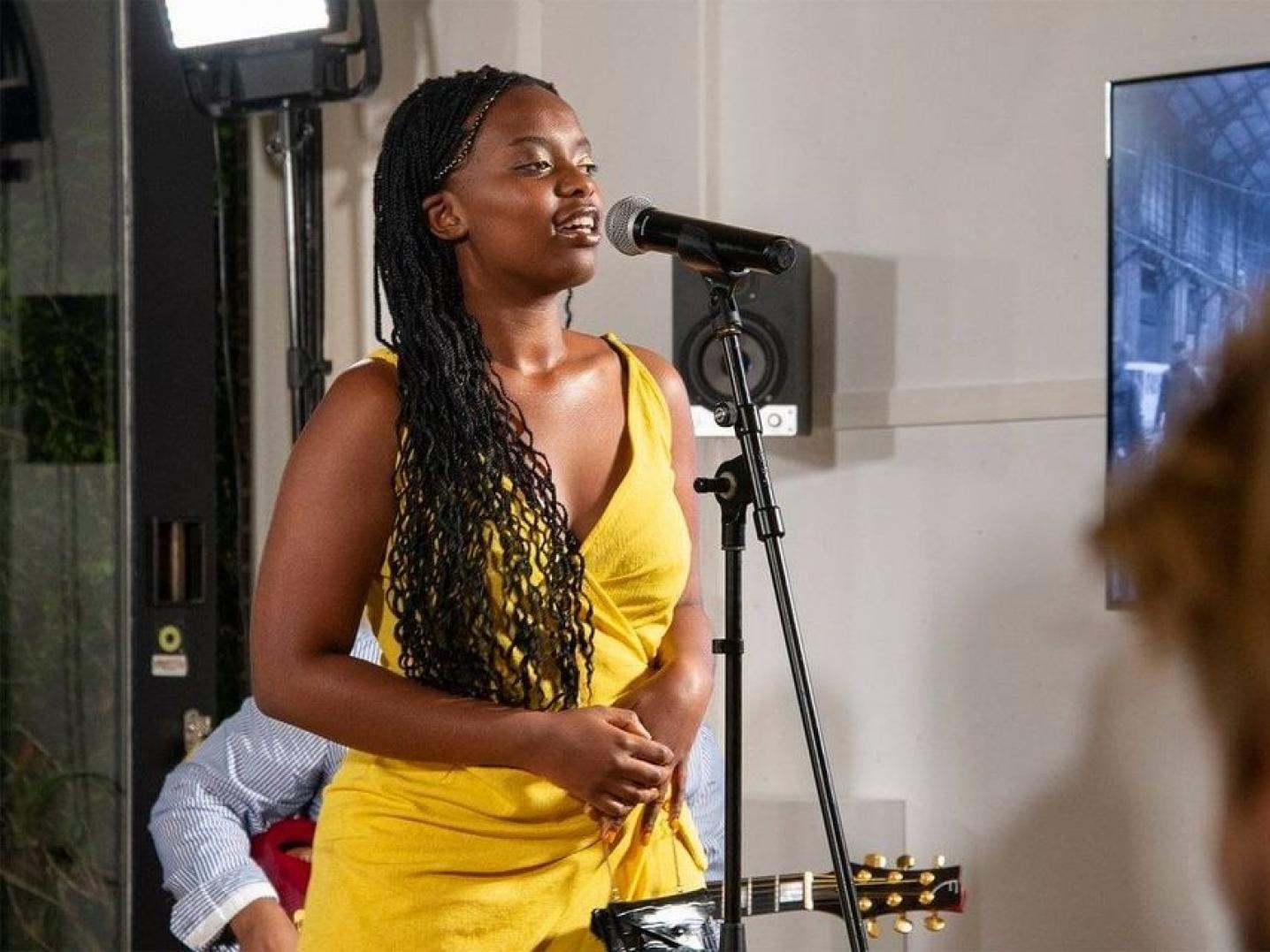 "I'm sure you are less sure now. There's a space between the places. There's a place where people come together, a meeting place on the world wide web. It's called Afropea. There's dialogues and sometimes, similarities and commonalities. Young girl, did you find your mother back yet? In my head, in my head, I think to myself: maybe Marseille will make me feel like I found my mother, and perhaps I'll be more sure then," recites Ma Neza.

"It has to go on"
More than merely an exhibition, the collaboration between Foam, Forum and Johny Pitts proved to be a meeting ground for conversation and reflection. As a companion piece to the programme and the photos, Foam and Forum realised an in-depth conversation between the artist and the renowned emeritus professor Gloria Wekker of Utrecht University and author of White Innocence: Paradoxes of Colonialism and Race. Surrounded by Pitts' photos, the two had an engaging conversation on how Pitts' work subverts dominant photographic modes of portraying black people, how the work situates black Europeans not only within postcolonial failures of the past but also concerning the failure of the promised future of multiculturalism, among a variety of topics. Wekker and Pitts also speculate on the future of Afropean as a project, as Wekker suggests documenting the lives of black Europeans in rural contexts too. Johny concurs, and similar to the way he describes the design of his exhibition - an indefinite, and perhaps incoherent bricolage of blackness - he states without any regret: "It's a journey that doesn't' necessarily conclude, I think," to which Gloria replies: "It has to go on."
Galerie Mercatorplein
Even though the exhibition at Foam has now come to an end, a selection of his photos can still be seen outdoors, on the Mercatorplein in Amsterdam-West. There, a unique edition of Foam's Galerie Mercatorplein is on view until December 10.
Every year, Foam sets up a collaboration with the city and Stadsdeel West to produce a spin-off project in public space, called Gallerie Mercatorplein. Foam has been collaborating with the (Nieuw-)West district for years and shows exhibitions in the public space on Mercatorplein. By setting up the outdoor photo gallery, Foam contributes to the goal of the Amsterdam-West district to make Mercatorplein a living room for De Baarsjes. For this edition of Galerie Mercatorplein, specifically, Foam worked together with the Nieuw Amsterdam Academy. Youngsters from New West made a selection from the work of Johny Pitts. Through the QR codes that accompany the large photos, you can listen to the reasons behind their curatorial choices.
Media
Image