Golden Coach exhibition Amsterdam Museum now online
As the exhibition 'The Golden Coach' is closed until further notice due to COVID measures, Amsterdam Museum shows the exhibition digitally for free.
*update*
As of Saturday 15 January, the gates to the courtyard are open to visitors to watch the Golden Coach. The museum itself remains closed until further notice.  
After a restoration that took more than five years, the controversial Golden Coach could be seen again by the public for the first time this summer in June. Before, the Golden Coach was used annually on Prinsjesdag. The coach is housed in a glass enclosure in the courtyard of the Amsterdam Museum. The exhibition opened on 18 June by King Willem-Alexander and is now due to the COVID-19 restrictions - which made museums close since 15 December - available to view online. The exhibition is accompanied by a public educational programme supported by DutchCulture's Matching Fund for international heritage cooperation, in which online talks are hosted about all aspects of the history and use of the Coach.
Media
Image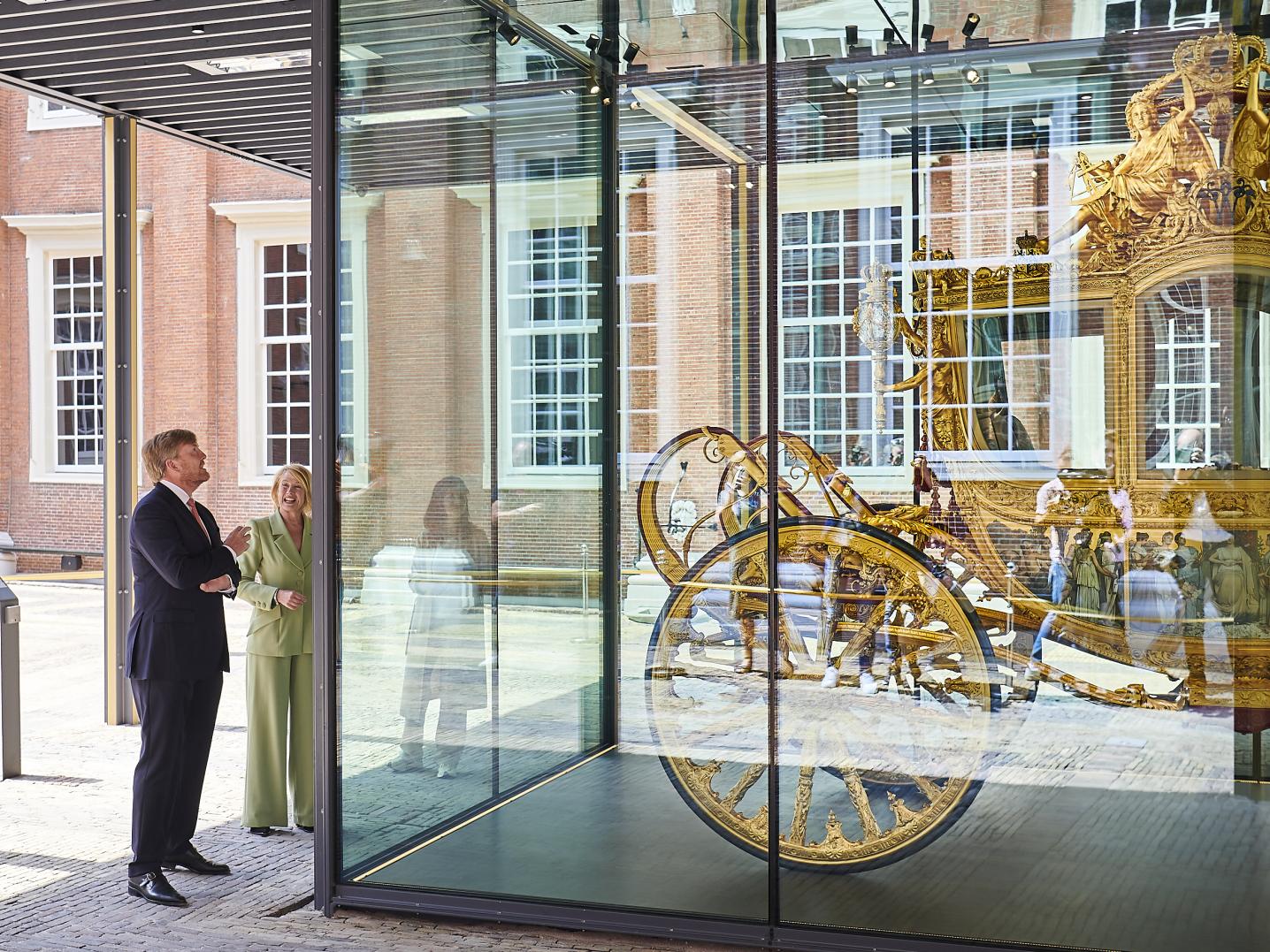 Controversial painting
The Golden Coach is now the subject of a current debate, caused by the painting on the left side of the vehicle: Hulde der Koloniën ('Tribute from the Colonies'). Depicted are people from the colonies paying tribute to a white youthful woman symbolising the Netherlands. An increasing number of people are finding this depiction of colonialism inappropriate for national celebrations.
Contemporary artists
Besides the coach, the exhibition features hundreds of cultural-historical objects and commissioned contemporary artworks provide a multifaceted view of the history and use of the Golden Coach and the past and present discussions about this iconic vehicle. The contemporary works mainly reflect on the symbolic value and materiality of the coach, including the controversial painting.
Artists from different generations with diverse cultural backgrounds were commissioned to create an ensemble of contemporary perspectives on the coach. They reflect on the rituals surrounding the coach, the materiality and craftsmanship of the carriage, and the colonial past and its legacy today. Their installations, sculptures, painting, photography, sound art, and performances offer artistic and critical perspectives on the Golden Coach. Iswanto Hartono's work Colonies is one of these.
The Golden Coach exhibition is available to view online for free on the website of Amsterdam Museum during this period of lockdown.