A Season of Classic Films 2020-2021
Te zien op 5 feb 2021: Sanz and the secret of his art
Date(s)
Friday 5 February 2021 18:00
MEDIA
Na een eerste succesvolle editie in 2019, met meer dan 15.000 bezoekers, is de tweede editie van A Season of Classic Films gestart op vrijdag 4 december 2020 met een gratis online streaming van de gerestaureerde film Sinner Without a Sin van Kosta Novaković uit 1930. Op vrijdag 5 februari om 18.00 uur is de volgende klassieker aan de beurt: Sanz and the secret of his art (1918), een ongewone combinatie van documentaire en fictie met geanimeerde poppen. De film gaat over buikspreker en uitvinder Francisco Sanz Baldovi die een eeuw geleden beweerde dat hij de beste robot ter wereld had gemaakt. Lees meer over de film op de website van Eye.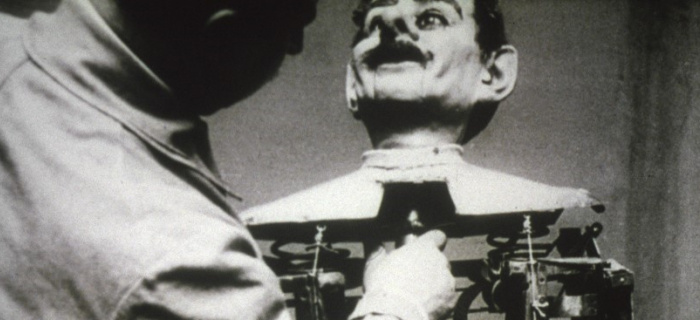 1918: buikspreker bezielt robot
De film wordt vertoond met livemuziek en is gratis te streamen met Engelse ondertitels via het YouTube-kanaal van het Institut Valencià de Cultura. Tegelijkertijd zal een beperkt publiek de vertoning bijwonen in de bioscoop van de Filmoteca in Valencia.
A Season of Classic Films
A Season of Classic Films bestaat uit een reeks gratis vertoningen die gepland zijn tussen december 2020 en juni 2021 in heel Europa. Het initiatief wordt gecoördineerd door de Association des Cinémathèques Européennes (ACE) en mede-gefinancierd door Creative Europe. De 22 leden van ACE presenteren de films met het doel de zichtbaarheid van hun filmcollecties te vergroten en ook het bewustzijn van filmconservering en -cultuur te versterken, met name onder jongeren.
21 leden van ACE deel aan het initiatief, waaronder Eye Film in Amsterdam. Iedere filminstelling heeft een filmtitel of een compilatieprogramma geselecteerd uit hun rijke archieven van beroemde films, maar ook minder bekende filmpareltjes. Eye Film zal de film Een cchtend van zes weken (1966) van Nikolai van der Heyde vertonen.
In totaal zijn tot juni 2021 meer dan 50 korte en lange speelfilms gratis te zien in een reeks speciale vertoningen, georganiseerd door Europese bioscopen in 19 landen. Klik hier voor de catalogus met daarin het filmprogramma.