'Better isn't good enough', a survey on the position of women in the Dutch audio-visual sector
Image
Image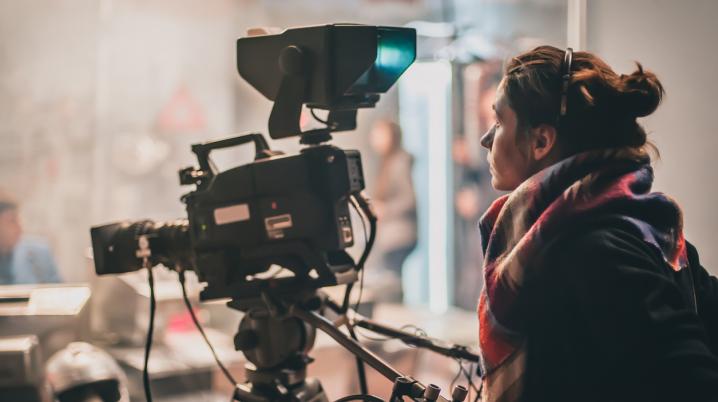 'Better isn't good enough', a survey on the position of women in the Dutch audio-visual sector
It is the first large-scale survey to underpin with figures the debate on improving women's position in the audio-visual sector.
MEDIA
"Personally, the conclusions didn't really surprise us. But they did come as a surprise to the sector," says Esther Schmidt, founder of the foundation Vrouwen in Beeld. "And that's perhaps the most surprising thing of all." Schmidt teamed up with co-founder and our colleague at the Creative Europe MEDIA desk, Andrea Posthuma, to commission Utrecht University to research how women's representation in head of department and lead and supporting on-screen roles in the Dutch film and television sector have developed over the past ten years (2011-2020). The results are clear: on average, the percentage of women holding such positions is 30.4% (= 8,753 women in all) whereas the percentage of men is 69.6% (= 19,995 men in all).
(See below for all the results)
The Netherlands trails behind
"The survey was not a goal in itself," says Schmidt. "We established the foundation nearly two years ago in order to boost the visibility of women's work in the AV sector and to improve their position. It surprised us at the time that such an organisation did not exist in the Netherlands, while they do exist in other European countries. Our aim is to organise events, coaching projects and workshops. And to do so we wanted to engage various players in the debate, but that's hard to do without figures to back up your argument. What exactly is it you want to improve, then? When it turned out that these figures aren't even available, in contrast to many other countries where they do keep track of such data, we decided to commission this survey. So the survey serves as a tool to help get this discussion off the ground."
Posthuma: "The purpose of our foundation is to make women's work more visible, but also to identify the bottlenecks. The goal is to engage other women in conversation about the obstacles they encounter in their career, and what support they could use now." The initiators emphasise that this is just the first step, and that one of the recommendations contained in the report is to conduct further research into why the figures are the way they are. This will then make it possible to take concrete action to improve the situation.
"Through my work as an advisor at the Creative Europe Desk,"explained Postuma, "I quickly realised that the theme of diversity would become a major focus point in the new grant programme (2021-2027, eds.). A growing number of European studies and surveys on gender equality and diversity in the audio-visual sector were published in the past few years. And the Netherlands is trailing behind, especially in comparison to the Scandinavian countries."

Not emancipated
According to Schmidt, the idea that the Netherlands is doing fine in this respect is an ingrained but inaccurate idea. And within the sector, it's not just men who hold this belief, but women too. "It's a typical Dutch prejudice to think that we're wonderfully emancipated in this country. While it just isn't so."
Having worked in the audio-visual sector for many years, Schmidt and Posthuma were already aware that the sector employs many women, but that they are severely underrepresented in management positions. But, as Posthuma says: "I was still taken aback by the figures. I work with so many women as part of my job, that I had expected a more positive picture." Schmidt: "The cold facts were quite shocking. That includes the conclusion that although the number of productions continues to grow, there is no increase in the number of women serving as head of department. So the additional opportunities that open up are not filled by women. Especially in the field of feature films and documentaries, there is a clear proportional decrease. And we found another striking result: the bigger and more costly a production, the greater the proportion of men is involved, also in management positions." The survey serves as a kind of baseline measurement to reveal patterns and unfair situations, as a stimulus to start researching how things can be improved. "Consider for instance the small number of women in 'technical' positions such as sound design and camera. Now that we know this, we need to ask why? This survey report doesn't tell us."
It is however clear to Schmidt and Posthuma that all organisations in the sector need to engage with the issue. "Many organisations have a diversity committee, and they should embrace the report and take action," says Schmidt. "We are eager to act as their partner in the effort, and if they want us to start collecting and processing all the relevant figures, then we certainly will. But these organisations need to start keeping track of these figures, based on an intrinsic interest and their own sense of responsibility. So not just because we ask them to. It is important for all players to know the facts and figures, not just for the (commercial) media companies and the funds, but also for the production companies and streaming providers, for example. We want to create that awareness."
Media
Image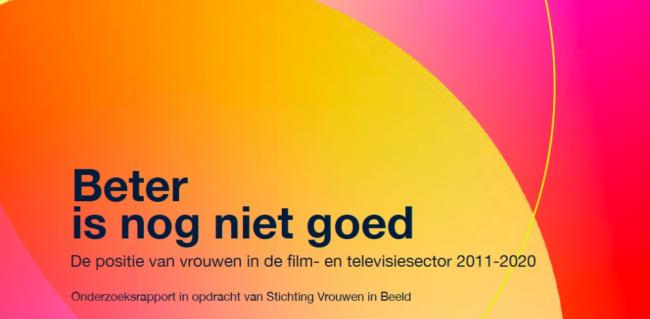 The right mirror
Although they are clearly reluctant to elaborate on possible causes – the survey is after all a purely quantitative study – they do discern a certain mechanism in their own work settings. Schmidt: "What you see is that it's always the same people with experience that are recruited, certainly for costly projects. But if women never get the opportunity to gain that kind of experience, then they'll never get asked. So the result is a kind of self-perpetuating mechanism. You need to be provided with the opportunity and support to develop further. That's why women also need a platform, otherwise they don't get the chance to develop. They need to build up a track record."
Having role models is important as well. Posthuma: "Women need to have the right mirror. If we, as women, do not see ourselves represented in a film, then the result is the wrong kind of role model. Women are being written and directed by men, so to speak." It implies a one-sided narrative in the sector. Many productions are a male construct, presenting images of women as they are pictured by men. That's why we need much more diversity in terms of narratives and characters, in addition to more diversity and safety on the film set, according to Schmidt. "That's why it's good to see how funds are increasingly rewarding diversity in their grant allocations. We all know that it's good for teams to consist of both men and women, no matter what the work setting is. It is vital for women to be able to contribute, be it in terms of ideas, creativity, or work ambiance. The standard is still predominantly defined by men, but surely no one is entitled to determine what quality is? Or how many working hours a day should have, or what stories are important? It all depends on your frame of reference."
In Posthuma's view, it might be time to start considering a quota system. "There's a lot of resistance against the idea, based on the argument that decisions should be taken purely with a view to quality, but perhaps we do need it to create more equality. The point is not to simply fulfil the quota requirements, but to discover how it can lead to new and valuable perspectives. A woman once said to me: 'From day 1, I was determined to never cry on the set'."
Point of VieW conference
The Vrouwen in Beeld foundation is currently talking to stakeholders to explain the report. A conference has been scheduled for 28 April, where people from the sector can talk to each other in small groups and can strive to formulate concrete targets, to then pursue in practice.
The main conclusions
Men have a dominant position as head of department and in lead and supporting roles in the Dutch film and television sector. In the period 2011-2020, the percentage of women in said positions and roles was 30.4% (8,753 women) whereas the percentage of men was 69.6% (19,995 men).
Men mainly dominate in the technical occupations relating to camera, editing and sound on set. The percentage of women in these positions ranges between 5.1% and 25.1%. In positions relating to production, direction and screenwriting, women make up roughly one third. In production design the share of women is slightly smaller than the share of men (45.6% versus 54.4%, respectively). The proportion of women exceeds the proportion of men only in research (this survey only examined research for documentary productions), at 63.4% compared to 36.6%, respectively. For lead and supporting roles, the percentage of women is slightly above 40%.
Developments in the number of women and men per position over the period 2011-2020 reveal that women have been underrepresented in all positions, with the exception of production design and research.
A pattern emerges showing how an increase in production volume equates an increase in gender inequality. Women benefit less and/or later from the volume growth than men.
Women have a smaller share in fictional productions than in documentary productions. Comparing these two genres, the differences in the share of women and men are particularly notable in the positions of production, direction and screenwriting, camera and sound on set.
Women have a larger share in shorter and less costly productions, such as short films and documentaries, than in longer and more costly productions such as feature films and series.
The correlations between budget and length and various positions show that, as productions become more lengthy and expensive, the proportion of women involved decreases and the proportion of men increases.
There are no persuasive indications of a so-called trickle-down effect, by which an increasing number of women in production, direction and screenwriting positions would 'automatically' result in more women in other positions as well.
Although some things have improved compared to ten years ago, the representation of men and women in the film and television sector is still far from equal.