DutchCulture videos and podcasts 2021
Find an overview of this year's videos and podcasts, for example Infected Cities part 2, 50 years of international cultural policy and more.
New Generations meet-up
On 1 October DutchCulture organised its first public New Generations meet-up at Lab 111. A diverse group of 18 young artists based in the Netherlands came to share their experiences working abroad so far, as well as their international ambitions for the future. The meet-up kicked off with a panel discussion spotlighting three guest speakers. Afterwards, the guest speakers and other attending artists were split up into smaller break-out sessions, to get to know each other better and talk about their personal experiences of working internationally. DutchCulture will be (co-)organising more events and programmes in the near future and continue to highlight stories from young artists within the theme #NewGen.
Facets of Tangier
In 2018, the Amsterdam Andalusian Orchestra started a visual study into the rapid developments in the city of Tangier in relation to the culture and identity of its residents. This resulted in a travelling exhibition, a publication, and public and educational programmes in both Morocco and the Netherlands between 2019-2021. The project has been concluded with the new publication Tangier: Facets of an Interzone, with photographers Imane Djamil (MA) and Rein Kooyman (NL) – focusing on the edges of this expanding city, where new high-rise buildings and mega-developments come up against the farms and villages of rural life. During Facets of Tangier in de Meervaart on 1 September, we reflected on the experiences with photographers, writers, architects, urbanists, designers and curators who were part of the project over the years.
DC TV Talks - Sustainability & internationalisation: an artistic dilemma or the perfect match?
In this pilot of DC TV Talks, DutchCulture and Boekmanstichting created a programme about the dimension of sustainability in international cultural cooperation. How can Dutch artists and cultural organisations become more eco-friendly whilst remaining active on the international stage? Should artists and cultural organisations travel physically to other countries or can they reach international audiences via live stream? And what is the true cost of these digital events? With performing arts specialist Jimmy-Pierre de Graaf (moderator), choreographer/performer Pauline Roelants (United Cowboys, Eindhoven) and visual eco-artist Thijs Biersteker.
Artists in Conversation
Artists in Conversation is a new series of broadcasts by DutchCulture in which we learn about the cultural climate in Egypt, Australia, and Hungary. By offering artists the opportunity to engage in conversation with each other, we don't only get to know the artists and their practices, but also the cultural sector of the environment they work in. Every edition of the series consists of two dialogues between an artist from the Netherlands and an artist from another country. Moreover, upcoming talents will be given the opportunity to present their work during the programme.
Visitors programme museum professionals: Sharing Culture through Digital Means
During the pandemic, digital means have become essential for museums to get in touch with their public. Within the field of digitisation, there are numerous possibilities, for example, an Instagram exhibition such as the online queer art project Through the Window. At DutchCulture, we think it is vital to enable museum professionals to exchange ideas and knowledge to optimise digital solutions.
Creative Europe
Some highlights of the past Creative Europe programme (2014-2020) and new opportunities for the next period (2021-2027).
Webinar: Cultural Exchange To The UK After Brexit: What Happens Next?
During this event DutchCulture, partner organisations and the Dutch embassy in the UK explored international cultural exchange after Brexit.
DutchCulture on Tour - edition Limburg
After the successful editions in Brabant and the northern provinces of the Netherlands, DutchCulture on Tour - edition Limburg took place online from the Limburg Museum in Venlo on Monday, 22 March. Are you an artist or organisation from the province of Limburg and do you have questions about cultural internationalisation? For instance, how do you find professional partners in Germany of Belgium? How can a residency help expand your foreign network? Watch back the videos to find the answers. (Videos are in Dutch)
i-Portunus
i-Portunus continues to support the mobility of artists, creators and cultural professionals among all countries participating in the Creative Europe Programme. A second pilot project was selected and co-funded by the Creative Europe programme and a consortium headed by Goethe-Institut with Institut français and Izolyatsia. TransArtists organised several webinars about i-Portunus, during which representatives from the consortium will give more details about i-Portunus, as well as focus on the current open calls – for music, literary translation and architecture.
Civic Council on European Democracy – Talks Across Europe
The Civic Council on European Democracy is an initiative by the Forum on European Culture, European Alternatives and Gazeta Wyborcza. This project is supported by the Europe for Citizens Programme, De Balie and DutchCulture.
#2: Palermo, Sicily
In these two sessions leading European artists and thinkers convene with citizens from Palermo, Sicily, to discuss how we can make our democracies function better.
#3: Warsaw, Poland
In the final session of the Civic Council on European Democracy - Talks across Europe, we discuss with prominent Polish and other European thinkers how culture and the media can, on the one hand, safeguard democratic values, but on the other hand, be effective propaganda tools for radical-right wing politicians to spread populism and nationalism.
Podcast series on 50 years of international cultural policy
In collaboration with the Boekman Foundation, DutchCulture presents a series of three podcasts in which researchers and other experts discuss 50 years of Dutch international cultural policy. Not only do we look back on the past, but we also look towards future developments. (All podcasts are Dutch spoken)
In podcast #1: Retrospective Mirthe Frese speaks with researcher Toine Minnaert and writer Henk Pröpper about the beginning of Dutch international cultural policy, changes of the past few decennia and the present-day situation.
In podcast #2: Entangled Heritage historian and senior researcher at the Royal Netherlands Institute of Southeast Asian and Caribbean Studies Esther Captain and artist and curator Richard Kofi talk about international heritage. How must we deal with the paradox of colonial heritage? Why is the term 'shared heritage' problematic? What are the perspectives from various academics, curators and artists on this matter?
In podcast #3 Culture for Everyone Conrad van Tiggelen, director Strategy and Branding at The Netherlands Board for Tourism & Conventions, and Yassine Boussaid, director of Theatre the Meervaart, speak about the economic advances and intrinsic value of international cultural exchange. An important question is: how do you engage visitor not only internationally, but also within a region or city?
Or listen via Spotify.
Media
Image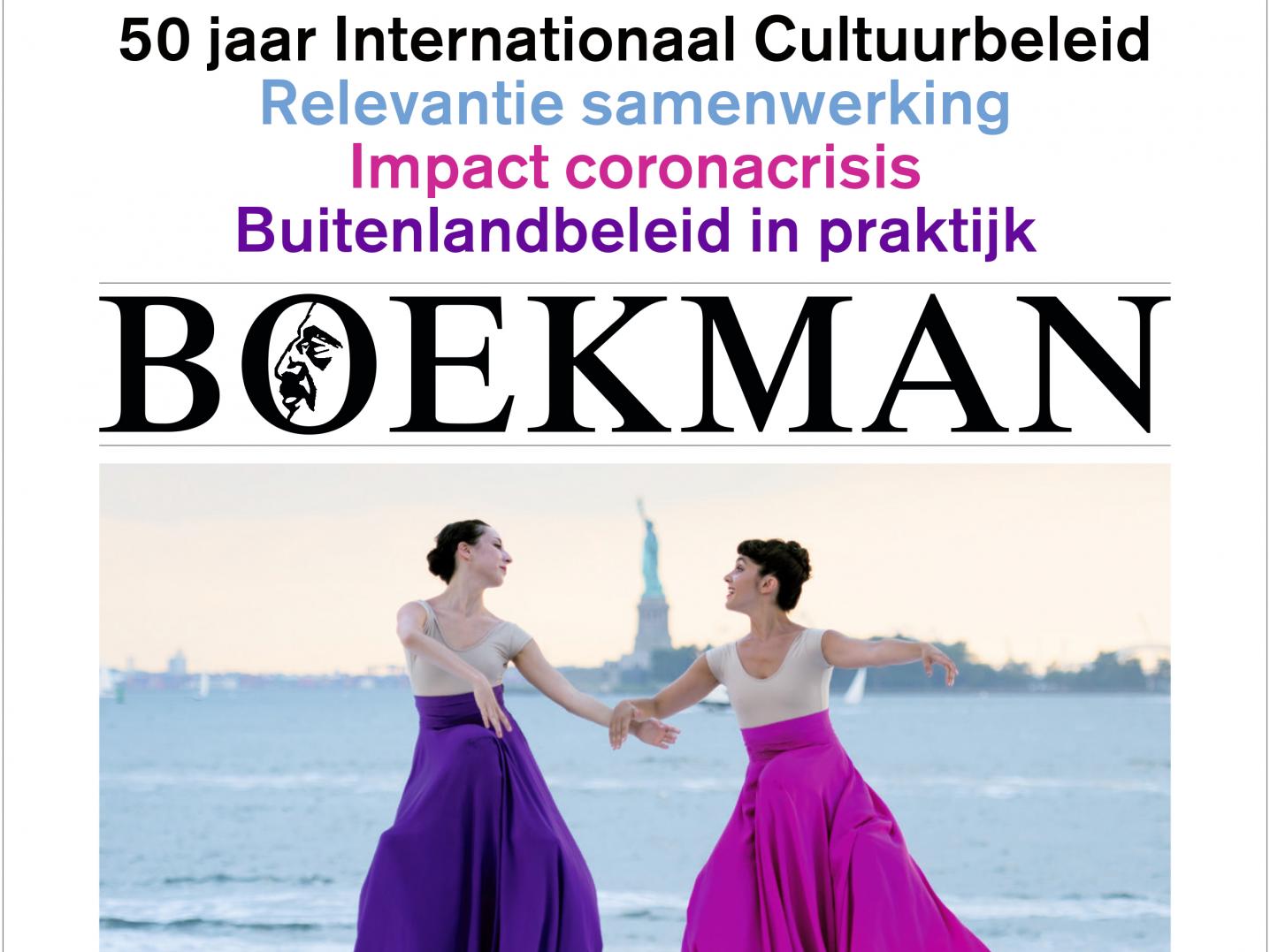 Erasmus Huis 50 Years Young celebration
The Erasmus Huis is the cultural centre of the Netherlands' Embassy in Jakarta and was founded in 1970. On Wednesday 27 January 2021, the Erasmus Huis celebrated its 50th anniversary, as well as 50 years of cultural collaboration between Indonesia and the Netherlands.
INFECTED CITIES - PART 2
How can urban culture and creativity be a driver of social impact? Pakhuis de Zwijger and DutchCulture are organising a second series of Infected Cities, focusing on Europe: Paris, Athens, Warsaw and Madrid.
DUTCHCULTURE HERITAGE PROGRAMME
Veysel Yuce, Shared Heritage former expert at DutchCulture, introduces the two Heritage Programmes DutchCulture has to offer.