Notes from the EUNIC General Assembly, 23-24 June in Munich
Image
Image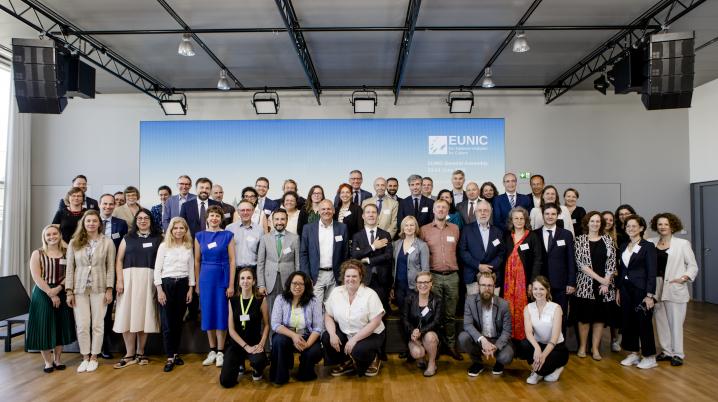 Notes from the EUNIC General Assembly, 23-24 June in Munich
DutchCulture is an active member of EUNIC Global. Twice a year, the General Assembly gathers all members to discuss shared strategies and challenges.
The last gathering took place on June 23 and 24 in Munich, initiating the presidency of Johannes Ebert, director of the German Goethe Institut.
EUNIC (European Union National Institutes for Culture) is the European network of organisations engaging in cultural relations. Together with many different partners, it brings to life European cultural collaboration in more than 100 countries worldwide with a network of 133 clusters, drawing on the broad experience of our members from all EU Member States and associate countries. EUNIC advocates a prominent role of culture in international relations and is a strategic partner of the EU, actively involved in the further definition of European cultural policy. EUNIC is a platform for knowledge sharing and for capacity building amongst its members and partners. From the Brussels office, Director Andrew Manning and his team coordinate joint activities and aim to strengthen the network further, advocating for its role within European external affairs at several European institutions.

Members
Among EUNIC's members present at the General Assembly, are directors and colleagues from national institutes for culture from the European Union. National Institutes for culture are for example the Czech Centre, the Lithuanian Culture Institute, the Goethe Institut from Germany or the Arts Council Malta, but within EUNIC there are also representatives of Ministries of Foreign Affairs, such as those of Luxembourg, Hungary, France and Slovenia. The question of which organisation represents their country at the level of EUNIC reflects how international cultural relations are internally structured in each member state.
For the Netherlands, DutchCulture is the representative organisation at the Brussels level, while Dutch embassies and consulate-generals worldwide represent the Netherlands in local clusters.
Media
Image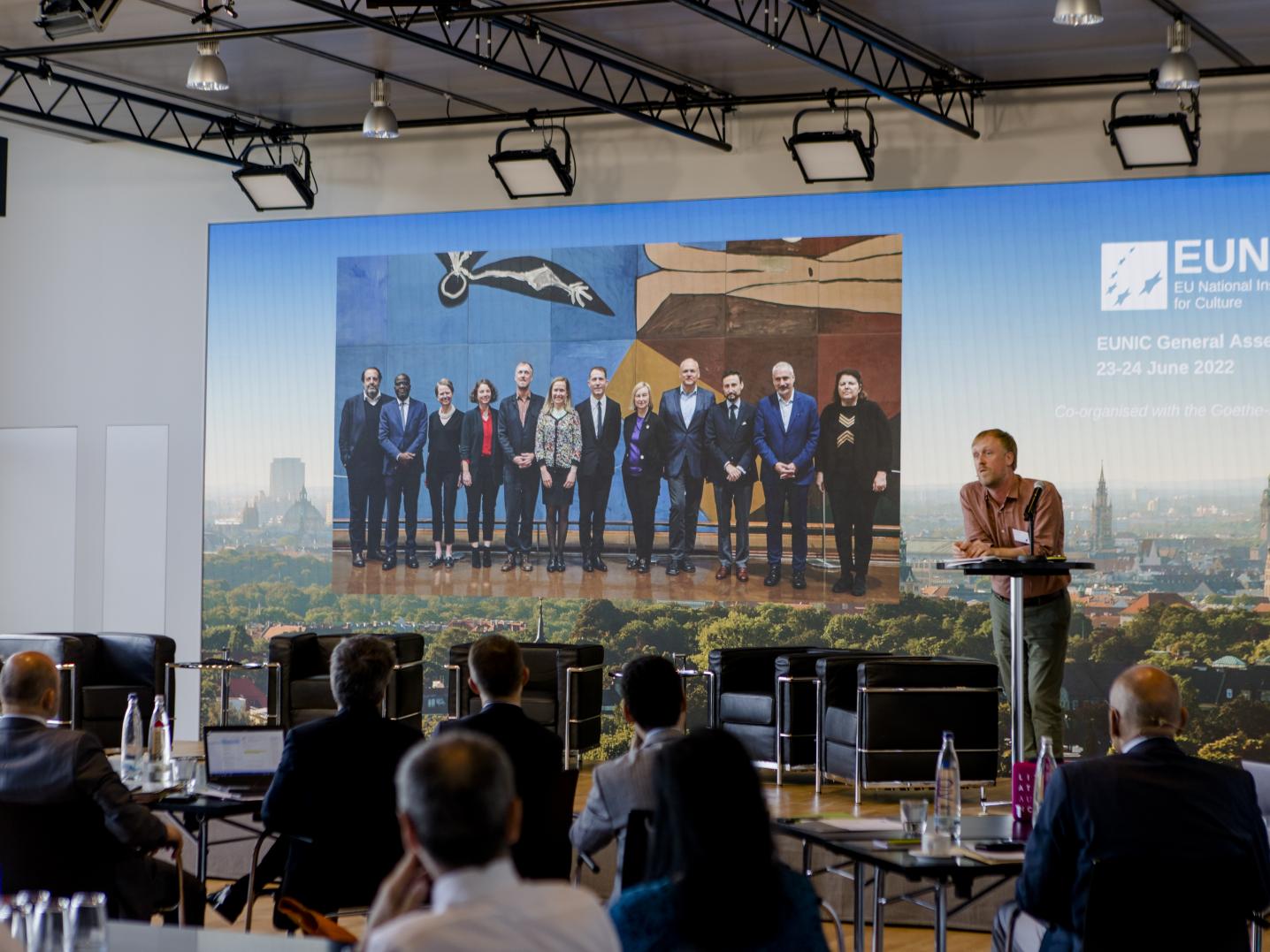 Board
Assisting the President during their 1-year term, EUNIC Global is composed of a Board of Directors. The General Assembly applauded outgoing EUNIC Board member Cees de Graaff of DutchCulture for his enduring commitments, as well as Petra Kezman of the Slovenian Ministry of Foreign Affairs. The General Assembly elected the following Board members to work alongside new President Johannes Ebert:
Camilla Mordhorst, CEO, Danish Cultural Institute (Vice-President)
Ondřej Černý, Director General, Czech Centres
Guzmán Palacios Fernández, Director of Cultural and Scientific Affairs, AECID, Spain
Matthieu Peyraud, Culture, Education, Research & Network Coordination Director, French Ministry for Europe and Foreign Affairs
Aušrinė Žilinskienė, Director, Lithuanian Culture Institute
Media
Image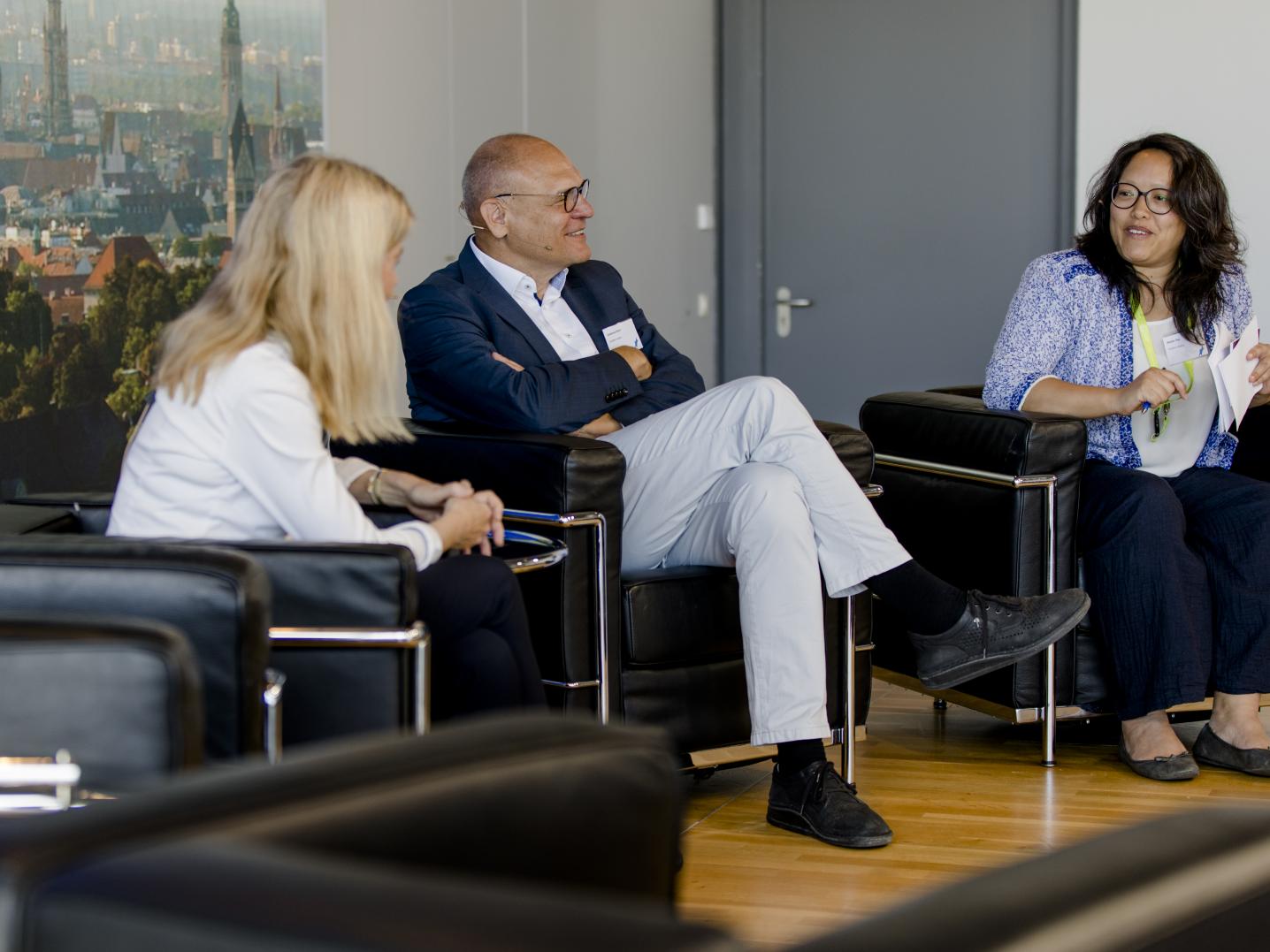 European Spaces of Culture
Project coordinator of the European Spaces of Culture Programme and former DutchCulture colleague Robert Kieft presented the state of play of the Preparatory Action European Spaces of Culture. The funding programme, managed by EUNIC Global, specifically supports multilateral projects outside of the European Union to pilot and experiment with innovative cultural projects. EUNIC members need to apply jointly with local partners to establish long-lasting relations. With the third Call for Ideas (having closed June 19, 2022) receiving 26 applications, this brings the total number of applications to 107 applications, involving 78 different countries, 401 local partners, 520 branches of EUNIC members, and 107 EU Delegations. 33 EUNIC members are globally represented.
The 17 projects supported so far have demonstrated the cultural relations approach – co-created projects that are based on local needs and partnerships, as well as a wide array of strategic topics, including sustainable development, freedom of speech, accessibility and inclusivity, and digital transformation. The General Assembly in Brussels in December 2022 will mark the occasion to present and discuss the results of the second phase of European Spaces of Culture with external colleagues from the EU institutions and a wider Brussels public.

The purpose of the Preparatory Action is to create a sustainable funding instrument for strategic EU action in cultural relations. Conversations have been initiated with the EU institutions towards this end. The collaboration model developed by European Spaces is often seen as an exemplary practice to emerge in multiannual plans. Such programming needs to drive forward culture-led development as part of the evolution of the EU's strategic approach to international cultural relations.
Flash Report Cluster Fund
EUNIC Global published a report on the functioning of its worldwide clusters, celebrating 10 year anniversary of the Cluster Fund. The Cluster Fund is a common funding mechanism for groupings (clusters) of European cultural institutes, embassies and consulate all around the world. The Flash report was commissioned by the EUNIC office to take stock of the cluster network development and to share success factors and practical recommendations with the network. Part of it is based on in-depth interviews with altogether 12 representatives from seven EUNIC clusters in Brasilia, Ethiopia, New York, Romania, Saudi Arabia, Vietnam, and the UK that were identified by the EUNIC office as best practice examples. A second part provides an overview of the results of a cluster network survey that was conducted by EUNIC between March and May 2022.
A growing Dutch apetite
The General Assembly approved the formation of new EUNIC clusters in Barcelona, Wellington and Kansai. We specifically congratulate our Dutch colleagues Femke Valk in Wellington and Bas Valckx and his colleagues in Osaka and Kyoto for joining newly formed clusters. From our coordinating role, DutchCulture will follow their plans and projects closely. The EUNIC network now counts a whopping 136 clusters in 104 countries and recently, we have seen a lot of interest from the Dutch diplomatic network in joining and working with clusters. Between December 2021 and July 2022, DutchCulture has signed 7 mandate letters to grant Dutch Embassies or Consulate-Generals to become full members of their local EUNIC Cluster (Tokyo, Istanbul, Wellington, Canberra, Kuala Lumpur, Amman, Bejing and Bogotà).

DutchCulture is carrying out a small-scale research among Dutch missions within the global diplomatic network who have been granted funding from the Cluster Fund, to gather best practices to gain insight into their motivations for joining European joint projects. We will share our findings in the fall of this year with colleagues who are eager to learn more about the opportunities, conditions and practicalities of EUNIC-supported projects.
Cluster Fund Call
Looking ahead into the year, the GA looked to the Cluster Fund as members approved the outline of the Cluster Fund Call for Proposals 2022. This includes the optional thematic focus on youth, piloting the possibility to increase the requested amount per project to a maximum of € 25.000 and lowering the co-financing rate to 40% in relation to the total amount. However, members also requested more flexibility on the requirement of including a minimum of 3 local partners. The Cluster Fund Call for applications will open from September 6 until November 1, and DutchCulture is committed to supporting any colleague who wants to prepare an application.
Please reach out to Simon de Leeuw if you want to know more about the Cluster Fund.