"We want to open up the conversation about mental health, through art"
Image
Image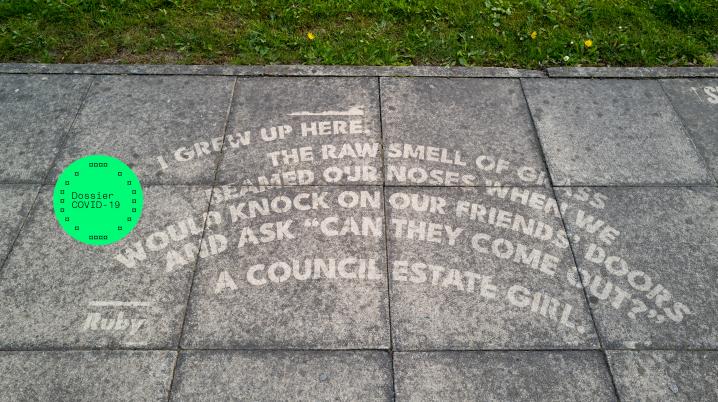 "We want to open up the conversation about mental health, through art"
Drawing attention to mental health problems was the goal behind MINDSCAPES, an online and open space festival in Manchester showcasing Dutch artists.
"I wouldn't care but I'd notice. I'd find a new way to anchor myself on a dark winter's morning."
An unwary passer-by would perhaps walk right past the poem, written by inhabitants of North Manchester during writing workshops by Dutch artists Sjaan Flikweert and Elten Kiene. Or maybe even step on it, while hastily speeding towards the nearby bus stop on Upper Conran Street. The poem was one of many, visible on the sidewalk in different areas in Manchester from 19 April to 16 May. You just have to look down to see them.
This particular poem was situated right across from Harpurhey Market. The market is an important place in the Harpurhey neighbourhood, one of the most deprived areas in Manchester. In 2007 a report from the British government cited it as the worst place to live in England. A 2013 documentary series, People Like Us, painted Harpurhey in a grim light, showing a very stereotypical view of the area. The nearby located neighbourhood Moston didn't come off much better in the heavily criticised series.
Media
Image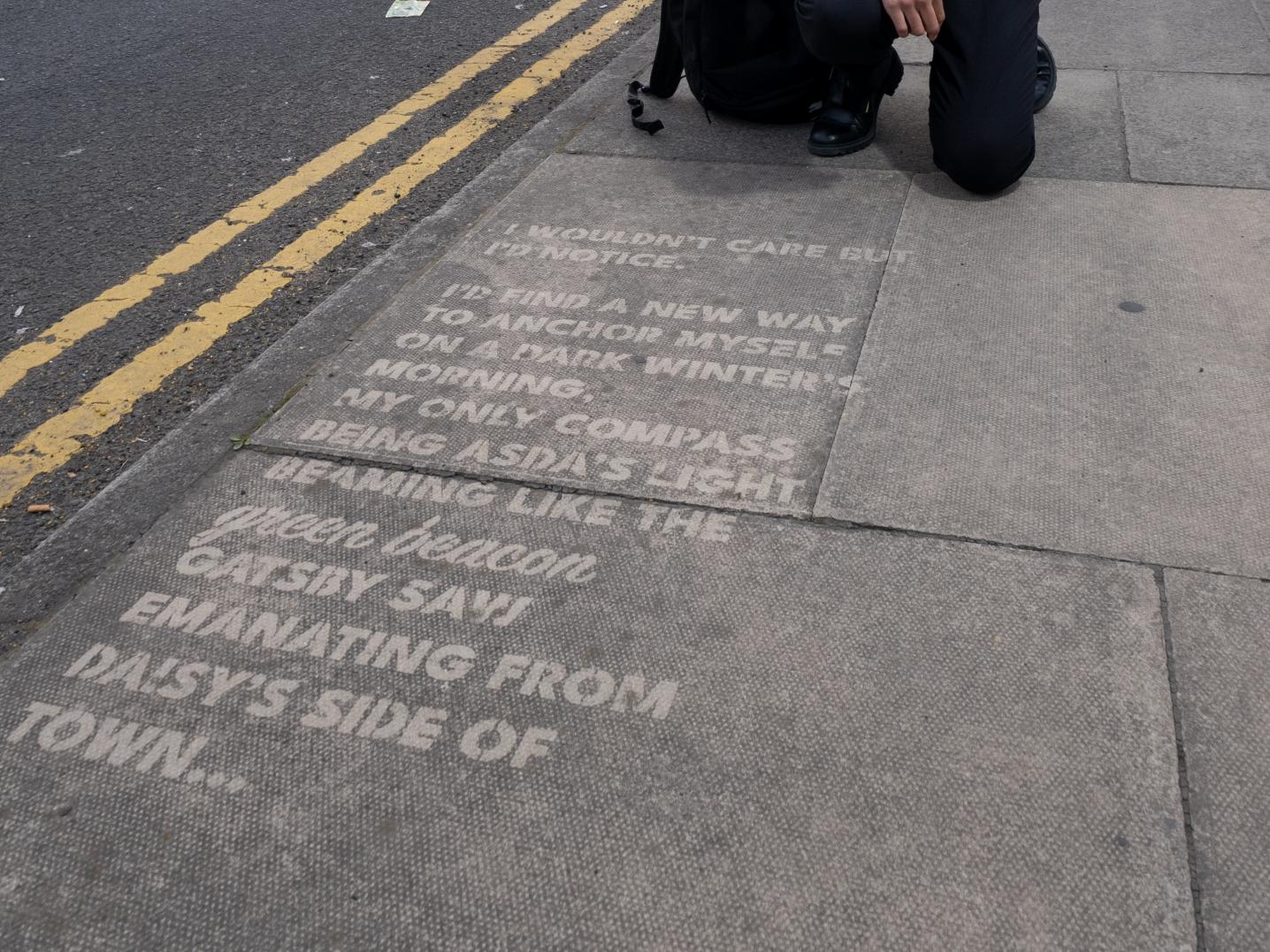 Image aside, Harpurhey and Moston are dealing with the highest number of people with mental health problems in the UK. The same goes for Greater Manchester, an area populated by over 2.8 million people. According to Greater Manchester Health and Care Partnership, one in four residents of the area have mental health or wellbeing issues.1 The most common ones being anxiety and depression. Over 10 percent of people living in Manchester are experiencing the latter.2 Suicide is the biggest killer of men under 49 and is also the leading cause of death for people aged 15 to 29.3
Mental health problems are a serious issue, Tim Harrison believes. Harrison works as creative director at SICK! Festival, which organises art festivals focussing on mental and physical health. "A lot of people who are depressed, have anxiety or are otherwise experiencing problems with their mental health, don't talk about or even acknowledge their problems. We want to open up the conversation. Through art."
From the Netherlands to Manchester
The poem on the pavement right across from the Harpurhey Market is one way to get people to talk about problems with their mental health. The reverse graffiti is part of MINDSCAPES, an art festival produced by Harrison and his colleagues, combining local artists from Manchester and artists from The Netherlands. In April and May, residents from Moston and Harpurhey would find five different art works in their neighbourhoods. All related to mental health.
MINDSCAPES shows the influence the built environment has on our mental well-being. The idea for the festival started two and a half years ago. At the time DutchCulture made funding available for a cultural collaboration between The Netherlands and the United Kingdom. Roel van de Ven, cultural attaché for the Dutch embassy, visited many different parties, hoping to find a match.
Media
Image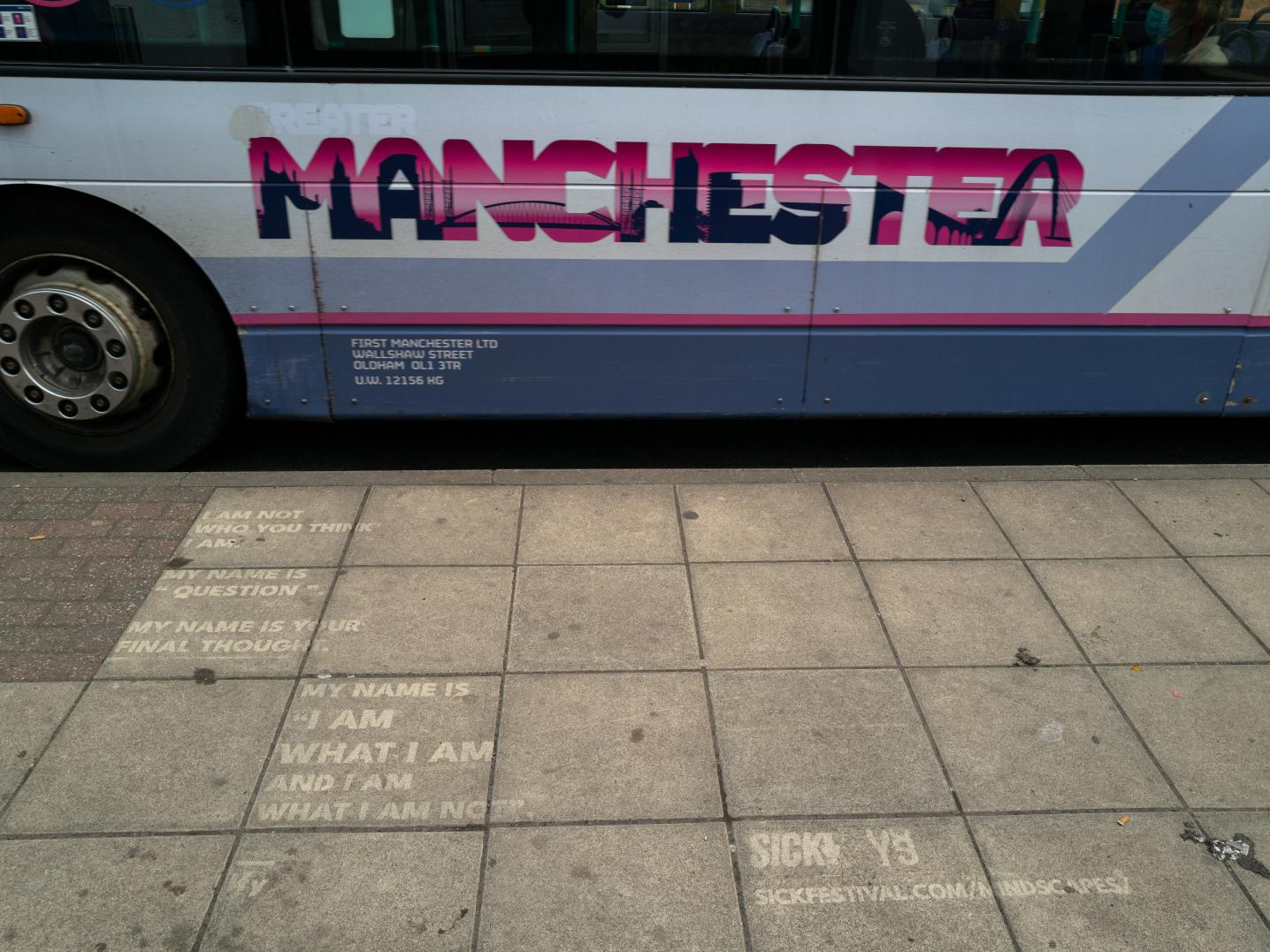 "My first priority was to find a good partner outside of London," Van de Ven says. "With these types of collaborations, London is usually seen as the place to be. But there are also many other areas in the UK that are really interesting. SICK! Festival in Manchester, with whom Dutch Performing Arts had worked before, made the strongest impression."
Van de Ven connected SICK! Festival with cultural intendant Han Bakker in the Netherlands and asked them to write a proposal. "We liked their plan for collaboration between Dutch artists and cultural institutions in Manchester interesting," says Van de Ven. His colleague Koen Guiking, policy advisor culture at the embassy, adds: "The proposal included a variety of arts disciplines. That was an important requirement to get funding from DutchCulture. Up to that point, SICK! Festival focused mostly on performing arts, but they had plans to branch out to different art forms."
Digital visits
Harrison and his co-workers at first wanted to bring the Dutch artists to Manchester. "We wanted them to live in Moston and Harpurhey, at least temporarily. Walk the streets, talk to local residents, getting their hair cut at the local barber shop… But when COVID-19 hit, travelling was no longer possible. And meeting people became a lot more difficult."
In different times, the COVID outbreak would have meant the end for MINDSCAPES. But in our current digital age, SICK! Festival found a way to adapt. "We had to move everything online," says creative producer Steve Vickers, whose job it was to connect the Dutch artists to the residents of Moston and Harpurhey. His knowledge of the areas, built up through experience in community neighbourhood projects, was indispensable. According to Vickers, there is a lot of distrust amongst residents, partly because of the image the areas have.
Media
Image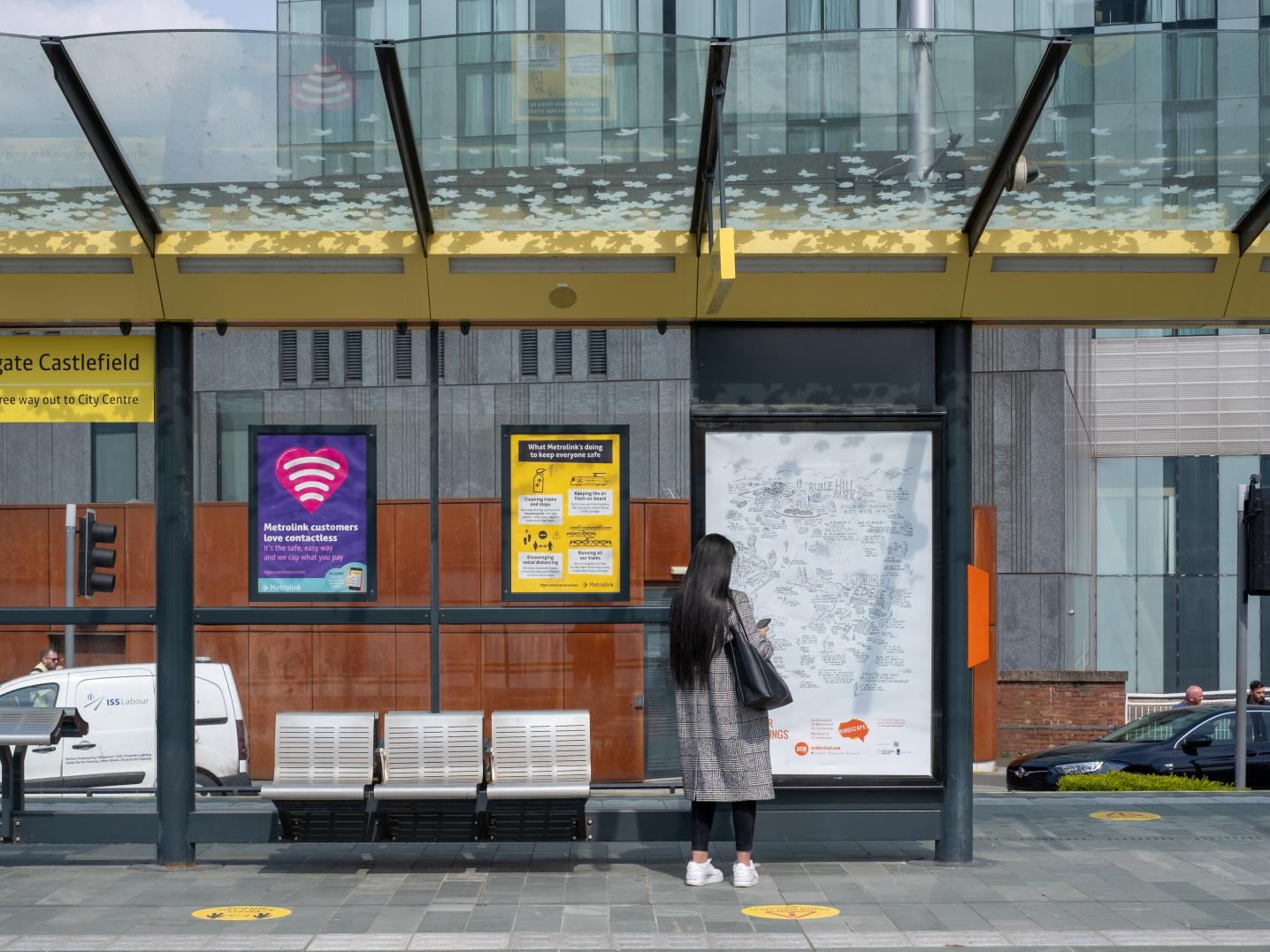 "In the end, most of the artists never came over, although some were able to visit Manchester just before the COVID outbreak," Vickers says. "One of the artists, Jan Rothuizen, usually spends a lot of time in one place to get inspiration for his drawings. Instead, we arranged online meetings with residents and arranged digital walking tours through Manchester. That way, and with the help of Google Maps, Jan created Manchester Mood Drawings. If you look at those, you really get the feeling Jan visited all these places himself."
Art crosses boundaries
Rothuizens Mood Drawings were displayed on posters in metro stations across Greater Manchester. During MINDSCAPES' running time, they were seen by hundreds of thousands of eyes. For interested parties outside of Manchester, animated versions of the posters are still visible online. "We had to organise digital events. By doing so, we did not only reach a local audience, but also a national and international one. 50 percent of people we reached online were from the UK, 25 percent were from the Netherlands, the others came from all over the world."
We did not only reach a local audience, but also a national and international one
One of the many events during MINDSCAPES took place in the form of a digital workshop, which linked Moston and Harpurhey to Theater Zuidplein, a theatre in the Rotterdam neighbourhood Charlois. In collaboration with art institute Melly in Rotterdam, people who live or work in these areas were invited to partake in the workshop, in which they talked about what makes their neighbourhoods tick.
"We chose Rotterdam, because we see a lot of similarities between Rotterdam and Manchester," says Harrison. "Both cities at one time had the image of being dark, grim and even dangerous places and are somewhat changing into popular places to live." In regard to mental health issues, there are also similarities between Moston, Harpurhey and Charlois. According to the Dutch website Gezondheid In Kaart 7.4 percent of people living in Charlois experiences anxiety, while 9.4 percent are depressed.4 Both numbers are much higher than the average in the city of Rotterdam.
Media
Image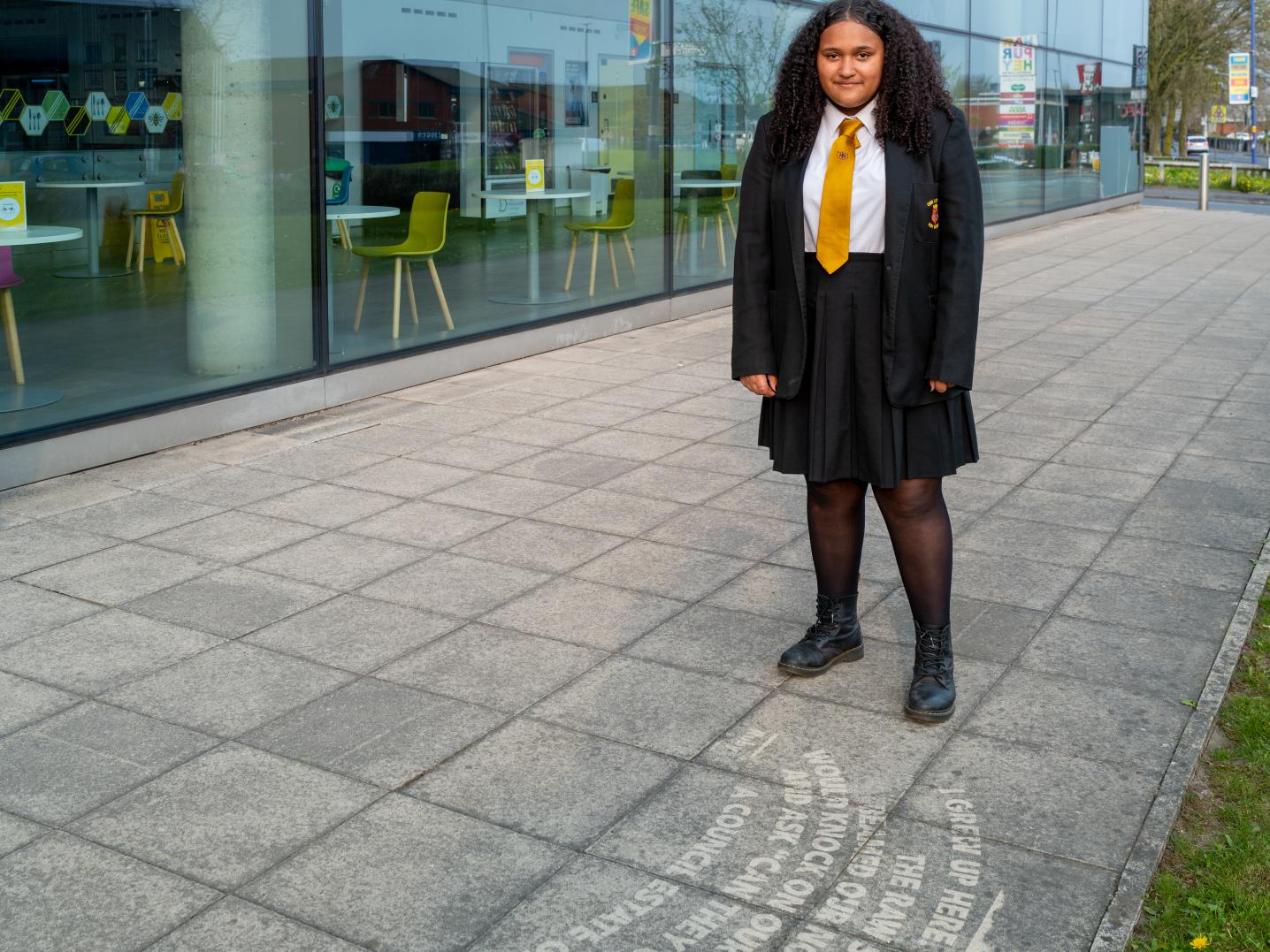 "Connecting Manchester to Rotterdam during MINDSCAPES is a great example that shows art isn't restricted to borders," Harrison says. In the near future SICK! Festival is set to apply the learnings picked up during MINDSCAPES to new projects working with artists from South Africa and Finland. During the latter, SICK! Festival is set to focus on mental illness in young men, who are known to rarely talk about their mental issues. "Our goal is to connect different neighbourhoods from all over the world to each other during these projects. We hope people from all these different places can learn from each other, through art. We have the feeling that will work, thanks in part to the experience we gained from MINDSCAPES."
MINDSCAPES was commissioned by SICK! Festival and funded by DutchCulture in partnership with the Dutch Embassy in the UK. It is the result of a two-year collaboration between arts organisations and artists in Manchester and The Netherlands who have been working together and within local Manchester communities.
Check out the complete overview of Dutch cultural activities in the United Kingdom in our database.
If you are a cultural professional who wants to go to the United Kingdom, feel free to contact our Focal Countries Desk via focalcountriesdesk@dutchculture.nl.