New European Bauhaus: What is it, and what's in it for you?
Image
Image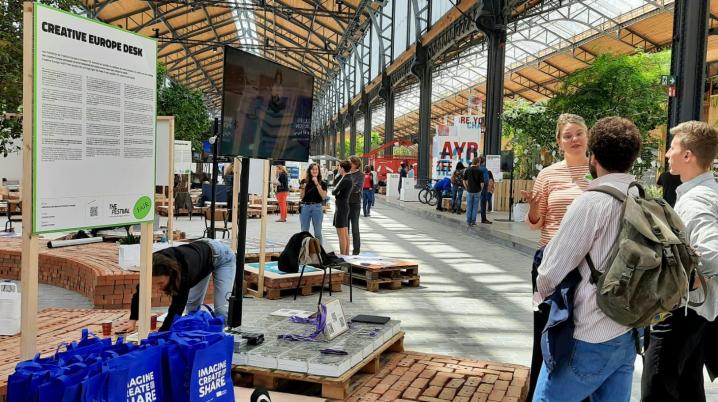 New European Bauhaus: What is it, and what's in it for you?
Our Creative Europe Advisor Julie Boodt explains how the European Commission is planning on realising the ambitions of the New European Bauhaus programme.
The first-ever edition of the New European Bauhaus Festival took place in Brussels from 8 to 12 June 2022. The goal of the event: to generate more awareness of the New European Bauhaus (NEB), which was announced two years ago by Von der Leyen, President of the European Commission (see quote below). With a range of performances, exhibitions and panel debates, an until then somewhat hazy European project was given sharper contours. This article aims to clarify what the New European Bauhaus is all about – and what's in it for cultural and creative makers and organisations.
Connecting art, culture and education with science and technology
The main goal of the New European Bauhaus* is to further flesh out the European Green Deal (which is the European Commission's programme to counter climate change) and to make people across Europe more familiar with it. How? By means of long-term interdisciplinary initiatives that connect the worlds of art, culture and education with science and technology.
Designer Vera Winthagen, who is a Policy Analyst with the European Commission, stresses the interdisciplinary nature of the New European Bauhaus. "We wish to build a collaborative movement to deliberate on how we want to live twenty years from now, involving more than just architects and designers. We recognise that they have a huge capacity to shape tomorrow's world, but we want to bring together science and the imaginative power of the creative sector." In her view, this means more than implementing the Green Deal: "The notion of inclusion is pivotal. Take the discussion on energy poverty, for example: how can we make sustainability both accessible and inclusive? We shouldn't focus only on electric vehicles, since there are many people who can't afford them."
Another important attention point at the festival was the creation of liveable cities in times of climate crisis and war, such as rebuilding a nation in a sustainable and inclusive manner while preserving national and cultural heritage; this, specifically with the war in Ukraine in mind.
Several initiatives were presented at the New European Bauhaus Festival, such as the Regeneration Beach Dune Systems project (an innovative approach to making and keeping Barcelona's beaches clean), the Gardens of the Future project (specialising in sustainable urban planning in Cyprus) and De Korenbloem (a Belgian initiative aimed at housing and care for vulnerable citizens). These three projects were each awarded a New European Bauhaus Prize, consisting of monetary prizes ranging from 10,000 to 30,000 euros to support their implementation.
While NEB does award monetary prizes, it is emphatically not a subsidy-providing entity. However, there are various EU programmes such as Creative Europe, Horizon Europe, Erasmus+ and LIFE with subsidy schemes that aim to support the NEB goals. The various funding opportunities are listed here.
Media
Image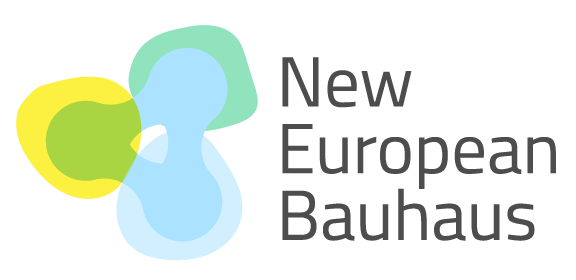 New European Bauhaus & Creative Europe
NEB is currently mentioned under the annual European cooperation projects scheme and the cross-sectoral Creative Innovation Lab scheme within the Creative Europe programme. This means that a subsidy application to one of these schemes must clarify to what extent the project will contribute to achieving NEB's goals.
DutchCulture's Creative Europe desk attended the New European Bauhaus Festival with our counterparts from Spain, Portugal, Denmark, Germany, Belgium and France to inform visitors about its programme and the possibilities to participate in NEB. Also, a number of panel sessions were held devoted to Creative Europe, the role of culture within NEB, and examples of NEB projects that received Creative Europe subsidies such as Beyond Matter, A-Place, Public Play Space and CONNECTARCH (Networking in Architecture for the Common Good).
Becoming a partner
Besides applying for subsidy through the various European programmes, cultural and creative organisations can also become a NEB partner. Some 500 partners have joined so far, ranging from museums to universities. Commercial companies are also part of the network, which operates as a platform for knowledge sharing and co-creation, and also as a sounding board for the New European Bauhaus and the European Commission itself.
Foundation We Are from Eindhoven is an example of such a professional partner. Architect and social designer Kornelia Dimitrova of We Are: "Since the goal of the New European Bauhaus is for change, ideas and projects to arise directly from artists, citizens and cultural creatives, it is somewhat ironic that the programme as a whole was conceived and implemented by an institution like the EU. Our immediate response was: is Bauhaus the right name for this? And we weren't the only ones. But if you look closely, the values of the New European Bauhaus are very much in line with our own; to use design to tackle societal issues and to initiate social change. I see the partnership as an invitation to link up with different organisations, for instance to organise an exchange programme for designers."
Critical comments from the cultural sector
Besides praise, the NEB has also been subject to some criticism. The essay Culture Action Europe; Position Paper on the New European Bauhaus by network organisation and lobby group Culture Action Europe says that in its implementation, there is too little focus on culture and that artists are not given the promised prominent position. At one of the panel debates Gabriele Rosana, director of Culture Action Europe, emphasised his view that the NEB is insufficiently geared to small organisations and individual makers. He feels that there should be more initiatives that examine urban development from different perspectives. "Shift the focus from buildings to people," is his motto.
According to Ruth Schagemann of Architects' Council of Europe: "Culture is at risk of becoming something of an obligation to NEB, while art and culture have always been a driving force behind sustainability. Societies are shaped by culture."
The Spanish researcher Fran Quiroga, working for NEB partner Concomitentes, agrees with Rosana's view. "We need to get rid of the monumental scope and shift the focus instead to the small, the local and to communities." Quiroga favours initiatives that are organised directly by artists and communities. "They know best what's going on and have the power to initiate change, also where it concerns the climate crisis."
Clearly, the New European Bauhaus is still an emerging movement. For people wanting to contribute there are various ways to get involved, for instance through subsidy schemes and partnerships.
Would you like to know more about the New European Bauhaus or do you have any questions about NEB as part of a subsidy application? Don't hesitate to contact Julie Boodt or Albert Meijer.
*The name refers to Bauhaus, which was a modernist art movement emerging from a German art school in the early twentieth century. The movement became known for the mass production of everyday functional objects and design, created by artists. The modernist style of Bauhaus artists had a huge impact on the field of design, art and architecture. It was a movement that emerged directly from artists, rather than from any institution or authority.