Jacks of all trades, masters of Grunn: NewGen meet-up at Noorderzon
Image
Image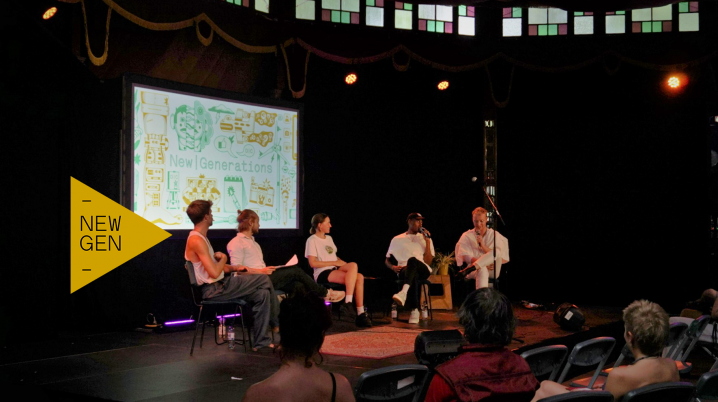 Jacks of all trades, masters of Grunn: NewGen meet-up at Noorderzon
A recap of the New Generations meet-up at Noorderzon Festival in Groningen for young artists and professionals in performing arts.
For the first time in three years, the Noorderzon Performing Arts Festival occurred at full capacity once again. Traditionally, the Noorderplantsoen – a park close to Groningen city centre – transforms into a bubbly festival area with several stages and big tents. This year was no exception. And it just so happened that on Wednesday 24 August, DutchCulture took over the beautiful Pollux tent to host a meet-up for young performing artists based in the north of the Netherlands.
For DutchCulture, the goal of this meet-up was to connect to and learn from a young and talented pool of northern performing artists. What are the challenges they face, the ambitions they have and how can we assist them in the future?
We invited four artists - from or based in Groningen and Friesland – to be guest speakers on our panel: theatre maker Philipp Cahrpit, singer-songwriter and producer Liza Dries, multidisciplinary artist Blondeau and dancer and performer Juersson Hermanus. DutchCulture's programme maker and moderator of the day was Simon de Leeuw, while Philipp Cahrpit stepped in as his sidekick. A diverse group of around 20 young artists and professionals participated in the event, varying from interdisciplinary theatre makers to classical musicians from the Prince Claus Conservatoire. In this article, we highlight some of the contributions regarding their innovative collaborations within and across the performing arts.
Media
Image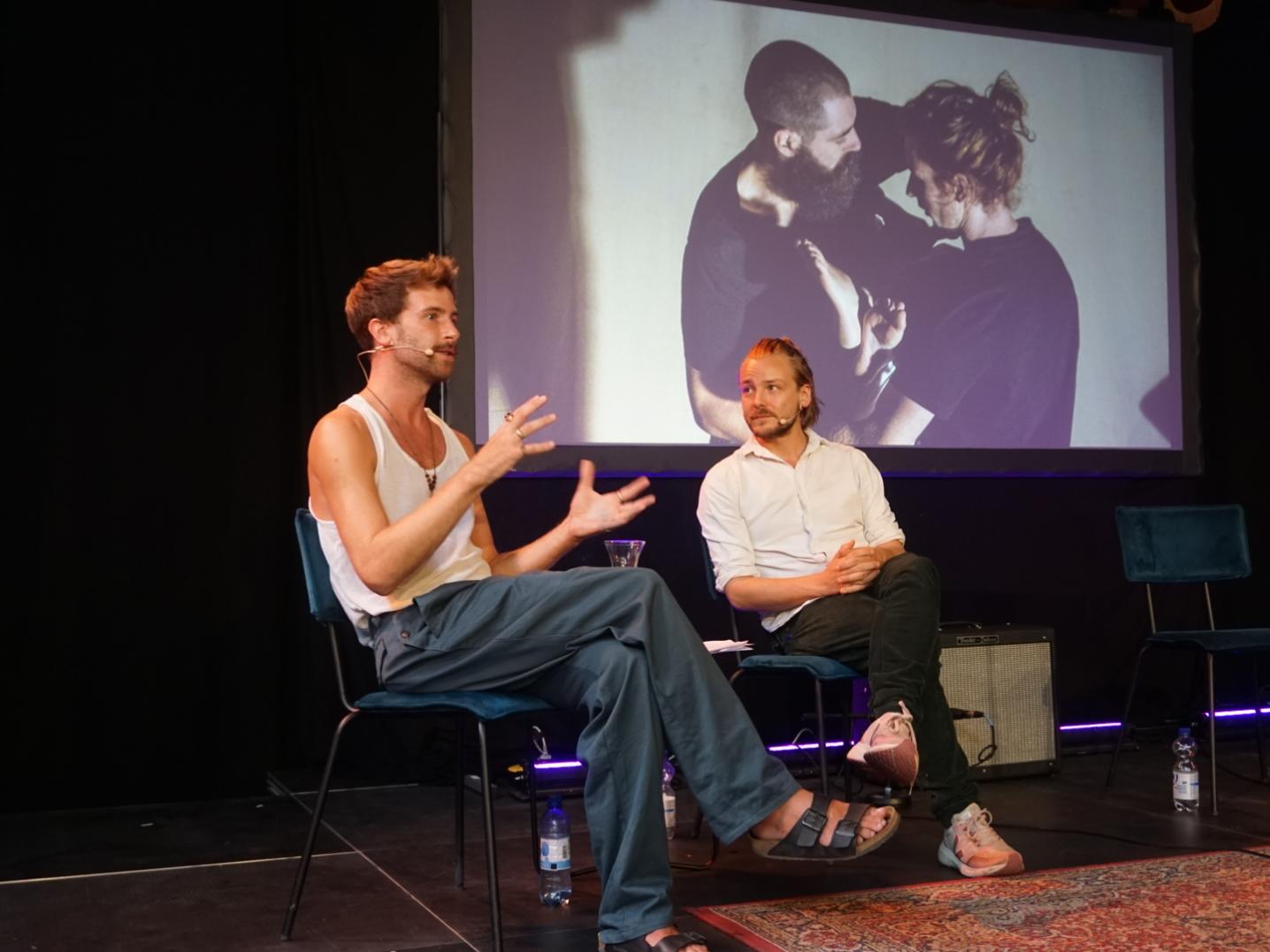 Germany is never far away
In 2019, the German-born Cahrpit moved to Groningen for his graduation project about two men desiring to carry a child physically. As a theatre maker and teacher, he now works for projects and organisations like Station Noord, NNTwee/Club Guy & Roni, Up North and De Wijk de Wereld. Working and living in a small city like Groningen has its advantages: "In a short period of time, I got to know everyone in the theatre world of Groningen. Noorderzon is also a great opportunity for local and international makers to show their work and meet each other."
One of the like-minded people Cahrpit met in Groningen, is Groningen-raised musician Liza Dries. She has also experienced how Germany is never far away when living in Groningen. Still, it was a big step for Dries to quit her job as a data scientist and move to Cologne, two-and-a-half years ago. "I wanted to do something creative, so I decided to study design in Germany. I have also always made my own music, and that has really taken off since settling in Cologne. I used to play acoustically, but during the pandemic, I started producing music as well. My data science background helps me quickly find my way around interfaces such as Ableton live. I'm not scared of computer programmes," she says.
Dries pursues her ambitions very actively in both Germany and the Netherlands. "Although I'm not studying anymore, art school was a wonderful place to meet people from different fields. My partner Nils and I usually play together and I try to get in touch with other musicians or venues where we'd like to play. At first, it didn't pay off, but now I get messages back from people that I reached out to before. I'm really proud to be playing at De Melkweg in Amsterdam on 30 September, and since I signed with a small music label in Cologne, my EP called RL is due out soon."
Media
Image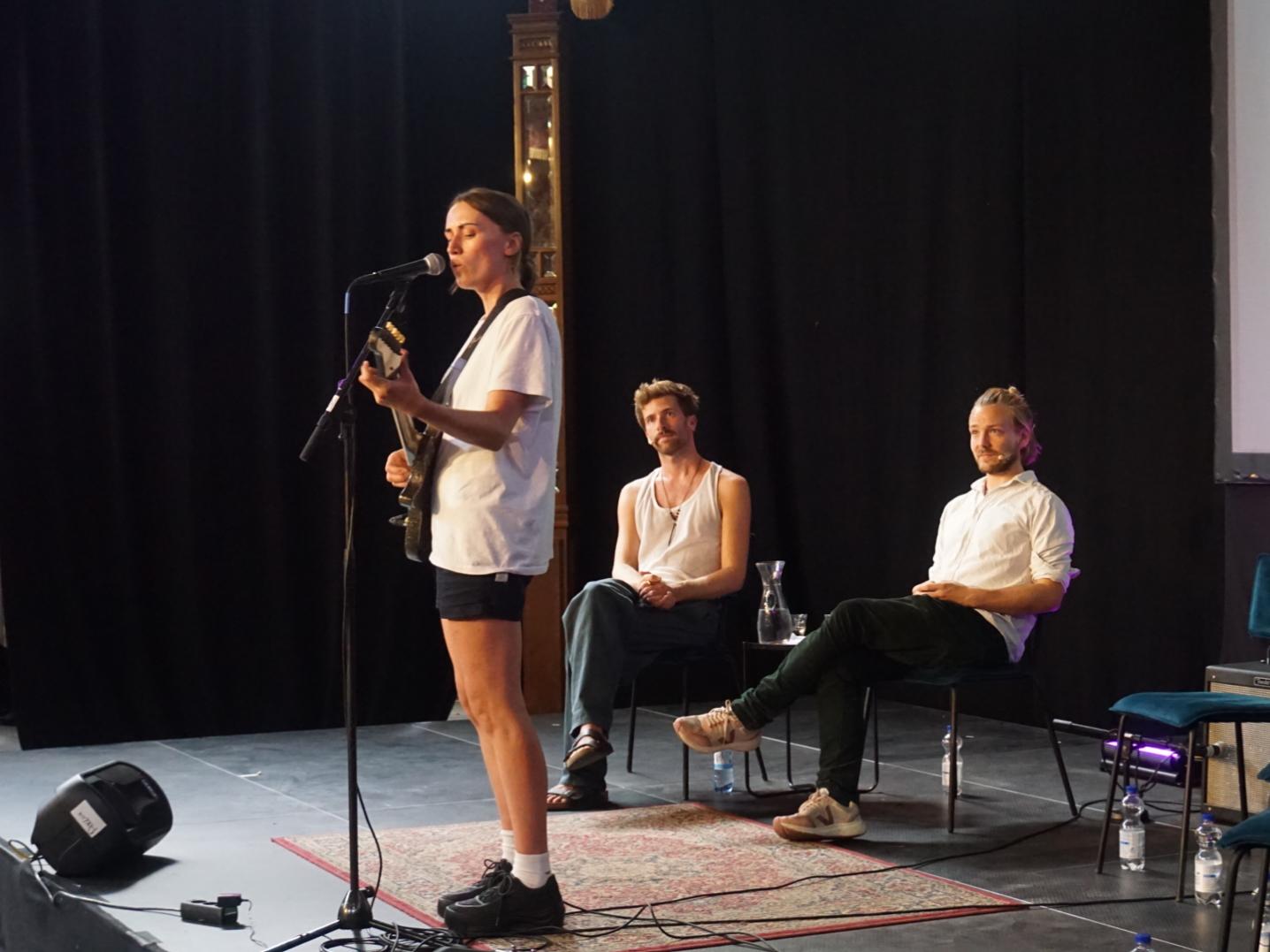 From local to international
Making new connections and building a network costs time and effort, but for singer-songwriter Blondeau, the criteria are very clear. "To start cooperating with new people, what's most important is that we have a connection and want to spread the same message." The music video introducing Blondeau at Noorderzon captures the essence of his multidisciplinary artistic practice. "I write and sing, I design and create fashion. I'm doing it all, I'm living the dream." Although it can be tricky working and living as a queer artist in Leeuwarden, he's happy to work with a strong team of creatives under the umbrella of House of Blondeau.

Outside his hometown, he has worked with professionals from Groningen and Rotterdam. The production house Popfabryk in Leeuwarden will help Blondeau take the first international steps of his music career. Popfabryk is part of the International Exchange of Talent (Excite) network in Europe, funded by Creative Europe, which gives young performing artists the opportunity to perform on international stages or stay at a residency abroad. Through Excite, Blondeau will perform at least two shows abroad later this year. Although he's happy living and working in Groningen, Cahrpit's next international step would be to go to another continent. "I've never been outside Europe, but now feels like the right time to do so. I'm looking forward to meeting people who already have experience with such a big step."
Another example of how local cultural initiatives can help widen your horizon is the project De Wijk de Wereld, rooted in Groningen. For this cooperation project, creative makers are invited to make a piece with people from the neighbourhood. This way, Cahrpit met a seven-year-old girl called Sabrina and they teamed up to make a duet. "What's most important in my work is to have intimate interaction with the audience, in order to really connect with them," he states.
Dancer Juersson Hermanus participated in another edition of De Wijk de Wereld. From this project, he learned how important it is to have fun and enjoy the making process. "I really liked to practice and work with a group of people from many different ages with different bodies. For me, it's a challenge to connect with them all."
Unfolding histories
Guest speaker Juersson Hermanus works as a tutor at the Lucia Marthas Institute of Performing Arts, as a dance coach at Noordstaat, and is a performing dancer with X_YUSUF_BOSS. He feels very connected to the Caribbean parts of the Dutch Kingdom since he was born in Curaçao and still has family there.
For the Bitterzoet Erfgoed programme, he made an African hip-hop dance performance in the Der Aa-kerk about the influence of slavery history on the Dutch-Caribbean community today. A famous quote by Angela Davis (see above, ed.) inspired him to learn more about the stories of his closest loved ones. "For this project, I interviewed my siblings and mom," he explains. "I discovered what we share with each other and our ancestors: our survivor mentality, but also the feeling of lacking knowledge and pride in who we are."
The visual motif of unfolding and unpacking appeared prominently in Hermanus's solo performance, which he performed twice at Noorderzon. This expansive movement, addressing something painful, seems to come from a strong eagerness to explore new modes of seeing and moving.
In the past years, he participated in exchange projects with Italy, South Africa, Senegal and Kenya. One of his greatest international experiences so far was the SONGA Dance Project in Kenya. "The moment I arrived, I was extremely aware of the different codes and rules that apply in different cultures. It's important for me to keep looking for different approaches to dance, for instance in Africa. I feel very connected with the energy of African culture because of my Caribbean background. The biggest difference between being an artist here or in Kenya is that there's no time to lay back there. You must work hard all the time to become successful."
Master of none
Cahrpit wonders how his colleagues allow room for making mistakes in their working processes and performances. "'I actually love this question," says Hermanus. "Within choreography, there is room for improvisation, which can only be used if you allow yourself to make mistakes. Then you can create something new." Despite his perfectionistic character, Blondeau agrees: "You need to make mistakes to evolve and get better. I try to leave room for mistakes, and it also makes the work and process more human."
After the panel discussion, it was time to divide the guest speakers and NewGen audience into four smaller groups. During this break-out session, they discussed their experiences with collaborating with other artistic disciplines as well as with partners outside the arts and culture sector. A great example is creative producer Jopie de Zeeuw, one of the participants in the break-out sessions, who works to incorporate the arts and culture in the activities of Rijkswaterstaat (Department of Waterways and Public Works). Being on the lookout for surprising collaborations outside your artistic bubble requires an active stance and a different orientation, but may prove to be hugely satisfying.
Many NewGen artists addressed the importance of making smaller budgets available for young artists, to start new collaborations. Although it may seem challenging to share ideas with artists of other disciplines, they also described how surprisingly well ideas can sometimes translate. Other challenges facing multidisciplinary projects can be time management and how to decide wisely on spending money and resources.
Media
Image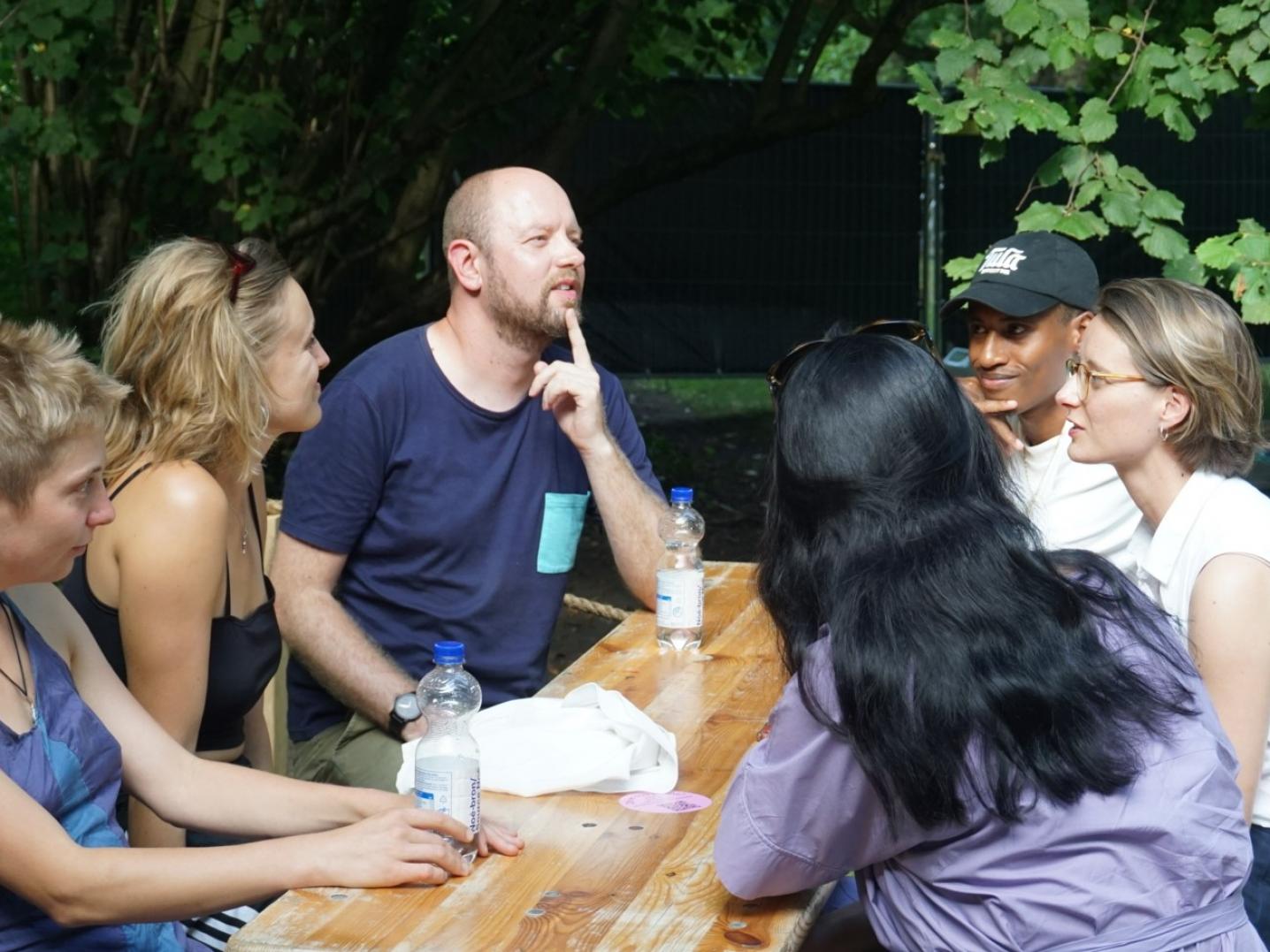 Looking ahead
Apart from establishing a valuable connection to emerging talents and key figures in the cultural ecosystem of the northern Netherlands, we realised we have more work to do.
We signalled the NewGen artists' need for more awareness of the available opportunities for international collaboration. For those wishing to spend a longer amount of time abroad in a residency, we recommend browsing the funding openings and open calls at TransArtists. With more than 1,700 residencies using the platform, it is the central hub of knowledge in the realm of Artists-in-Residence. It is clear that we should increase the visibility of the platform across the different regions and throughout arts academies and talent development programmes, such as Hit the North in Groningen.
We will also continue to highlight the good practices by beneficiary networks of the Creative Europe Culture and MEDIA strands (also available for the Caribbean parts of the Netherlands), with the Leeuwarden-based Popfabryk as a valuable hub in the European Excite network. Both GINGE (interviewed by Lotte Bosch in our NewGen dossier) and our panel speaker Blondeau are part of the network and will have the opportunity to work together and perform internationally. Similarly, Music Cities Network offers co-creation opportunities to for young urban artists from Groningen, Aarhus, Manchester and Hamburg.
In addition, a concrete and exciting chance for international exchange in all artistic disciplines across Europe will emerge soon, with the newly announced Culture Moves Europe scheme boasting a budget of €21 million over the next three years. This will allow around 7,000 artists, creators and cultural professionals to travel abroad for professional development, international collaborations, co-productions, and co-creations, or to present their works to new audiences.
It is up to us, DutchCulture, to make sure young and upcoming artists are aware of these opportunities.