NewGen portrait: 'Indisch Zwijgen' takes new shape in Swiss theatres
NewGen portrait: 'Indisch Zwijgen' takes new shape in Swiss theatres
Discipline
Audiovisual Media
Documentary
Performing Arts
Theatre
The short film 'Indisch Zwijgen' premieres 6 May. Director Sven Peetoom spoke about 'Making Memories', a theatrical spin-off he made in Switzerland.
In Indisch Zwijgen, filmmakers Sven Peetoom and Juliette Dominicus follow three third-generation Dutch-Indonesian youths who delve into their own family history. The three process their research in three new works of art in which they express what it means to them to be Indo today. In a documentary, they follow spoken-word artist Amara van der Elst (known for her reading during the Remembrance Day on May 4), DJ and visual artist Mei Oele, and filmmaker Juliette Dominicus.
Could you tell us about the origin of the documentary, what caused you to investigate these family histories?
"The documentary all started with my grandfather - who passed away some time ago. I felt such an urge to investigate who he was and what his life was like. I found out that I really did not know anything about what he had done in Indonesia. This started a very personal quest – it was still far from being a movie - but then after speaking to my father, I found out that he didn't really know that much either. I found it so strange that you can live with a man who's been through all kinds of things; he had scars and fits of anger. It was obvious there was something that we couldn't get to grips with, but there was this deafening silence around his history. So I started interviewing other Dutch-Indonesian people. It turned out that a lot of second or third-generation Indonesians knew almost nothing about life there – the term Indisch Zwijgen appeared more and more. I found that extremely interesting. There is a whole history that is so collectively hushed up, what is behind it?"
Media
Image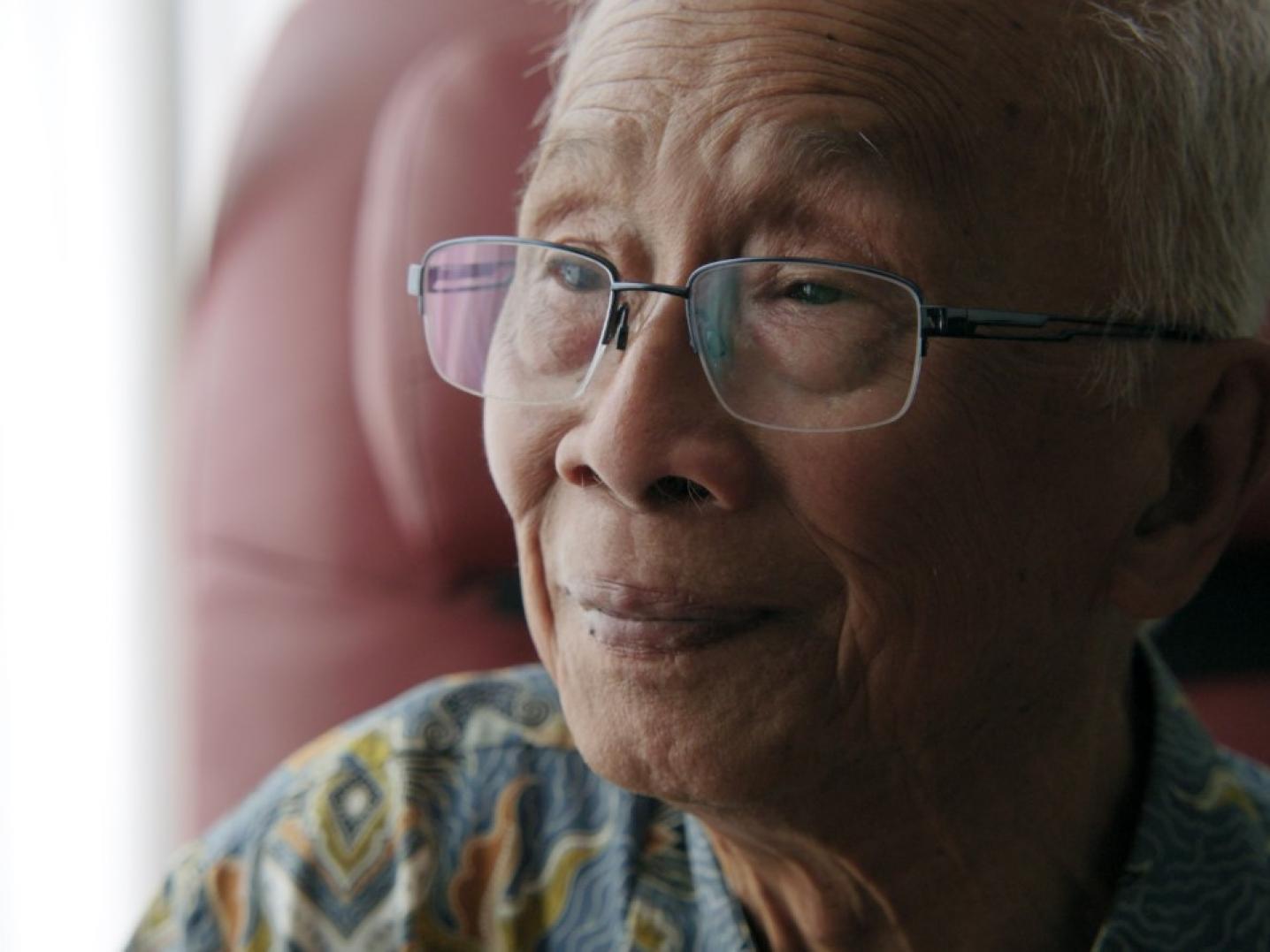 "That's what I pitched to a producer I knew, then she said: 'your idea is kind of vague,' but then she came back two days later and said there's someone who's thinking about doing the same. I thought "huh!?" – then sometimes a little voice goes and says: oh no! somebody else is going to do this too, she's taking my idea! That was Juliette Dominicus, who went on to become the co-director of the film. And when we spoke, it turned out that we wanted to do exactly the same thing. Let's go do it together.
Then followed 2 years of pitching everywhere we could pitch - the Dutch Film Festival, Vice, Cinesud - everywhere and nowhere - and we got a lot of "no" back. In the end, we decided to produce it ourselves through crowdfunding. We brought in €12.000 and received support from the Prince Bernhard Cultuurfonds, Amarte Fonds, and ZOZ fonds so that we could do it ourselves. So in that period we also threw out a lot of lines to blogs and such - and in particular, one called Indisch4ever - a webpage that's a bit of an online relic from the early 2000s, but still quite well visited. Someone had put down a press release about Indo's Silence on there."
"So there came Sebastian Gisi from Switzerland who was making a play about his grandmother, and the silence hidden inside her stories. She would talk about history as if it was made up of adventure comics, telling stories of tiger hunts and snakes falling into pools - which were always a bit too surreal to be truthful. Sebastian's grandmother lived in the Dutch East Indies but has no Indo roots. He received some justified criticism for his draft of the piece because his stories only came from the coloniser's perspective. Then he was researching the internet on his laptop, and just by chance came across me and my crowdfunding page on the blog Indisch4ever. He came to me through that site, and then we Zoomed.
There was an instant click. I was already in the middle of the movie's production, and he had already done a lot of research himself. He wanted to add my perspective to the performance and that there was more of an indo viewpoint. At first, he suggested I get called into the theatre via Zoom during the performance. Then he came to the Netherlands and I met with the entire crew. When they were here, I went off on a tirade about everything I felt and found, an hour-long rambling monologue about the Dutch East Indies and everything I thought of the play."
Media
Image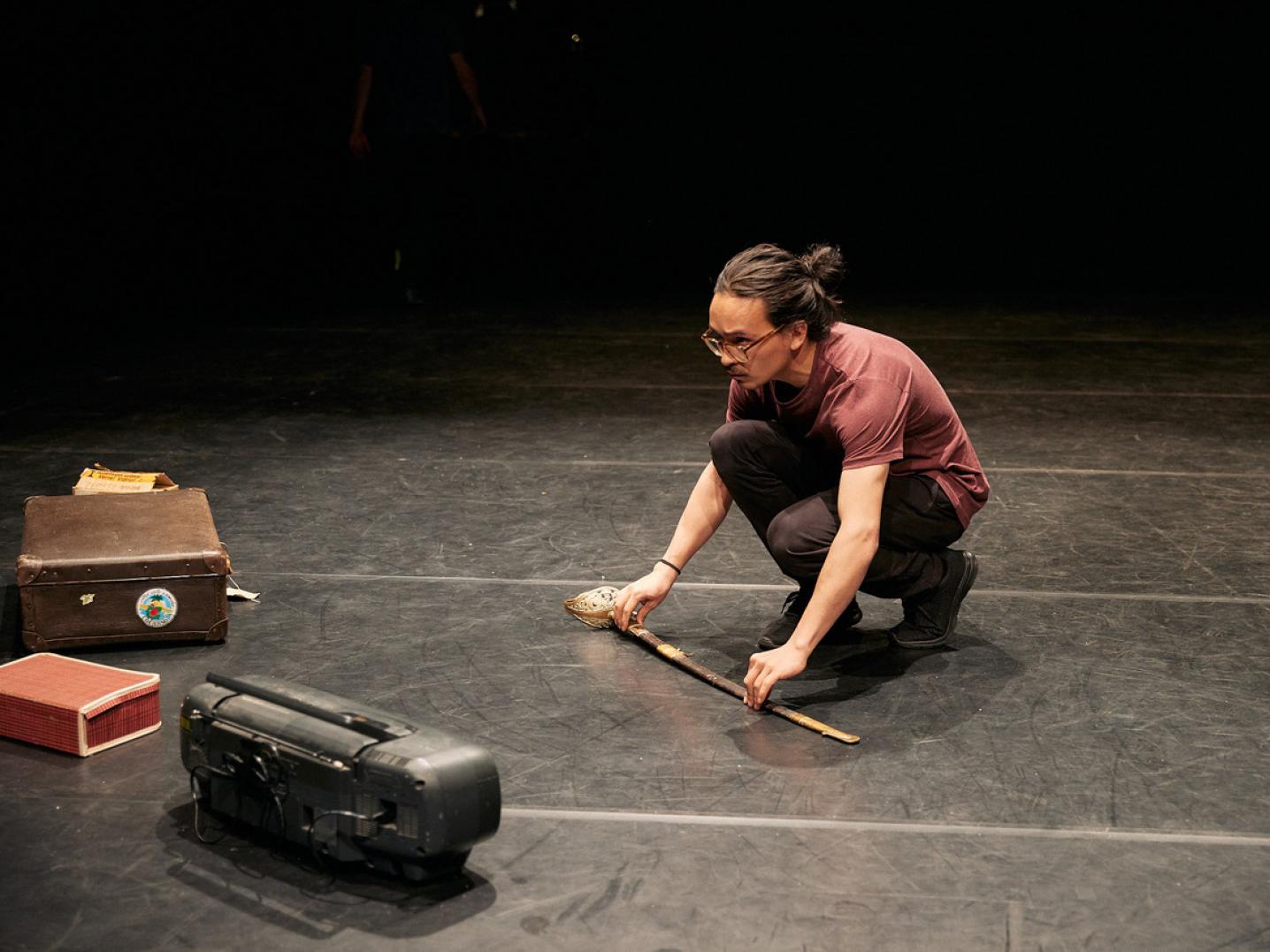 What do you mean when you say tirade? Is there a layer of frustration too?
"I feel a lot of wonder and frustration about the facts that have happened, for example about slavery in the Indies. And the VOC was the largest company in the world. Nothing has ever surpassed that, the trillions of dollars they made off the backs of all kinds of people. My amazement and annoyance at what happened there, and who my grandfather was in it, is a very strange combination. The Dutch are the colonisers of course, but there was a huge in-between societal layer of a mix of natives and Dutch, to which he belonged. I think I expressed that fascination and those mixed emotions through my long ramble. And they were clearly impressed somehow."
So then did Sebastian propose to make a play together?
"He was already making it his theatre version, it was literally in the scaffolds (the scaffolds play an important role in the scenography ed.) and he was finding the right shapes to structure his research. Me, representing the voice of a Dutch-Indonesian person, I was a bit of a missing ingredient.
They called me at one point, him and the director of the play, Anne-Kathrine Münnich. After a while, they thought it would be fantastic if I came to Basel. We still had to develop the role. I initially would be doing some live camera work; I am a filmmaker and have done a lot of camera work. But there is also room for more interaction. I was able to also tell a story. we slowly figured out that I also had to say things. I've thought about that because it's actually outside my field. Every hour I spend on this, I don't spend on a movie. Difficult choice, but then I thought: I started with the idea of ​​one film, but now I notice that the subject is much too big. I'm going to make different movies and different things. But with one film alone I am not going to grasp the multiplicity of this subject. Indo's Silence, of course, the film has gone in a certain direction, about third-generation kids and the silence in their families. But the play is more about family history than a personal story about the search for grandparents. The impossibility of knowing this history, but at the same time everything you encounter, and the change from victim to perpetrator, and everything in between. And also my own role in this whole history.
So Sebastian eventually just said: 'come to the theatre,' (Roxy, in Birsfelden, Basel ed.), and lo and behold, now I have an apartment in the theatre, I walk down the stairs and hop on stage just like that. It was paid, and it was all well... yes, that's is the adventure of life again; to work with an international crew, with German and Swiss people. And I just really want to tell the story, that tirade is now taking form on stage. Since I've been here, my role has grown into an equal co-performer. We are both performing and playing. And Sebastian, as a dancer, involves a lot of movement, but it's the personal stories that bring everything together."
Media
Image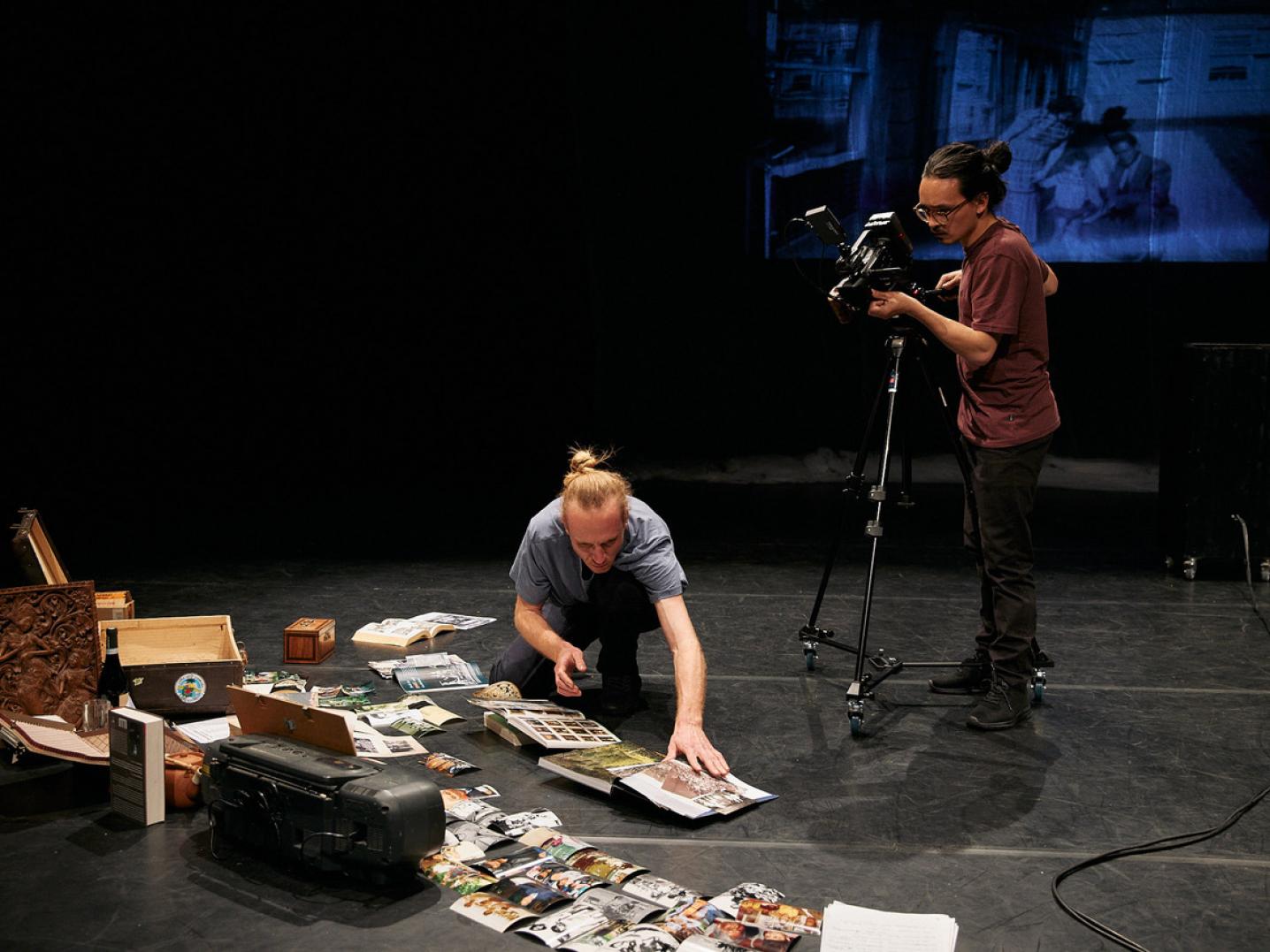 As a filmmaker, what does the theatre allow you to express or do?
"Fortunately, I am not afraid of all that audience, but it remains exciting of course. In theatre it is a snapshot – in film, you can do everything over and over and now everything has to be done in one go. Wham! You have to speak and then you're there all of a sudden.
The first thing that comes to mind that's completely different from my usual practice is that personal, direct contact with the audience, is directly the place to tell stories. There is literally room to move, it scares you when something falls over. You also want this effect in film, this physical direct aspect, but you succeed much less often. Film as a genre is a bit more structured, you have to take the audience more on a certain journey that has been mapped out and theatre can be a bit more abstract. The theatre crowd is a little more used to being more abstract.
What's more: direct feedback from people whether they find it exciting or dull when they have to laugh or sigh, you can immediately respond to it, because it is a flexible medium. The film is already there, like a kind of sculpture. Our theatre director also tells me: 'Sven, if you're tired, or you find it exciting or weird, use that especially in your playing and in the piece!' Real emotions that are directly seen by the audience. Every now and then, I have to laugh on stage if I think something is crazy if I make a mistake or something. That works very well, and it's unlike film where you try to make everything final and definitive."
What has been the added value of the international dimension of this experience?
"In Switzerland, there's something called The Free Scene, that's what Sebastian is in. It's basically carried by smaller theatres and is also much more improvisational, while the Swiss state theatre is more traditional. So our process was like like fishing for ideas in a pond. We were experimenting and looking for building blocks for the piece, which was quite a new process for me.
In the film, I actually know in advance what the scenario will be. For films, I am making all kinds of plans, and I am mainly eliminating surprises, you have to know 'what' you are going to find. I found it very liberating that I could work from the unknown. It has become completely different from what we rehearsed a month ago, completely different. It developed on a sense of trial and error, rather than rationally. I liked this, but it was also frustrating. My filmmaker brain sometimes goes like: this is act 1, 2, 3, and then the actors and director looked at me and said: 'can you say that again? What?' There's this bit of Dutch efficiency in me, and I sometimes clashed with them, but I could also take on that role in terms of clarity: 'why are we doing this?' On the other hand, I have also become charmed by playing while searching, which I have not experienced before in any of my other creative manifestations.
I have read the funding plan for the theatre piece, and it's basically a plan that only has the research questions and the purpose described. I hope film funds would do the same, leaving a little more room for openness, not to know what it's going to be yet. I think it would be great if I could make a film like this. More risk, I think, leads to the more exciting theatre, it arises instead of you inventing it."

What's your ambition with the project?
"I'm hoping that we can also travel to German theatres after this tour in Switzerland, we know that there is some interest. Here, we will still perform in Basel and Baden. Of course, I'm looking forward to the premiere of the film in the Netherlands and seeing whether we could make a Dutch theatre show possible!"
This interview was conducted bye telephone on 17 March, the day after the theatre premiere in Roxy, Basel. In fall, Making Memories will travel on to Bonn and Basel.
Film viewing and discussion of Indo's Silence at Indisch Herinneringscentrum (Sold out)