What do the numbers say? On cultural trends and growth: edition Indonesia
What do the numbers say? On cultural trends and growth: edition Indonesia
Indonesia is an important partner country for the Netherlands. How popular is Indonesia as destination for Dutch cultural professionals?
Due to their shared history, educational and research exchanges, geopolitical relations and economic interests, Indonesia and the Netherlands are closely connected. Is that also true for cultural exchange? Compared to other important landing-places for Dutch cultural professionals such as Germany (3281 activities in 2018), Belgium (2239) or the United States (1107), Indonesia's share seems modest. However, there has been an increase in activities last year: from 108 in 2017 to 158 in 2018. This might not seem like a lot compared to the three giants, but it's a growth of no less than 42%!

Which disciplines are most popular?
The most popular discipline in 2018 by far is music. It accounted for a consistent 42% of all Dutch activities in the Netherlands (compared to 2017). In other words, Dutch classical performers, DJ's, jazz musicians and pop artists are increasingly creating a fan base in Indonesia. Popular Dutch artists who performed in Indonesia include singer-songwriter Blaudzun, classical musicians Shin Sihan and Anne Brackman, DJ Quintino, the eclectic band Jungle by Night and electronic hard rock band Phoenix' Ashes.
Media
Image
One of the most important disciplines represented is visual arts, with a 19% share (10% in 2017) mainly due to the workshops, lectures and exhibitions around the 2018 Erasmus Huis Fellowship to Amsterdam award ceremony. Heritage projects, such as group exhibitions, workshops and trainings by Dutch experts to Indonesian colleagues have been consistent in both years with a 11-13% share of all activities. Audio-visual activities accounted for 15% in 2018 (3% in 2017), mainly due to the Europe on Screen feature film festival in Jakarta.

Then there is performing arts with 10% in 2018 (27% in 2017); looking more closely at these activities, there were three dance acts with multiple performances on Java by LeinaRoebana, De Dansers and Danstheater AYA. Interestingly, Dutch design and literature projects were very scarce in Indonesia, with only one registered design residency in 2017 and just a consistent 2-3% share for literature projects. Although this came only down to a couple of translation projects in 2017, in 2018 writer and historian Maarten Hidskes went on a book tour throughout Indonesia to promote the Indonesian translation of his book Thuis gelooft niemand mij and to talk with Indonesian communities.

To which cities did Dutch artists go?
In 2018, more activities by Dutch cultural professionals were hosted in Jakarta, the capital city and largest city of Indonesia with about 10 million inhabitants and more than 30 million people in the Greater Jakarta Area: a whopping 59% compared to 44% in the previous year. The other cities in the overview are Yogyakarta with 8% compared to 12% in 2017, Surabaya with 5% (7% in 2017) and Bandung and Medan (both 4%). In other cities, five or less activities took place, with a total of 20% of all activities. This geographical trend continues when you zoom out to the islands: Java hosted 88% of all activities, with Sumatra and Bali hosting a similar share as the previous year (respectively 8% and 4%).
Media
Image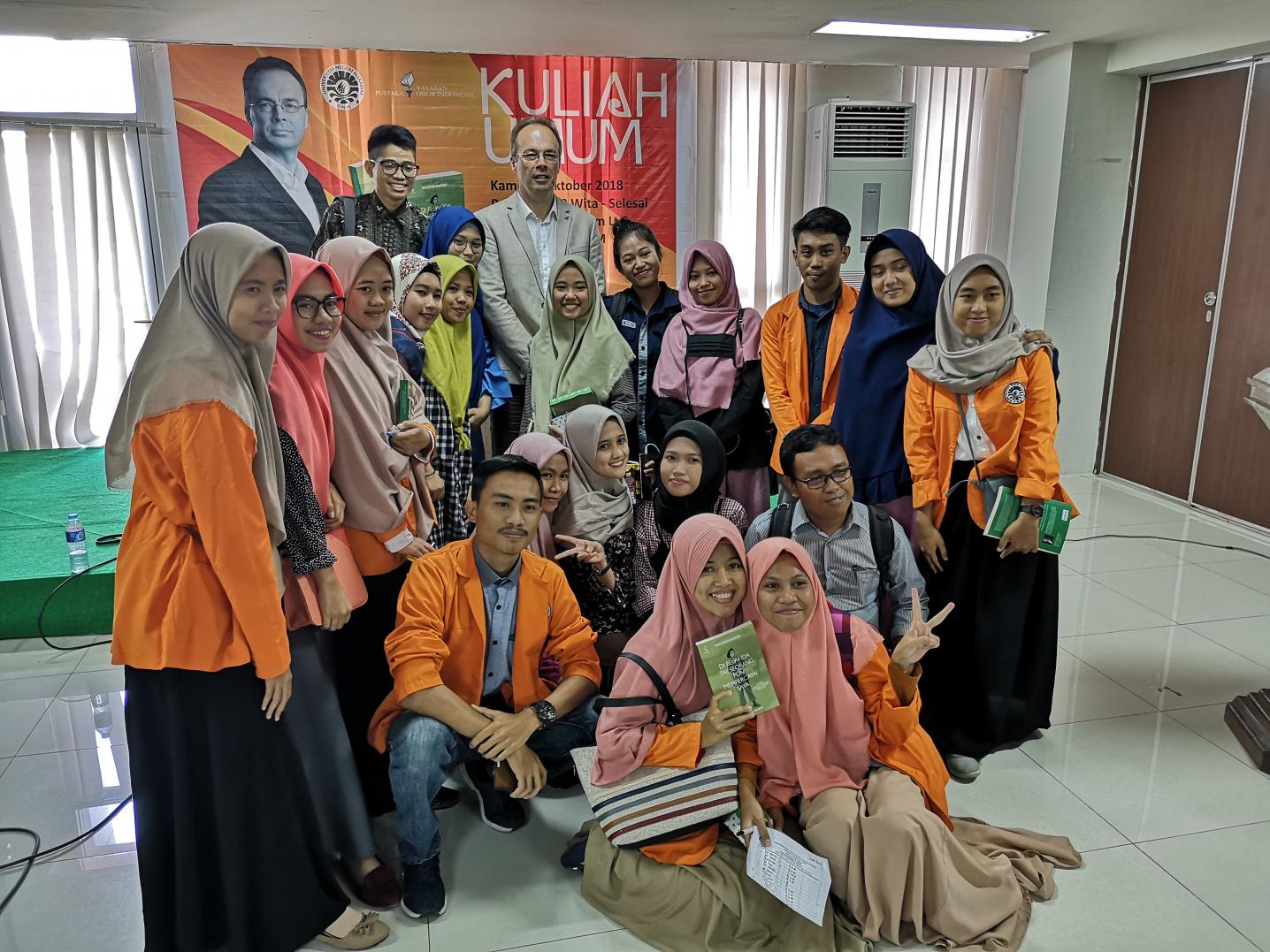 Where did they perform?  
It will not come as a surprise that most Dutch acts, whether DJ's, solo singers, bands, dancers or theatre groups, usually give multiple performances in different cities, mainly on Java but also on Sumatra and Bali: once you take a long flight to Indonesia, you may as well make the most of it. Clubs and cafés on Bali and in Jakarta are popular venues for DJ's, while classical, jazz and pop concerts are often hosted at hotels, concert halls or community centres. Dutch artists regularly perform at festivals, such as Jazz Gunung Bromo Festival, Jogja Arts Festival, Kaba Festival and Ubud Village Jazz Festival. Erasmus Huis, the cultural centre of the Netherlands Embassy in Jakarta, is by far the most important platform for Dutch performers in Indonesia: 31% of their activities in 2018 took place here, up from 20% in 2017.
Want to know more about or work in Indonesia yourself?
Check out the complete overview of Dutch cultural activities in Indonesia.
If you are a cultural professional who wants to go to Indonesia, to perform, present or exhibit or to co-create with Indonesian colleagues, feel free to contact our Indonesia advisor Remco Vermeulen.
For funding possibilities, check out our Cultural Mobility Funding Guide, or the websites of our partners Mondriaan Fund, Het Nieuwe Instituut, Creative Industries Fund NL, Cultural Participation Fund or Dutch Film Fund. Prince Claus Fund and ASEF culture360 also have interesting opportunities.

Database disclaimer