Part 2 – Building Indonesia
Part 2 – Building Indonesia
In this trilogy Remco Vermeulen, Advisor Indonesia, searches for the shared past and shared future of the Netherlands and Indonesia. His personal journey of discovery leads from his own family history to today's dynamic debate of cultural cooperation. Through this journey, his subjective and nostalgic image of Indonesia develops along with the complex and modern image in which many personal histories define the relationship between both countries.

For as long as I can remember, in the house of my grandparents there is a drawing of an Indonesian woman, sitting with bare shoulders and seen from the back, while slightly inclining her head to the spectator. I have always thought this a beautiful work, with simple black lines on a white background. The drawing is signed by Harijadi S. Only in 2016 I discovered who he was.  
Media
Image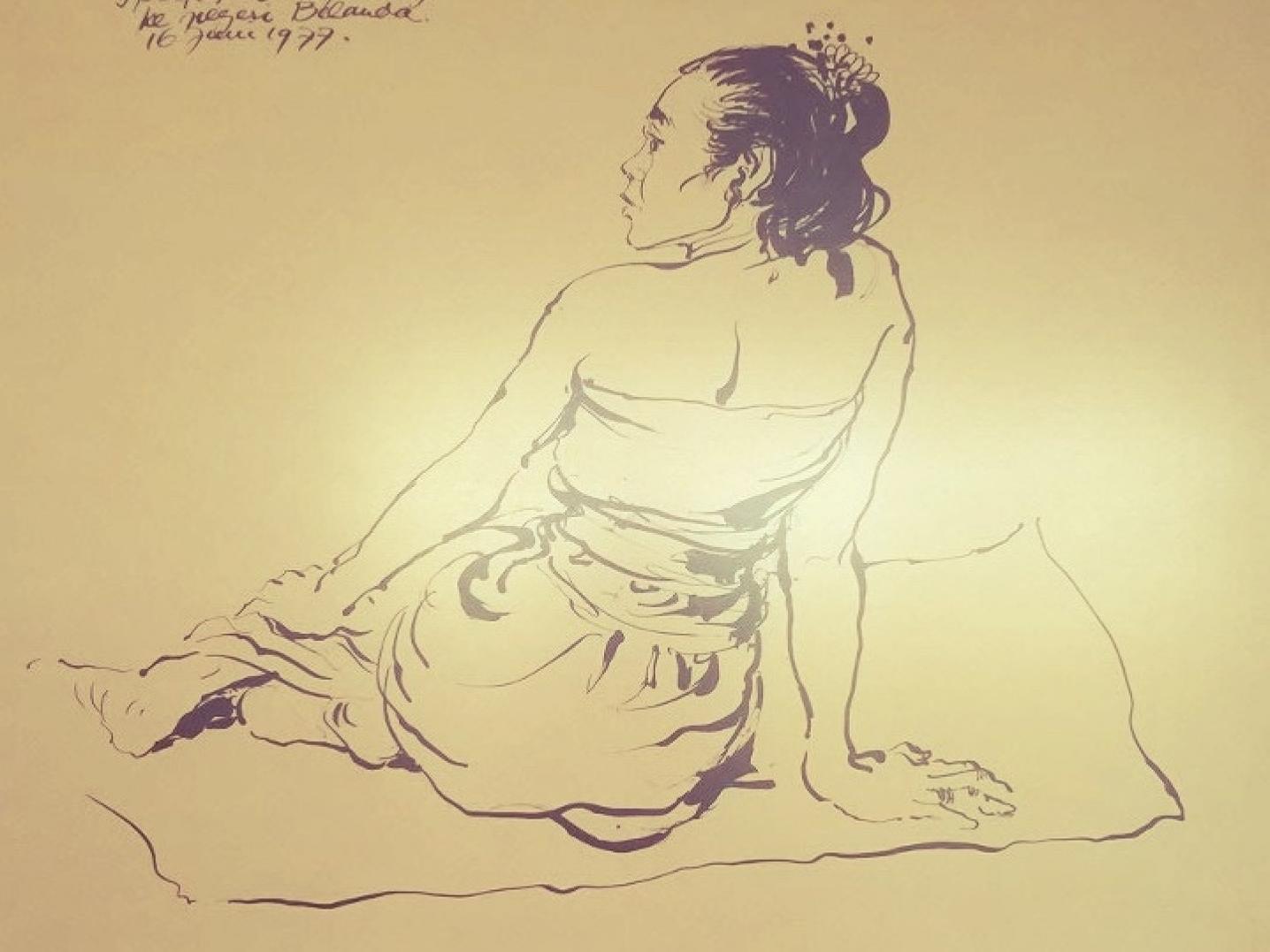 A new nation
After declaring independence of Indonesia in 1945 the charismatic first president Sukarno takes upon himself the immense task of forging a new nation. He presents the Pancasila as the philosophical foundation of the state, which promotes equality and justice for all, very diverse, Indonesians. Bahasa Indonesia becomes the new national language, a mix of the commonly used Pasar Malay and many Dutch loanwords. Administrasi, famili, garansi, restoran and sirkulasi are only a few examples. The Dutch language has also taken many words from Malay-Indonesian.

Sukarno, educated as architect at the Technische Hoogeschool in Bandoeng (now: Bandung Institute of Technology), also literally builds a new state. The capital city of Jakarta, the former Batavia, becomes the symbol of progress and the cradle of national identity. Especially during the period 1959 to 1965 grand construction projects dominate the city, for example at Medan Merdeka (Independence Square, formerly known as Koningsplein). Here the Monumen Nasional (National Monument), the Masjid Istiqlal (national mosque of Indonesia) and many ministries arise. The monument and mosque are designed by the Indonesian architect Frederich Silaban in deliberate neutral modernist style. Former colonial governmental buildings around the square are reused, such as Istana Merdeka (formerly Paleis te Koningsplein), Galeri Nasional Indonesia (formerly Hogere Burgerschool, Carpentier Alting Stichting) and Museum Nasional (formerly Museum van Bataviaasch Genootschap van Kunsten en Wetenschappen). The nearby neighbourhood of Menteng, with grand family homes, diplomatic residences and lush green streets and lanes, remains home to the elite.
Media
Image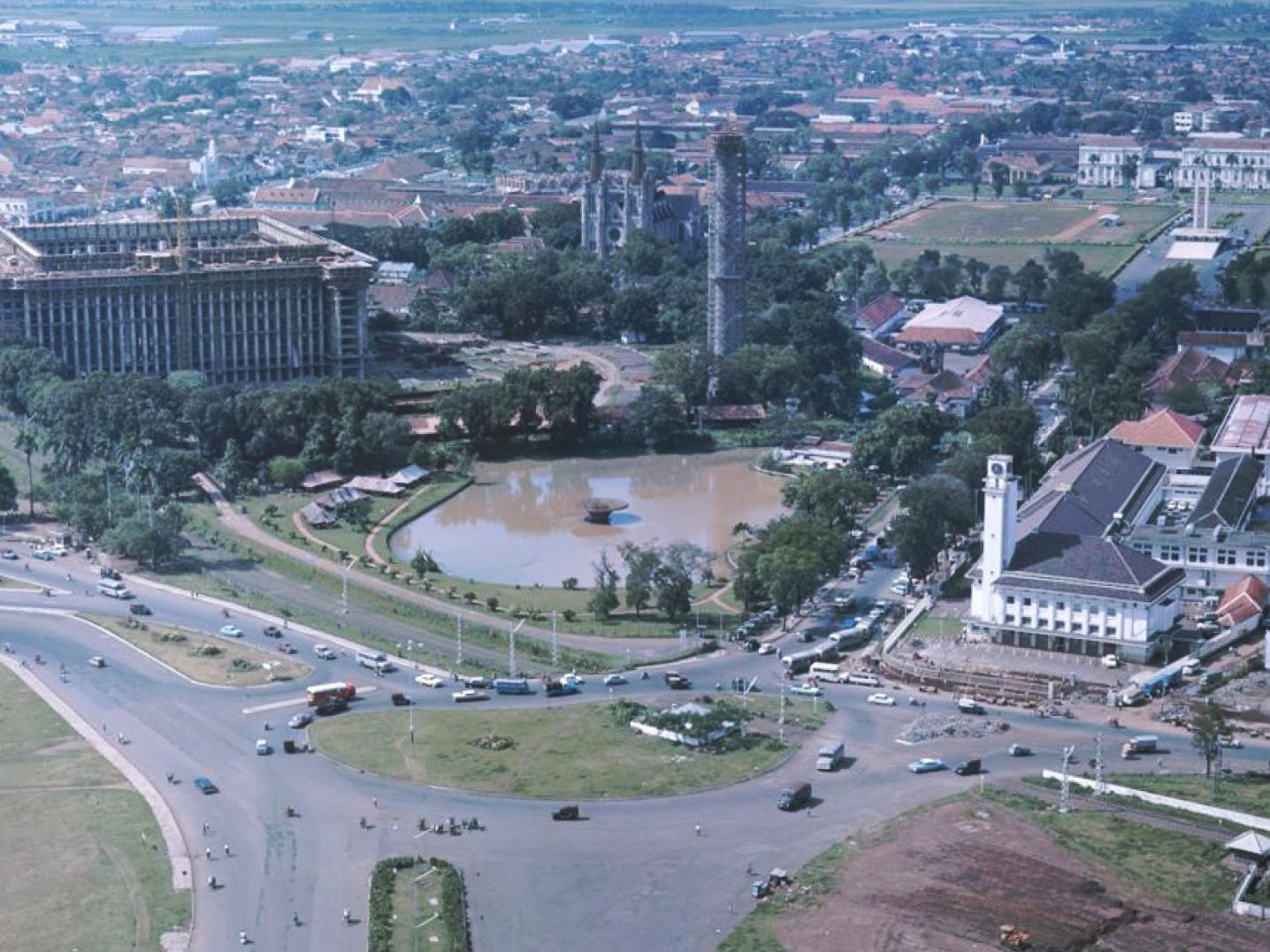 The relationship between the Netherlands and Indonesia seriously deteriorates under Sukarno's rule, especially by the forced nationalisation of Dutch companies in Indonesia and the expulsion of the (Indo) Dutch in 1957. Sukarno is completely focused on Indonesia and tolerates no influence from outside. The last years of his presidency are marked by conflicts with the Netherlands on Papua New Guinea, and with Malaysia, Singapore and the United States. Foreign investments are barely allowed. Sukarno's 'Guided Democracy' is turned over by the 1965 coup by his prime minister, General Suharto, amidst political unrest, domestic insurgence and immense bloodshed.

Opening up to the outside
It is left to the new president Suharto to restore peace in Indonesia, if necessary with more violence, and to breathe new life in the country's economy. He allows loans, development aid and investors from abroad. Indonesia with its natural resources and growing population (i.e. market) is very appealing. The Netherlands is one of the countries that wants to profit.

In 1970 the Netherlands opens the Erasmus Huis in Jakarta. This cultural centre, connected to the Dutch Embassy, is established to encourage cultural cooperation between the Netherlands and Indonesia. The historical relationship between both countries plays an important role, as well as diplomatic relations and economic interests. Culture is actively deployed as binder. Also in 1970, Kota Tua (historical inner city) of Jakarta around Taman Fathillah (formerly Stadhuisplein) is designated as a protected cultural heritage site. Plans are made for the restoration and development of Kota Tua, and in the former City Hall the new Museum Sejarah Jakarta (Historical Museum Jakarta) is opened as main tourist attraction.
Media
Image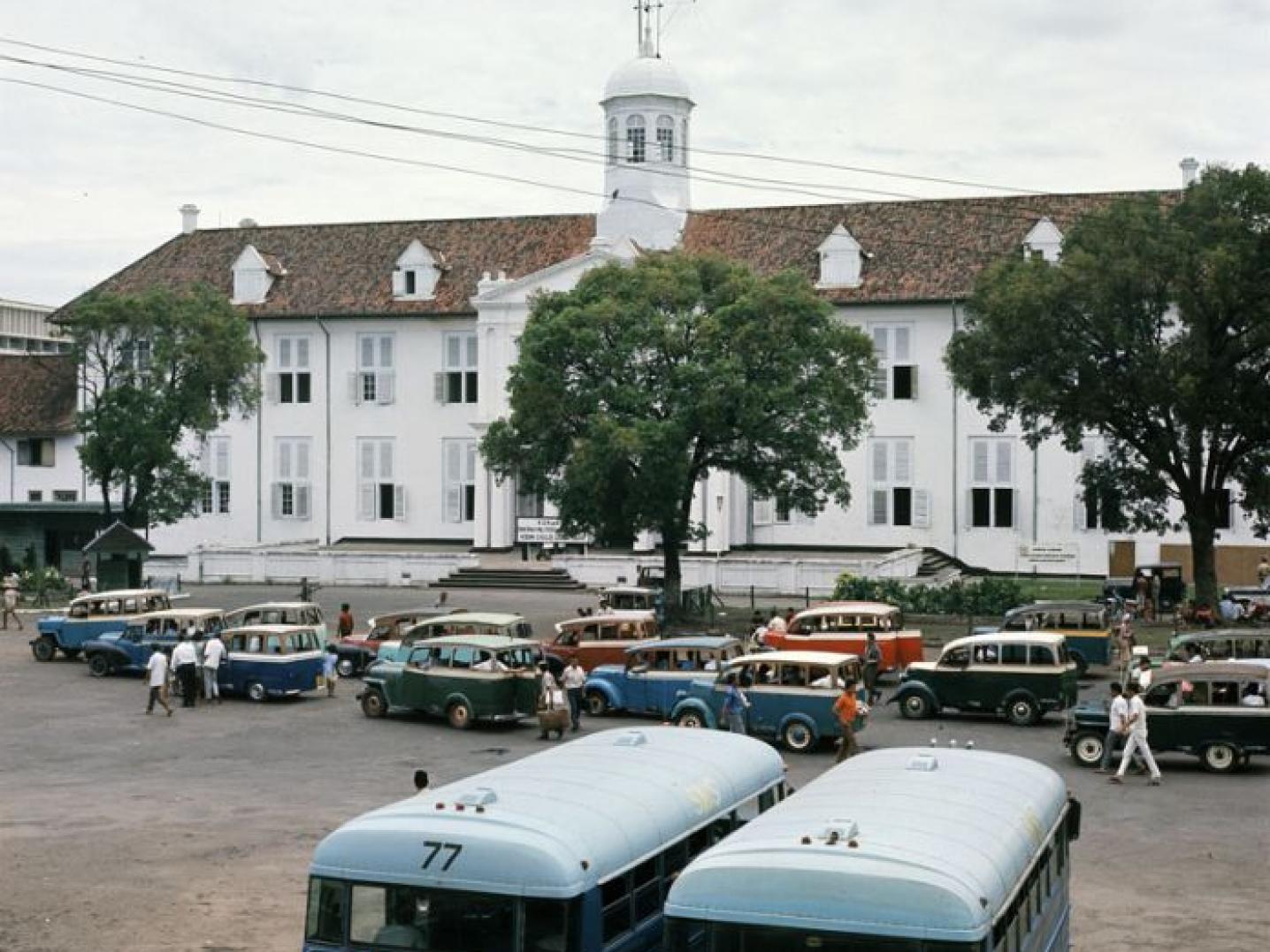 My opi returns to his motherland, the 'old Inje' as he called it, with his wife and daughters in 1973, after 26 years absence. He is now director of construction company Decorient ('Dutch Engineering Contractors in the Orient'). Decorient was founded by large Dutch contractors in 1970 to compete with other international contractors. His assignments: to find an Indonesian partner (obligated by Indonesian law) and to bring in projects with support of that partner.
Media
Image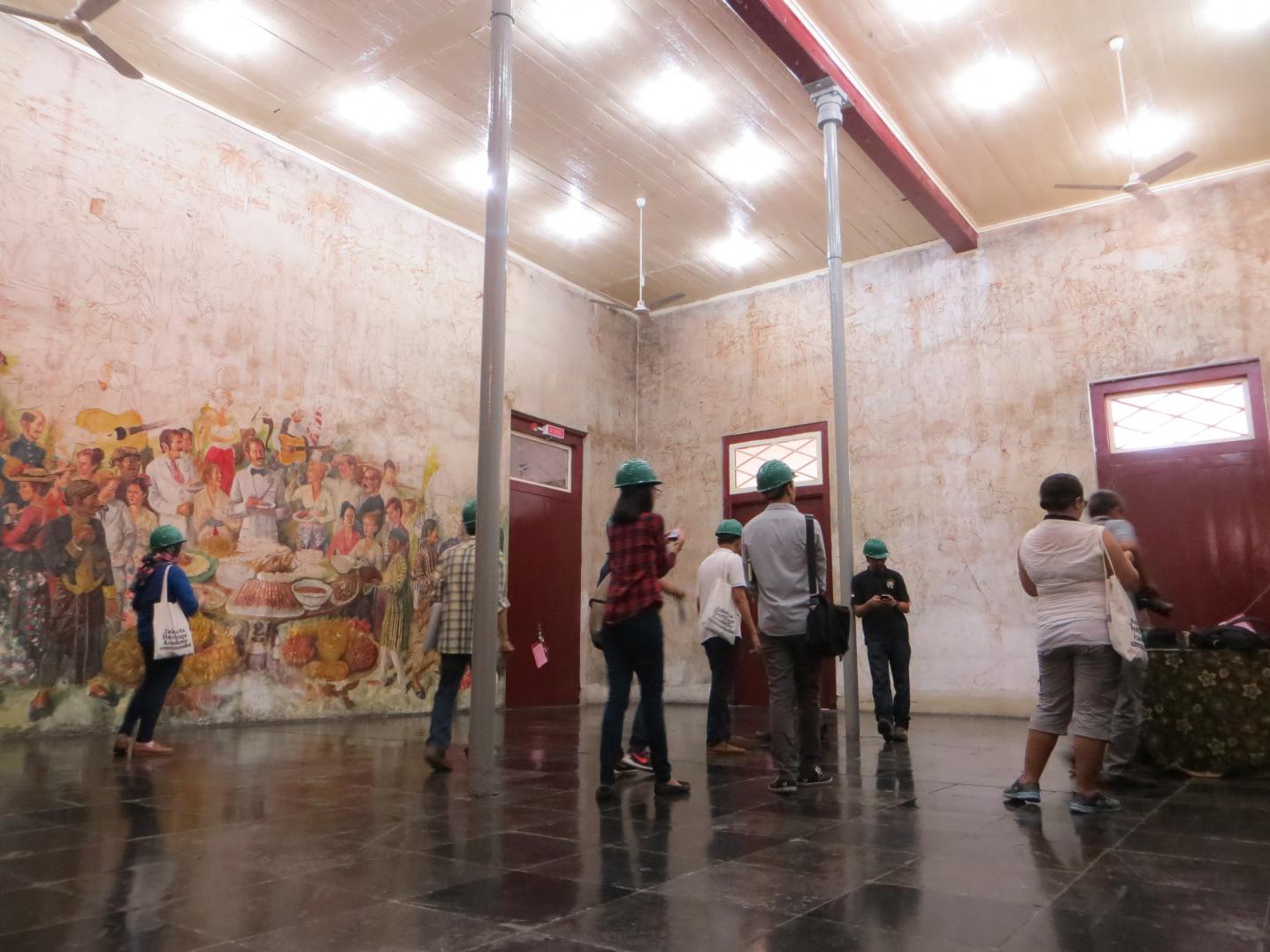 The painter of Batavia
In Indonesia the economy is picking up and the competition amongst foreign investors and companies is killing. Many politicians and business leaders have roots in the Dutch East Indies and speak Dutch, but this does not lead to a better negotiation position for Dutch companies. On the contrary, the shared history remains sensitive. Either way, Ali Sadikin, governor of Jakarta, commissions several artists to make works for the new Museum Sejarah Jakarta. One of them makes a huge mural, depicting Batavia under colonial rule from 1880 to 1920. He portrays Batavia as a cosmopolitan city, with figures in characteristic dresses from all corners of the world, Indonesian and Dutch, Arab and Chinese, a fast car next to a traditional ox wagon, a kissing couple next to a bloody repression scene but also a large Indische rijsttafel. The painter never finishes his work. Due to the limestone underground and extreme humidity he cannot colourize the work with any kind of material and gradually it is forgotten. But in 2010 the mural is rediscovered and since 2017 it features in the new entrance hall of the museum. The name of the painter is Harijadi Sumodidjojo, or Harijadi S.  
Media
Image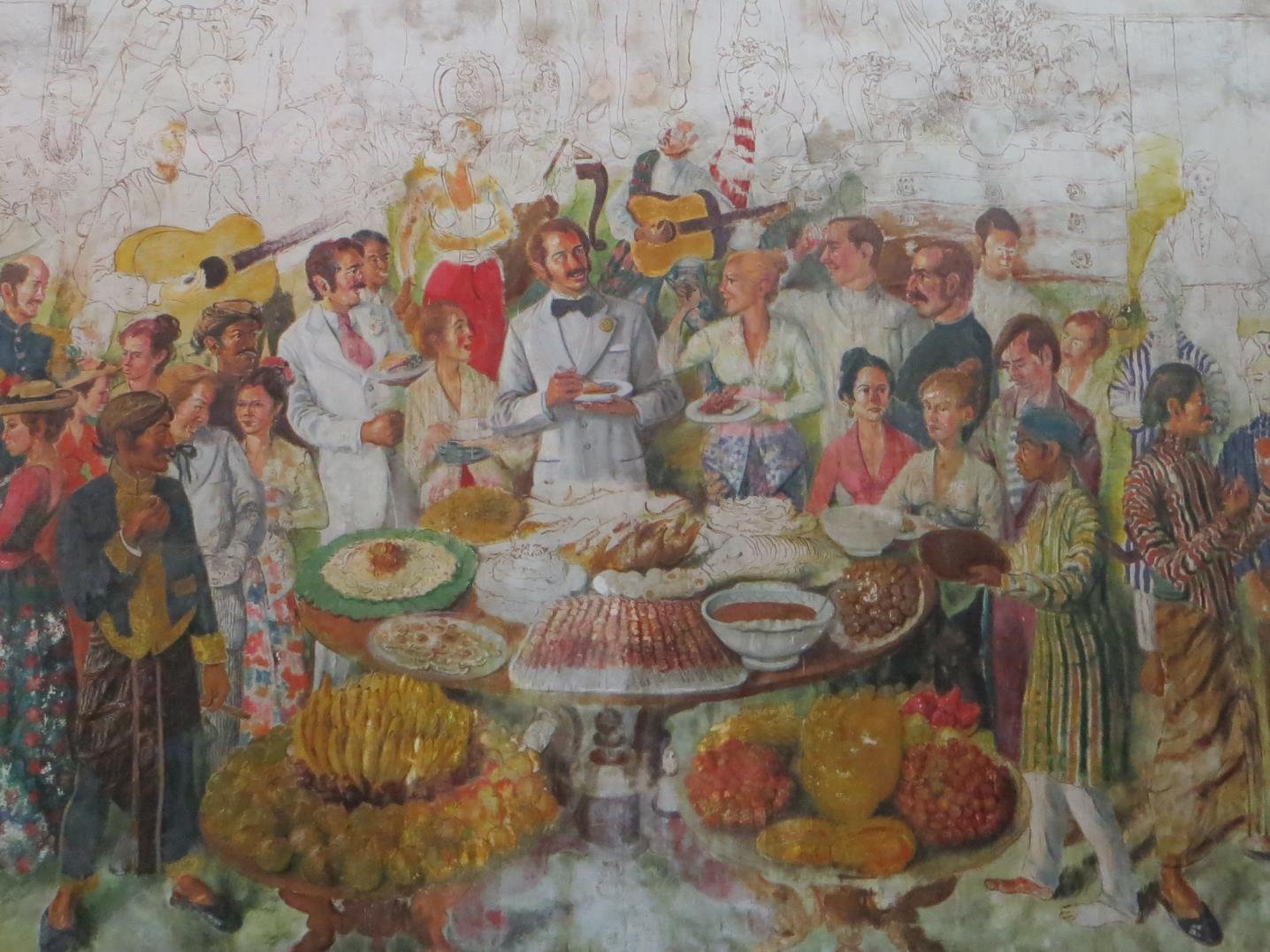 My opi gets to know Harijadi through a commission for Decorient. In 1977 my opi hosts a big reception in Museum Sejarah Jakarta when the company's directors visit from the Netherlands. I can imagine that my opi had the opportunity to see the Batavia mural in the making. Not much later his contract with Decorient comes to an end and he and his family return to the Netherlands. As goodbye present Harijadi gifts my opi a drawing of a sitting woman, with bare shoulders and seen from the back.

< Read back Part 1 - Building the Dutch East Indies
Read further Part 3 - Building a shared future >