Short-stay visas for the Schengen area
Short-stay visas for the Schengen area
What are the conditions for non-EU citizens to temporarily visit the Netherlands? On this page you will learn more about the short-stay Schengen visa.
International mobility enables cultural exchange and collaborations across borders. If you are a cultural professional living outside Europe invited to the Netherlands by a cultural organisation, you might need to apply for a Schengen visa before travelling. On this page you will find information on the Schengen visa, who needs to apply for one and information on the requirements and the application procedure itself.
What is the Schengen area and does it cover all EU countries?

'Schengen' is the name of a small town in Luxemburg where a treaty was signed that lead to the creation of the Schengen area on 14 June 1985. Since then a set of common rules abolishes checks at the internal borders between the states in this area, while providing a single set of rules for controls at the external border applicable to those who enter the Schengen area for a short period of time (up to 90 days).

Today the Schengen area largely encompassess the territory of the European Union, except for Ireland, Croatia, Cyprus, Romania and Bulgaria. Additionaly, also the non-EU states of Iceland, Norway and Switzerland and Liechtenstein have joined the Schengen area.

The Schengen provisions underpins the free movement of people within the EU/EEA and allows free travel between the Schengen states without checks at the border. This means that you can travel from Lisbon to Amsterdam by car without seeing any border officals. If you would then travel from Amsterdam to London or Dublin you will leave the Schengen area and (depending on your nationality) might need a visa to enter the United Kingdom or Ireland.
Media
Image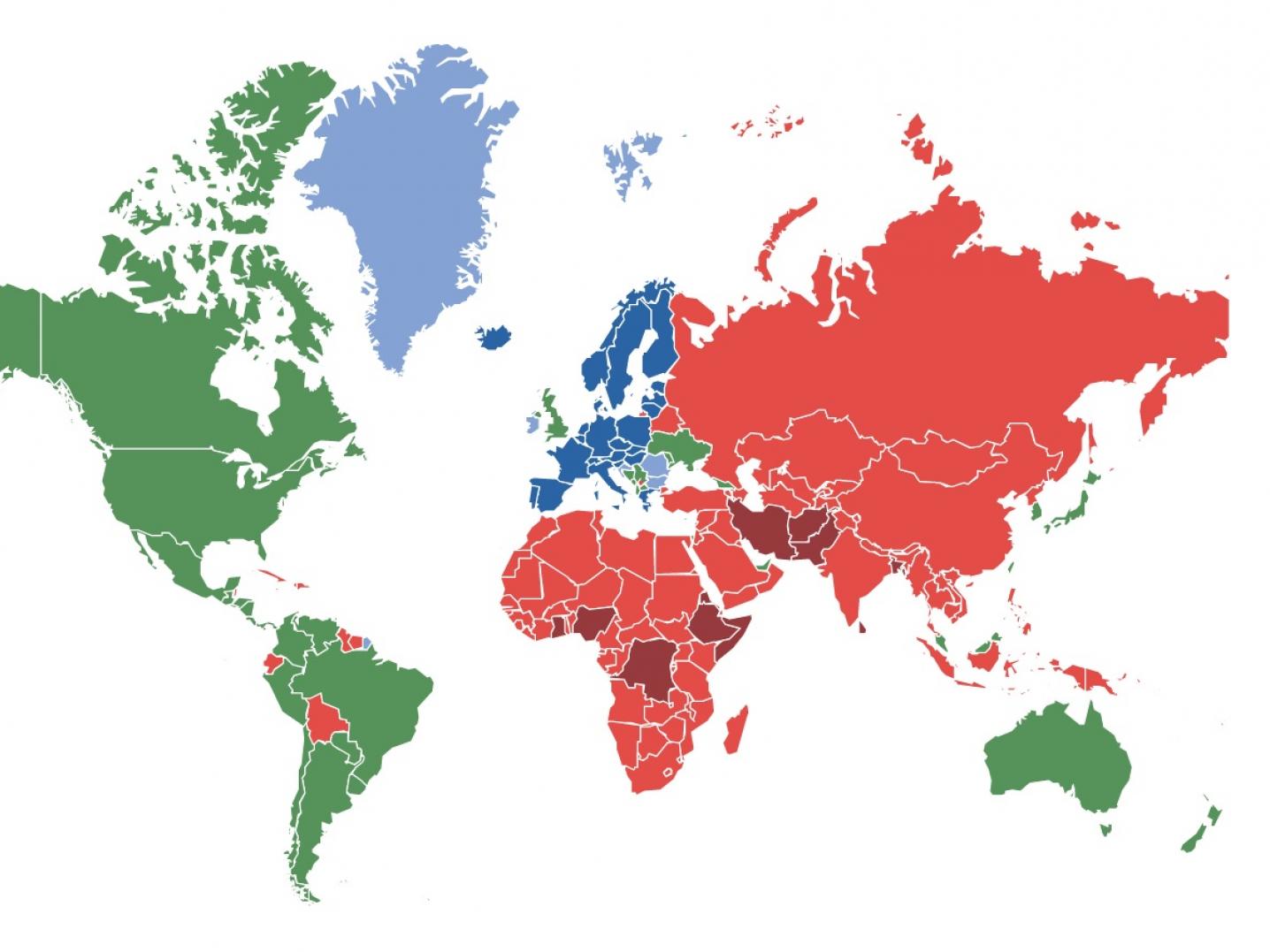 We strongly advise organisations to assist invited artists and professionals with planning the visa application procedure and preparing the required documents
Do I need to apply for a Schengen visa?

The answer to this question depends on your nationality. Please check the map shown above or this interactive version on the website of the European Union to see if you are a visa national that needs to apply for a Schengen visa in advance. If so, this means that you will need to apply for a Schengen visa at the nearest Dutch Embassy or Consulate or a private handler like VFS Global in your area and collect the visa before travelling.

Even if you are exempt from the visa requirement, you might be asked at the Schengen border to show:

a passport valid for at least 6 months in the future
proof of valid travel insurance
a place to stay (for example a hotel reservation)
sufficient funds of € 55,- for every day of your stay

How does the 90 days within any period of 180 days-rule work?

The Short-Stay Schengen Visa allows you to stay in the Schengen area for a maximum of 90 days within a period of 180 days. Non-visa nationals (green countries on the map) are also allowed to stay for that same period of time. Your passport will get a stamp registering your date of entry and the border authorities might verify if you didn't overstay when you are exiting the Schengen area again.

This means that whenever you are visiting the Schengen area, you should count back 180 days, making sure not to stay longer than the maximum of 90 days in the Schengen area during that 180-day period. Every day in every Schengen state counts, so be aware that when you are travelling up and down to different Schengen states the different stays add up. Not sure how many days you are allowed to stay? Use the European Commission's short-stay visa calculator or the Schengen Visa Calculator.

Will I be allowed to work while visiting?

The answer to this question depends on the country of destination (each EU member state has different rules), the type of work (artistic or not) and the duration. If you are a non-EU citizen visiting the Netherlands you are allowed to take up:

short-term work up to 6 weeks: as an artist or musician, a structural companion of an artist or musician, as a visual artist, curator or restorer for a maximum of 6 consecutive weeks within a period of 13 weeks. You would need a work permit if your project exceeds these 6 weeks.

Please check the entry Working in the Netherlands for more information on this topic.

What do I need to prepare before filing the application?

You will need to support your application with the following:

two passport pictures that meet the Dutch government's passport photo requirements
documentation that explains the purpose of your visit: for example an invitation letter on the letterhead of the cultural organisation that is inviting you with:

Your personal details (name, date of birth, passport number)

The reason why you are invited (travel purposes)

The period you are expected to be in the Netherlands, including arrival and departure date

Information on who is responsible for which costs (airplane ticket, hotel, transportation, medical insurance)

Information on where you are staying during the short stay in the Netherlands

A mention if the company or organisation will ensure your timely return to your country of origin or residence

The details in the invitation letter should be substantiated with:

a two-way ticket (does not need to be finalized)
documentation that you have a place to stay:

proof of lodging
hotel reservations

documentation that you have sufficient funds for your return journey and your stay: a bank account with at least € 55,- per day for your duration of stay or a credit card with enough credit
documentation of health insurance coverage in the Schengen area up to € 30.000,-

It is very important to show your social-economic ties to your country of origin to prove that you will return, for example:

documentation that shows that you are enrolled at a school
proof of employment or your own business
proof that your family (children) are in your home country
proof that you own a property

Where and when can I start applying?

You need to submit an application in person at an embassy, consulate or external service provider (ESP)*. Find out where you can apply for a short-stay Schengen visa here. Although embassies, consulates and ESPs take in your application and check whether your dossier is complete, they are not responsible for the decision. This decision lies exclusively with the Dutch Ministry of Foreign Affairs, which makes use of information-supported decision-making.

Scheduling an appointment at a Dutch embassy/consulate/ESP takes time. Due to the high demand for Schengen visas, scheduling an appointment to hand in your documents and start the application procedure may take several weeks. You must travel twice to the nearest embassy/consulate/ESP to submit your visa application and documents as well as to pick up your visa application and documents after approval.

You may apply for their Schengen visa up to 6 months before intended travel. The application processing time is 15 calendar days. However, in certain cases where further scrutiny of the application is needed, the processing time may increase to a maximum of 45 calendar days.

*The Ministry of Foreign Affairs is increasingly outsourcing consular services to ESPs such as VFS Global and TLS Contact. This means that oftentimes short-stay Schengen visa applicants will not encounter Dutch representatives during their application procedure.

How much does it cost and how long do I need to wait for a decision?

The application fee for a Short Stay Schengen visa per adult is € 80,-. Additionally, ESPs are allowed to charge a processing fee of a maximum of € 80,-, meaning the total visa application costs can be as high as € 160,- per applicant. Visa fees are non-refundable.

The embassy/consulate/ESP holds custody of your passport during the course of your application procedure. Make sure that you do not need to travel when your Schengen visa application is under review. If your application is rejected, you may object to the decision within 4 weeks of receiving the official letter explaining your rejection. Objections are reviewed by the Immigration and Naturalisation Service (IND) and may take up to 12 weeks after the last day on which you are able to submit your application for review.

We advise you to always object to a negative decision, even if your work opportunity abroad has already passed, as rejection may impede your future mobility. More information can be found on the website of the IND.

What is the difference between a single- and multiple-entry visa?

The short-stay Schengen Visa is a single-entry document, meaning that you cannot re-enter the Schengen area on the same visa, regardless of whether you have spent more or fewer than 90 days in the Schengen area.

If you wish to enter and re-enter the Schengen area on the same visa, you can consider applying for a multiple-entry visa. For individuals touring different countries inside the Schengen area (such as the Netherlands) as well as outside the Schengen area (such as the United Kingdom), it is worth considering applying for a multiple-entry visa.

Please keep in mind that when you are travelling on a multiple-entry visa, you must still comply with the 90/180-day rule.
Please don't hesitate to contact DutchCulture's Mobility Info Point if you have any questions about travelling and working in the Netherlands as a foreign artist, performer or specialist in the cultural sector after reading this text.
Although we aim to keep the information on this page as up-to-date as possible, no rights can be derived from it. We always advise you to double-check with the appropriate government authorities and institutions, many of which are linked from this page.