Exhibition: 'Queer your Ramadan'
Image
Image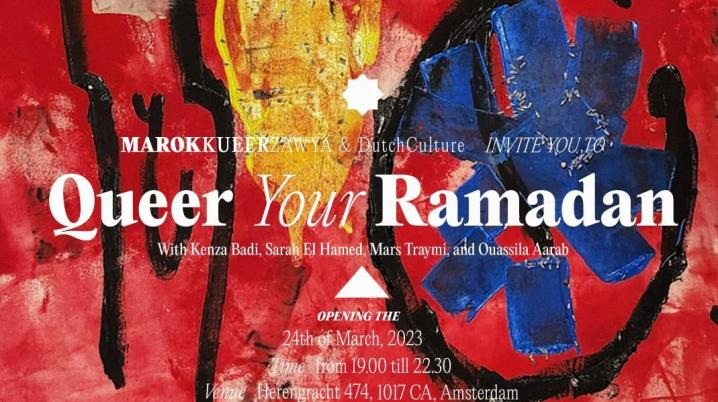 Exhibition: 'Queer your Ramadan'
DutchCulture & Marokkueer Zawya are proud to present the exhibition 'Queer your Ramadan' from 27 March to 21 April.
Queer your Ramadan showcases the works of four north African queer artists who are collectively celebrating north African queerness in the diaspora. Kenza Badi (Casablanca – Amsterdam), Sarah El Hamed (Paris), Ouassila Aarab (Amsterdam) and Mars Traymi (Fez – Amsterdam) have selected 18 artworks, consisting of films, paintings and photography for this exposition, which will take place during the holy month of Ramadan.
The exhibition will be officially opened on Friday 24 March at 20:30 with an artistic conversation between participating artists Kenza Badi & Sarah El Hamed.
Practical information
Date: 27 March - 21 April 2023
Opening hours: Tuesday – Thursday from 10.00 – 15.00
Location: DutchCulture, Herengracht 474, Amsterdam
Entrance is free.