Info point Dutch cultural cooperation with Ukraine
Image
Image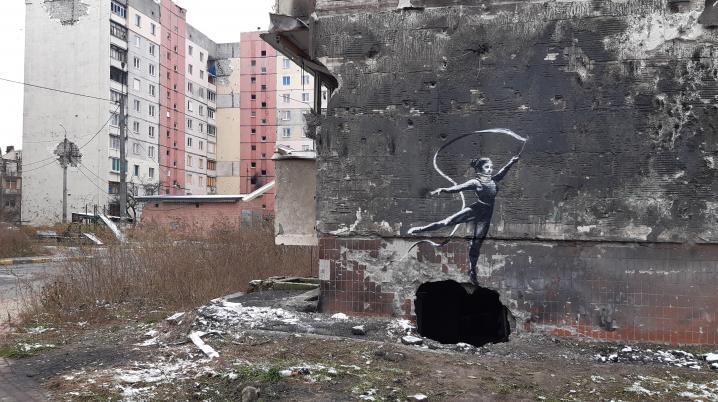 Info point Dutch cultural cooperation with Ukraine
Our information point aims to help Dutch artists and organisations by answering questions about cultural cooperation with Ukraine.
24th February 2022 marks a new, dark chapter in European history. Since the beginning of Russia's full-scale military attack against Ukraine destroying the Ukrainian cultural identity, and looting and destruction of cultural objects has been an essential part of the Kremlin regime's strategy. The museum and heritage sector of Ukraine suffered huge losses. Russian forces have damaged or destroyed more than 1200 cultural objects* and tens of thousands of artifacts have been stolen from museums and private collections. The Ukrainian cultural sector - museums, archives, galleries, libraries, and other institutions - responded to the threat promptly, by remarkable self-organization. They joined forces to protect the cultural heritage and started to think immediately about how to rebuild the sector after the victory.
Ukraine gained a focal country status in the international policy 2021-2024 of the Netherlands in December 2022. The new policy aims to foster collaboration with the Ukrainian cultural and heritage sector and contribute to post-war reconstruction. The Embassy of the Kingdom of the Netherlands in Ukraine plays a significant role in facilitating the relations between the two countries.
Information &advice
DutchCulture opened an information point immediately after the full-scale invasion started. We are here to help Dutch (Netherlands-based) artists and organizations by answering questions and providing information about cultural cooperation with Ukraine. You can ask us about policy, funding, networks, partners, mobility, insurance, financial implications, and other related issues in the field of art and culture. Unfortunately, it is beyond our capacity to directly match partners. DutchCulture is not a funding body, for advice about funding please consult our Mobility Information Point.
Would you like to receive more information regarding opportunities for cultural exchange with Ukraine? Feel free to contact our advisor for Central and Eastern Europe, Tijana Stepanovic with your questions. She can inform you about the latest developments in the country, relevant contacts, stages and other cultural venues.
Useful links:
Ministry of Culture and Information, Ukraine
*Information of the Ukrainian Ministry of Culture and Information
Cultural collaboration with the Ukrainian cultural field
I need to help someone in Ukraine to travel to the Netherlands. What do I need to know?

Before leaving
It is important to bring valid travel documents (valid biometric Ukrainian passport, Ukrainian residence permit (if you are a non-EU citizen living in Ukraine) and birth certificate and/or marriage certificate) if possible. These will be helpful when travelling, but also when temporarily settling in one of the EU countries. However, the lack of these documents should not be an obstacle to entering the EU. You can find additional information about travelling to the Netherlands in this FAQ issued by the Dutch government.

EU Temporary Protection Directive
Refugees from Ukraine can receive temporary protection in the Netherlands under the EU Temporary Protection Directive. The Temporary scheme for Ukraine entitles you to reception, health care, and education for minor children in the Netherlands. As well as the possibility to work. Find out on this site whether you are covered by this scheme and whether you are entitled to temporary protection.

Work
Everyone who comes under the Temporary scheme Ukraine can work in the Netherlands without a work permit (in Dutch: tewerkstellingsvergunning or twv). This means that an employer does not have to request a work permit for you. And that you can easily look for a job, if you want to. The work permit exemption applies to all work in employment. You will need an employment contract with an employer. You must also meet certain requirements, which you can check here. Please note that employers must notify the Employee Insurance Agency (UWV) (in Dutch) that they are employing someone.

Useful links:

RefugeeHelp - Website om Oekraïense vluchtelingen in Nederland te helpen.
Ukraine: effects of Russian invasion | Immigration and Naturalisation Service (IND)
Temporary scheme Ukraine | Immigration and Naturalisation Service (IND)
The Hague - Answers to questions frequently asked by Ukrainian refugees (denhaag.nl)

Travelling in the EU
European transport companies are allowing people fleeing from Ukraine to travel inside Europe for free.

How can I offer accommodation to Ukrainian artists and cultural workers stranded in the Netherlands?

Art residencies and cultural organisations offering accommodation
There is a growing number of cultural organisations offering accommodation and sometimes a residency opportunity for artists and cultural workers from Ukraine. There are efforts to streamline the offers and opportunities, as soon as we get verified information we will share it on our website.
If you or someone you know is interested in this option, please contact our Infopoint or TransArtists.

Takecarebnb
If an artist or cultural worker is a refugee with a residence permit, Takecarebnb enables refugees to temporarily stay with a host family for a period of three months. If you are considering hosting a family or person, you can contact them as well.

Vluchtelingenwerk
Even though DutchCulture focuses on international cultural cooperation, we find it important to also provide more general information that is reliable and may be relevant to artists. This page of the Dutch Refugee Council might be useful.

What campaigns, charity events and awareness events can I support?

Worldwide there are numerous campaigns and events supporting Ukraine, also campaigns and events specifically focusing on the Ukrainian cultural field. Here are a few initiatives by the Dutch and the Ukrainian cultural field:

Ukrainian Emergency Fund is a local, Ukrainian network which supports Ukrainian artists. The goal of the Fund is ensure the continuity and development of the Ukrainian cultural sector during the war. The UEF was established by Museum of Contemporary Art (MOCA), in partnership with Zaborona, The Naked Room and Mystetskyi Arsenal.

Support for Ukrainian artists in the Netherlands The Dutch government allocated 1 million euros to support Ukrainian and Russian artists that fled their countries after the Russian attack on Ukraine, and are now living in the Netherlands. The grant is now closed, but will open later in 2023 for a second round, with reviewed conditions. Click here for more information.

Cultural Emergency Response
Cultural Emergency Response (CER) coordinates and supports locally-led protection of heritage under threat. Beyond emergency response, CER's wider purpose is to make global heritage protection more inclusive, sustainable and locally-led, notably by training heritage experts, sharing expertise and experience, and advocating the recognition of cultural heritage rescue as a crucial aspect of humanitarian relief, recovery, development and peacebuilding.

University of New Europe - UNE mentor program
The UNE mentor program is a program launched by a collective of scholars and activists who plea for a new European university -- the University of New Europe -- with a fixed set of places for Ukrainian and Belarusian and Russian scholars at risk. We are connecting students/scholars/cultural workers at risk from Ukraine, as well as students/scholars/cultural workers at risk from Belarus and Russia, to high-profile experts elsewhere, among others in the Netherlands. To participate as mentor or mentee, send and email to universityofneweurope@protonmail.com with the following details: name; disciplinary expertise (in 3-4 keywords); participating as mentor/mentee; if mentee: seeking short-term of long-term advice. As a mentor you can make a difference by offering mental support and relevant information to your mentee, based on their needs.

Museums support Ukraine
NEMO collects and monitors support activities and initiatives organised by museums for Ukrainian colleagues and citizens. This page lists support actions relating to Storage and Housing, Donations, Education and Exhibitions as well as statements issued by European museum organisations. You can use this site for inspiration and information. Museums are furthermore encouraged to join the initiative.

Ukraine Solidarity Link Farm
Cultural workers in the Netherlands are working on an extensive link farm with useful information for artists and in general.  

Rijksakademie - Supporting the European International
Rijksakademie – Supporting the European International. An artist-to-artist aid for the Kyiv Biennial.

Creative Europe
Commission publishes special call to support Ukrainian artists. The call supports artists outside their country, cultural organisations in Ukraine, and preparation for the post-war recovery of the Ukrainian cultural and creative sector in the medium term.

More information here.