From offline to online: Dutch international cultural highlights in the COVID era
Discipline
Digital Culture
Performing Arts
Audiovisual Media
Music
Design
Big cultural events have gone digital. Here is how Cinekid, IDFA, ADE and DDW moved from offline to online and the international impact thereof.
Every autumn some major Dutch international cultural happenings and festivals take place. This year's events have been a great challenge due to coronavirus. What has been the impact on their international cooperation and participation? How did they reinvent themselves digitally? A review of how Cinekid, IDFA, ADE and Dutch Design Week shifted internationally from offline to online.
Like an intergalactic explorer floating through space. That's what diving into Cinekid Play for the first time feels like. After logging onto the virtual platform, two clunky robot arms appear on your screen, floating in space. Straight ahead is what looks to be your destination: the planet Technos. But a closer look at the infinite in front of you reveals a whole range of different planets.
Each of the virtual planets in Cinekid Play has its distinct theme, ranging from technology (the aforementioned planet Technos), history (the planet Tijdcapsule) and adulthood (Acneet). Clicking on a planet reveals a range of content associated with the theme. From short films, animations and workshops to small games and feature films. To access the content, which thanks to geographic blocking is only available in the Netherlands, a visitor must subscribe for 4,99 euro's a month.
"We wanted to recreate the feeling visitors get when they attend our festival," says Heleen Rouw, general director of Cinekid Festival, the largest international film, television and new media festival for children aged 4 to 14. "In normal years visitors arrive at the festival and immediately immerse themselves. They can visit a movie, attend masterclasses and workshops or discover interactive art in our MediaLab. We wanted to recreate that feeling digitally, with the help of gamification. Hosting a digital film festival is so much more than providing a link to a video stream."
Media
Image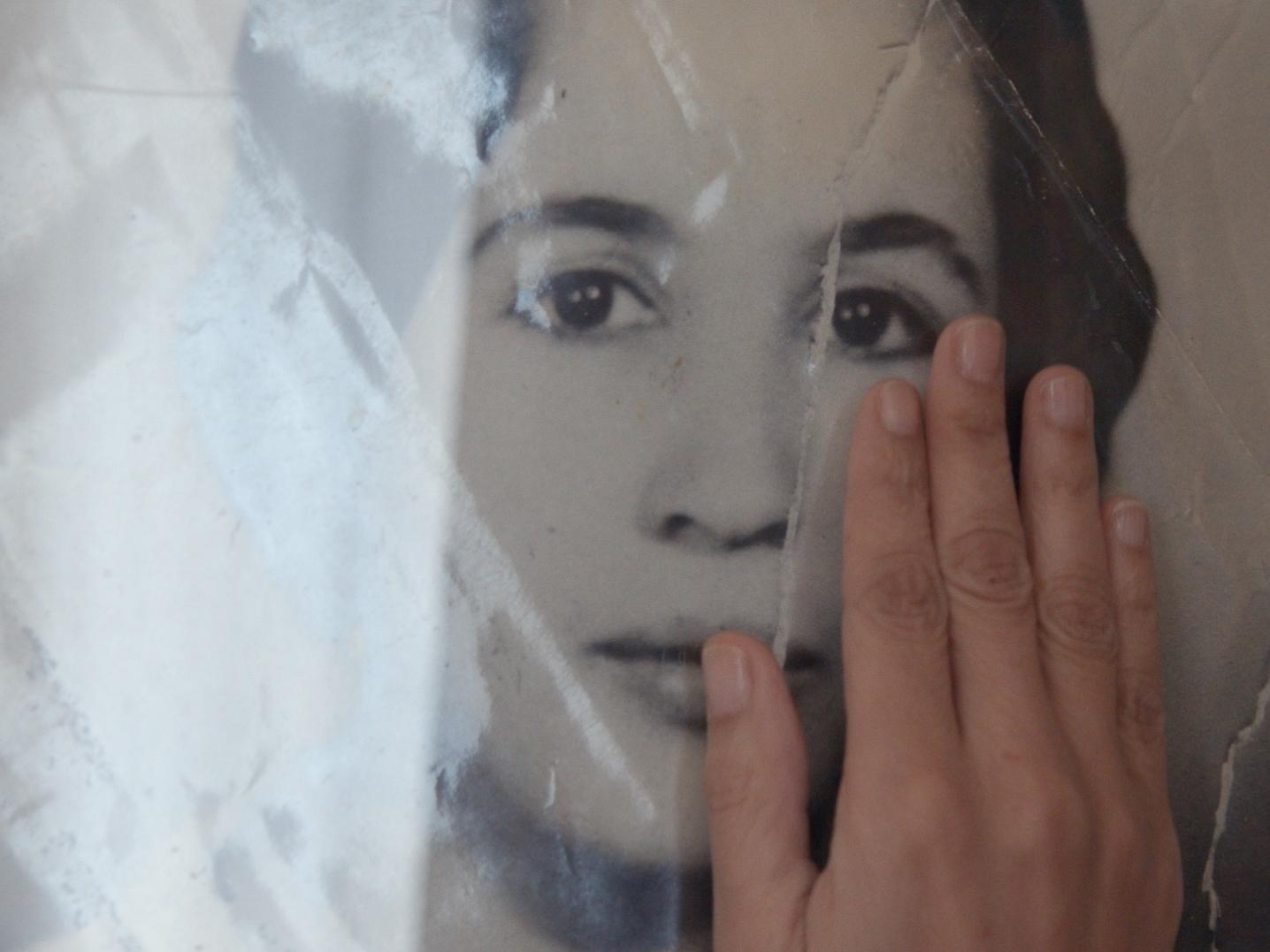 Digital reinvention
Cinekid Festival is one of the many festivals in the Netherlands that had to find ways to reinvent itself in 2020. As a result of the COVID-19 pandemic, most festivals and cultural gatherings from April through July had to be cancelled. Although the number of infections dropped steadily during the summer and restrictions banning large cultural events were scaled back, the risk of the coronavirus flaring up again was always a possibility. Event organisers planning their cultural festival for later in the year took note and started thinking about digital alternatives.
"At the end of May, we decided to go a different route with the Cinekid Festival. We felt hosting a regular edition was unwise because of the virus," Rouw notes. Normally the entire festival takes place at one location at a former gasworks in Amsterdam, while numerous theatres throughout the Netherlands show screenings of children's movies. "We still wanted to do part of the festival at physical locations, because we wanted to bring the festival to our audience. Therefore we decided to spread the physical activities over ten different locations."
The 2020 edition, which took place between October 7th and 23rd, coined the tagline 'Online en in de buurt' (Online and nearby). The programme aimed at professionals such as directors, producers, broadcasters and artists took place online in its entirety. The annual industry forum was streamed live and digital attendees and guests could join in and ask questions via the virtual meeting platform Wereby. Pitches for the Junior Co-production Market, a marketplace where young filmmakers can present their work, were filmed and meet ups were made accessible to all accredited guests.
Unlike Cinekid Play, the professional part of the festival was also available to international guests. Although it is too early to tell what impact the digital festival had on an international scale – Cinekid still has to do an evaluation of its festival – the professional part drew more visitors than last year's regular event. "In 2019 600 professionals attended", says Rouw. "This year there were 676, of which 383 were from a total of 51 different countries."
A seamless experience
To digitise its events, Cinekid Festival, alongside three other movie festivals in the Netherlands, commissioned IT-company Medialoc, a collaboration of Indyvideo and Marteco, to build a content management system that could recreate the festival experience. "When you visit a screening at a festival, the experience is a lot broader than just watching a movie," says Cees van 't Hullenaar, festival director at International Documentary Filmfestival Amsterdam (IDFA). "Often you get an introduction by the direction as the movie starts and also a chance to ask questions afterwards. The new backend helps us to bring all of these aspects together."
Festivals using the backend created by Medialoc start with creating a container: an empty vessel in which they can add content, like digital meetings planned with meeting apps like Whereby or videos uploaded to Vimeo. The container makes sure all of the different parts of the screening follow each other seamlessly. "Viewers joining us online don't have to click on anything to go from one part of the screening to the next," Van 't Hullenaar clarifies. "You can assign any service you like to a container."
One service that IDFA assigns to their container is ActiveTickets, an online platform located in the Netherlands which focuses itself on event ticketing. Although the internet allows us to have almost an infinite number of attendees at a screening, getting as many viewers as possible is not the goal of IDFA. "A film festival is a place where the life of a movie starts," says Van 't Hullenaar. "Filmmakers can present their work to distributors and tv networks, who in turn can choose to buy the rights to the movies and bring it to the general public." By using ActiveTickets, IDFA can choose the maximum number of tickets available for digital screening. "Once they're gone, they're gone."
Media
Image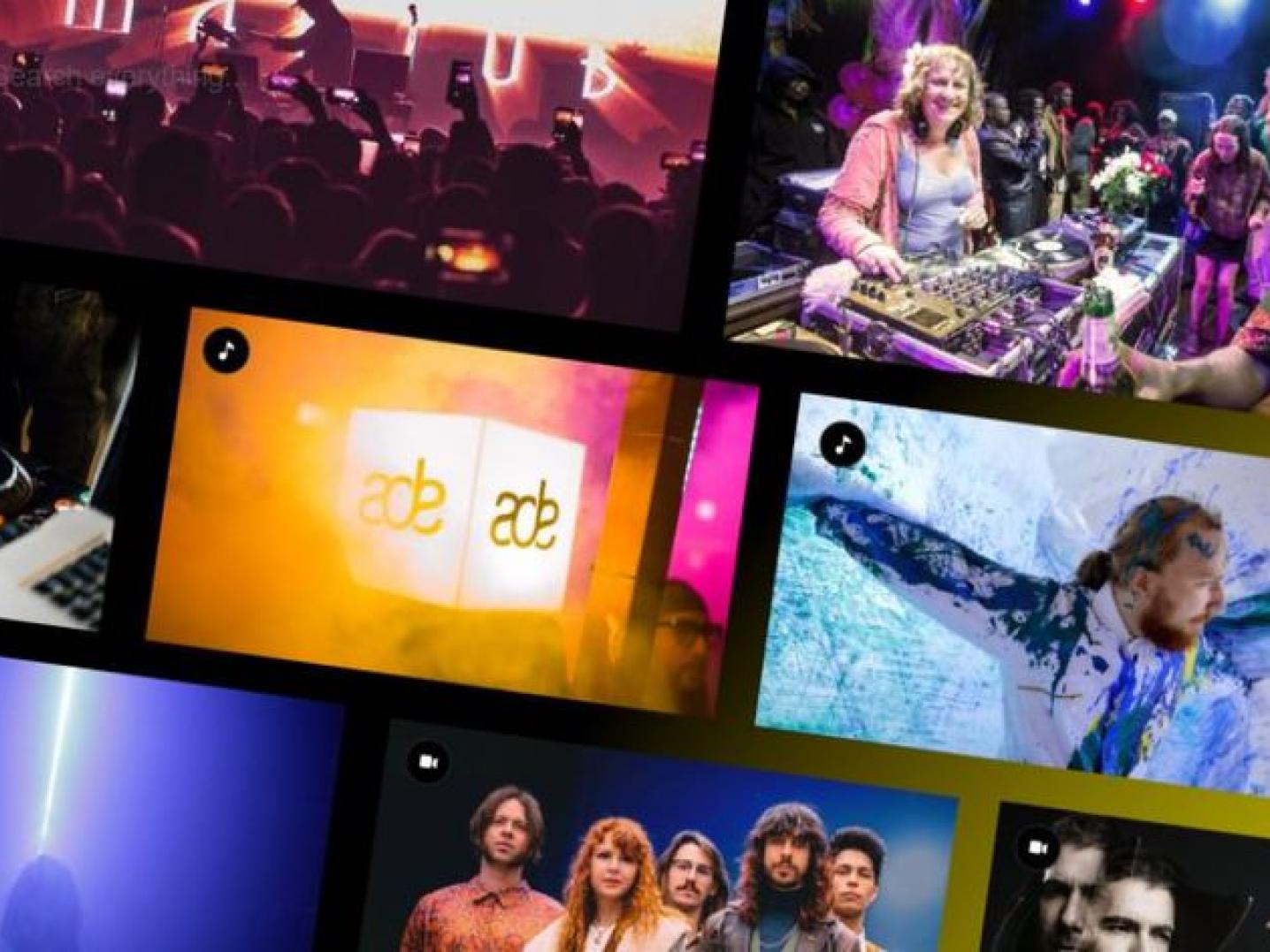 A finite number of virtual seats
During IDFA, which takes place from November 16th to December 6th, each movie is shown two or three times. On average, a total of 1000 individuals will be able to watch, spread out over those different screenings. After the premiere, which takes place in a real theatre with up to thirty viewers, screenings will be available online at set times during the festival. The screenings, which also include Q&A sessions and talks with directors, are divided into a timetable. Just like during an actual festival.
"We wanted to keep that festival feeling," Van 't Hullenaar says. "By having a finite number of seats available, you create a sense of urgency for the visitor. A festival exists by the grace of scarcity. Our visitors know they are never able to see every movie, so they have to pick wisely. That is all part of the festival experience, which we desperately wanted to keep."
The same goes for Amsterdam Dance Event (ADE), the biggest club festival in the world, which usually attracts around 400.000 visitors from over the planet. The festival normally consists of 800 events spread around 400 locations in the Dutch capital. But this year's edition that took place from October 21 through 25, celebrating ADE's 25th anniversary, would end up being a mostly digital experience. "We decided we only wanted to bring ADE online if we found a way to convey the same ADE feeling," festival directors Jan Willem van de Ven and Meindert Kennis told newspaper NRC. "That's the feeling that for five days straight, you're submerged in all things electronic music. You're always missing out on more events than you visit."
Unlike festivals that were taking place in the summer, ADE had quite some time to prepare itself to create an online version. The development of a new digital platform already started in March, shortly after the coronavirus first hit the Netherlands. During the digital festival, which was dubbed ADE Online, visitors got presented a timetable and could freely choose between pre-recorded DJ-sets, interviews, movie screenings, live concerts and live panel discussions. Over 200 digital events in total. Van de Ven and Kennis: "If you organise something like this, you have to make sure your content is solid."
Changing on the fly
Up until one week before the start of ADE, Van de Ven and Kennis were still planning on organising 25 live events to coincide with the online portion of the festival. But after the Dutch government announced the closing of clubs, cafés and restaurants to battle the growing number of COVID-19 infections, ADE dropped most physical activities, except a handful of movie screenings, an art show and one live concert.  
ADE wasn't the only big Dutch festival that had to change plans just weeks before kick-off. Dutch Design Week (DDW), the biggest design event in Northern Europe, had its permit withdrawn two weeks before the start. "During the summer it looked like corona would be gone by October," says DDW's head of programming Jorn Konijn. "Luckily, we had already started working on a virtual festival when we got the bad news."
Konijn continues and explains that the virtual part of DDW focussed on three branches. "We built a big television studio to stream talks and lectures in," he says. "Some of our expositions were already built, so we decided to film them using 360-degree cameras. We also built 3D Viewing Rooms, in which designers could show off their products with the help of images and video presentations. We tried to recreate the feeling of walking into an actual room like you would during a physical festival."
Although some of the 3D Viewing Rooms worked quite well, Konijn realises there might have been too many of them. In total visitors could browse over 500 rooms. "After about ten of them, a lot of people decided they'd seen enough. It's much harder to keep someone's focus for an extended period when you're online. The whole virtual festival was a learning experience."
Media
Image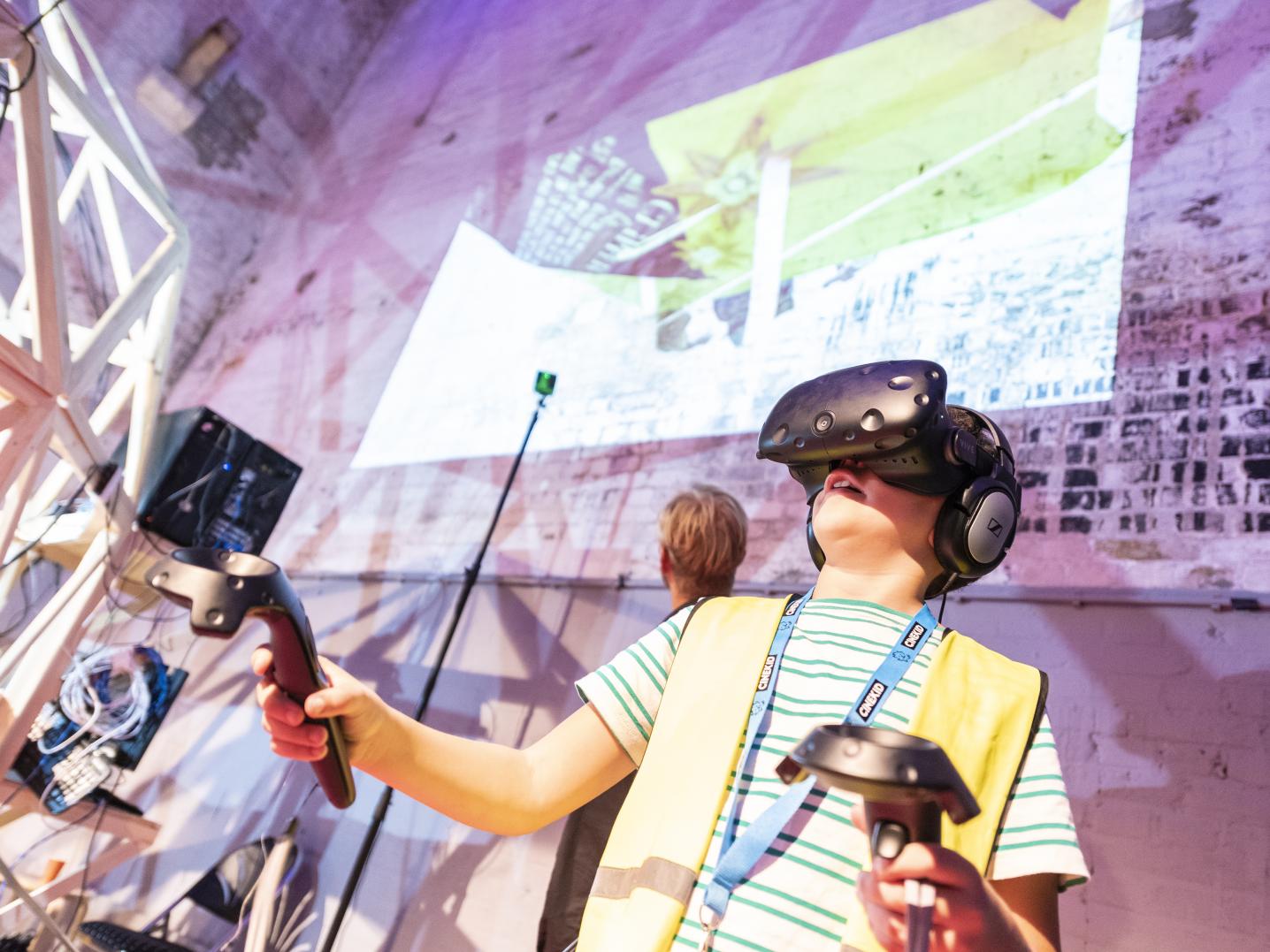 Trial and error
In future instalments, the 3D Viewing Rooms most likely won't return. But the online talk shows probably will, Konijn says. Some of the talk shows at DDW have been viewed over 3000 times, where normally only 250 visitors at a time could attend an offline lecture. Aside from some of these basis live stream figures, numbers from all festivals mentioned are scarce due to the fact evaluations are just starting at the time of writing. However, Konijn feels the online edition of DDW reached far more international guests than usual, most of which came from the United States and the United Kingdom. "Measuring the international impact is difficult, but I feel the high number of viewers contributes to the general image of Dutch Design and the Netherlands' position as a creative and innovative country."
Comparing the number of virtual visitors with attendees at a physical festival can also be tricky, Heleen Rouw from Cinekid warns. "At a physical festival visitors tend to buy a ticket and wander to different expositions. Do you count each of those as a single visit or not?" IDFA's Cees van 't Hullenaar is a bit sceptical. "Often you hear that being online increases your reach, but I don't think that is necessarily the case. Last year we had over 300.000 visitors. I don't think we will manage to reach that many people online this year. Our public event is only available in the Netherlands and is blocked in other countries, which leads to fewer visitors. The professional part of the festival, consisting of a 'documentary for sale'-market, a co-finance market and our talent programme, is open to international guests. About 2000 of them have registered. Last year we had 3400 professional attendees."
Not everything can go off without a hitch at a first try. "Creating a digital festival for the first time comes with a lot of trial and error," Konijn says. "Experimentation is also a key task of a festival, especially in times when you're thrown a curveball. We had to adapt quickly this year. We were already planning on making Dutch Design Week partly virtual, but the COVID-19 outbreak sped up the process. We now have a basic digital infrastructure on which we can expand the next couple of years."
Building that basic infrastructure, and doing it quickly, is the common denominator for all of the big Dutch cultural festivals which were set to take place this autumn. COVID-19 sped up the process of virtualisation. Rouw: "Having a virtual world where kids could experience films and our festival via gamification had been a dream of us for quite a while. But we weren't planning on having it just yet." Van 't Hullenaar adds: "In one year we did the work we planned to do in four. The pandemic has really accelerated that process."
It is still too early to pinpoint the exact impact the digital editions of the mentioned festivals have had. But what is clear, is that the outbreak of COVID 19 forced international cultural festivals in the Netherlands to quickly reinvent themselves. This has led to quicker digitisation, all the while keeping the international character of the gatherings in mind. If the new platforms can be expanded, the future of international cultural festivals can look very bright.
Le Guess Who?
Another interesting international and digital Dutch initiative: the annual music festival Le Guess Who? presented ON/OFF from 13 to 15 November, a hybrid alternative event featuring films, documentaries, video productions and talks with artists. Its online tv channel LGW ON reached almost 10,000 viewers from 117 different countries.