Culture in times of civil unrest – Recap of Infected Cities #13: Warsaw
Culture in times of civil unrest – Recap of Infected Cities #13: Warsaw
DutchCulture and Pakhuis de Zwijger organise cross-cultural and cross-national conversations about art in corona times. Recap of the 13th edition, Warsaw.
On January 14th, professionals from different backgrounds connected through Zoom for a conversation from Pakhuis de Zwijger led by moderator Georgios Lazakis. From Warsaw, the participants reflected on the Polish economic and political situation, the impact of the COVID crisis, and how all this is affecting the cultural sector.
After a relatively mild first wave, Poland is in the midst of a dramatic second wave of the COVID-19 crisis. In a country with a population of 38 million, to date over 1.5 million cases of coronavirus have been recorded. Infection rates began rising steadily in October of last year, and there are currently over 200,000 active infections. The country went into lockdown again at the end of December, and although some of the restrictions are set to be lifted around mid-February, others are being extended, and the lockdown officially remains in effect for the foreseeable future.
Protest
In addition to the pandemic, Poland is struggling with a number of issues: among others the deterioration of the rule of law, women's and LGBTQ rights and the pushback of asylum seekers. These developments heighten Poland's controversial relationship with the EU. During the last months, a huge protest movement has grown, sparked by the ban of most abortions. What are the socio-economic consequences of these crises on Warsaw and its inhabitants? What is the role of culture in this unprecedented situation, and what is needed to make Warsaw more resilient in these challenging times?
Anarchy and civil disobedience
Malgorzata Bos-Karczewska is a journalist and editor-in-chief of Polonia.nl "For people living outside of Poland, it's important to understand that there is a lot more going on than just the pandemic," she says. "There is a huge assault on liberal democracy, or rather: on pluralistic democracy. On top of that, there is a looming economic crisis. So, the situation is very complex. In some other countries, we are also beginning to see radicalisation. For instance, in the Netherlands and the US. People are tired of corona – they are getting fed up and becoming more aggressive. But in Poland, there is more a sense of anarchy and civil disobedience. I read in today's paper that people are planning to disobey the rules of the government and open their businesses. On top of corona, there is a lot of political tension and distrust of the government, which causes citizens to feel unsafe."
Kuba Wygnanski, sociologist and chairman of the board of the Shipyard Foundation, a centre for social innovation and research, feels that politically, these are very tricky times: "There are rising tensions, which was to be expected, because everyone is mentally exhausted. During the first wave, people obeyed the rules meticulously. But now, it has gone to the other extreme and there is almost a sense of anarchy. Poland is not unique in currently feeling somewhat lost. The polarisation is such that there are really two different camps, with division lines running not only through political parties and the media, but even across the kitchen table… What is keeping us together isn't what we dream for, but who we collectively hate. This has to change. We need a pacifistic movement before the war, not after."
Media
Image
With such turbulent developments, however, peace talks seem a long way off for Poland, and the protest movement appears to be growing, in spite of the corona measures. Malgorzata Bos-Karczewska explains that one of the most defining moments of last year was Strajk Kobiet, the 'women's strike', which took place in October and November and saw huge crowds taking to the streets. "These were the biggest demonstrations since 1989. People protested the ban on abortion in Poland and stood up for women's rights. Not only young women, but also young men. It has been incredibly inspiring to see that civil society is alive, and that people are organising themselves. In the end, the protest movement embraced a broader agenda and began focusing on the labour market as well. It created a platform for citizens to let their voice be heard and tell the politicians what they need to do."
Kuba Wygnanski: "For more than 20 years, we lived with a compromise between the conservative Catholic Church and the lawmakers. It was a very delicate equilibrium, which has now completely been destroyed. The changes that took place, banning abortion and turning the clock back, were implemented during the lockdown, which basically served to silence people. But the opposite happened, and instead people exploded. And not only in more liberal cities like Warsaw, but on a massive scale throughout the country, including in rural areas."
Balcony Movie
The cultural and creative sectors can be a driver of social change in their own right, furthering resilience and innovation. But these too have come under pressure from the latest political developments, and many describe the current condition of the cultural sector as "desperate", with corona relief funding for artists criticised for being "corrupt" and favouring celebrities.
Film director Paweł Łoziński: "The problem is that culture is one of the first cuts made by the government. Our right-wing government isn't interested in culture, unless it's patriotic propaganda. Which is not culture as we understand it: a free exchange of thoughts and emotions. We are infected by the coronavirus and by a virus of nationalism at the same time. And unfortunately, we won't have a vaccine against the latter for a while."
Still, Łoziński has managed to put the coronacrisis to creative use for his latest documentary, Masks and Men, shot from his balcony on Walecznych street in the Saska Kępa neighbourhood of Warsaw. "Long before corona, in the spring of 2018, I had started to make a film called Balcony Movie about passers-by and the people I met on the street," he explains. "I filmed everything from my balcony, talking to people about life – their needs, hopes and desires, feelings of fear and love… Important questions."
With social distancing and keeping at least two metres apart becoming mandatory during the pandemic, Łoziński saw new opportunities for his ongoing project. "I'm still working on this film, but when I received a call from HBO Poland, asking me to make a short film for their series At Home, I decided to apply the same concept, using my balcony, the camera, and some friends and neighbours whom I knew would have something interesting to say. The balcony enabled me, because of the distance between me and the sidewalk, making it easy to talk to people without breaking any rules. And people were in desperate need of a good conversation."
Ultimately, he says, human beings are social animals: "We all have a need to speak, to communicate and have contact with each other. Everyone responds differently to the pandemic: some are afraid of the virus, some protest the regulations, and others are in complete denial. But in the end, we all appear to accept the situation. There is a realisation that this virus isn't the end of the world. We're still alive and will continue to go on."
Festival coordinator Tadeusz Strączek has also found creative ways to host the Watch Docs Human Rights International Film Festival during times of corona. "Similar to other cultural institutions in the world, 2020 has been a real rollercoaster for the festival," he says. "With cinemas closed and the lockdown of other cultural institutions, we've had to come up with solutions how to reach our viewers despite the pandemic."
Like many others have done, the decision was made to organise an online event. But as Strączek soon discovered, a film festival is much more than just a collection of movies. "We didn't want to become just another streaming service, so we had to come up with ideas how to create this communal, social aspect of watching films together," he says. "We decided to organise a number of screenings scheduled for a particular day and time, followed by a Q&A or discussion, similar to our festival screenings. An important decision was to premiere a Polish documentary short by Michał Bolland about the protests of the LGBT community which took place in Warsaw last summer."
As Strączek explains, "aside from the massive protests against the abortion law in Poland, the country was also engulfed by a homophobic tsunami in 2020. Vilified by the ruling political party, the LGBT community became the target of an intense hate campaign supported by the church and public media. This all came to a head on August 7, when the community had had enough and took to the streets of Warsaw in defence of one of the activists. To retain the communal element of reliving these shocking events, we watched the film together and discussed it with the film participants and experts. People need to communicate with each other. Our festival isn't just about watching films, it's a social movement. We want to continue bringing social problems to the viewers' attention and discussing them."
Political virus vs. medical virus
Ika Sienkiewicz-Nowacka, head of the artist residency programme at Ujazdowski Castel – Centre for Contemporary Art, concedes that the pandemic has had a huge impact on their activities as well: "Some of the artists from other countries simply were unable to come. Others stayed much longer than expected. We had to be very flexible, rethinking our way of working, as well as the content of our projects."
The solution? Instead of bringing artists to Warsaw, Ujazdowski Castel invited local Polish participants to work online with participants in other countries. "Is it at all possible to create intimacy between people who are meeting in a virtual space and don't have an opportunity to share a physical space?, Sienkiewicz-Nowacka wondered. "We tested different methods to create this sense of intimacy and found it's incredibly important to establish a sense of trust, openness and empathy. It's crucial we decompress, and take care of our physical and mental state, before meeting in the digital space, so we are able to focus on what we are doing. Participants proposed different exercises to one another, like sharing their dreams, and listening together to the different background noises that could be heard from their various corners of the world. The experiences will be published on a website and the participants will try to continue the long-distance friendships they formed."
Media
Image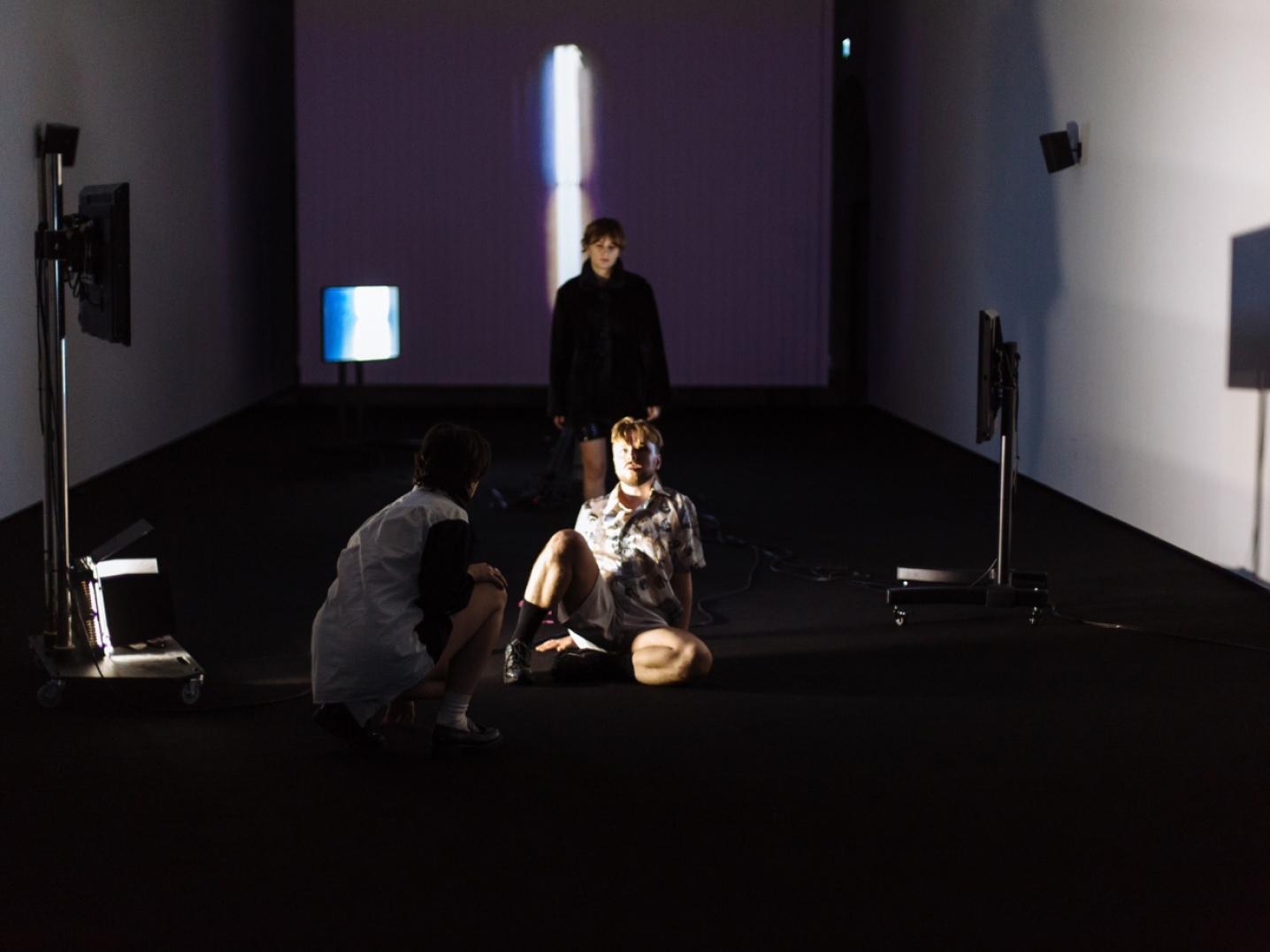 Summarising, moderator Georgios Lazakis asked how the pandemic highlights the existing inequalities in the Polish cultural sector, and whether perhaps the political virus is more dangerous than the medical virus.
Tadeusz Strączek states that the disparities in the cultural sector have become not only visible, but also better understood: "Because overnight they began to concern groups outside of the cultural sector – which is a relatively small part of Polish economy. In Poland, one of the main problems is the uncertainty surrounding employment. People are underpaid and employment is unstable, based on civil contracts. Many Polish artists and people in the cultural sector experience problems obtaining continuous social and health protection. For these people, the lockdown meant that overnight, they could actually lose their social or health insurance, because there were no more employment contracts for them. This is actually an unthinkable situation in most other European countries. People began to take notice once it became a problem for larger groups in our society."
"Like in a lot of other countries, we are two tribes that are divided," says Paweł Łoziński: "And I don't know how to glue the people together. It frightens me, because we are torn apart. Even in families, we cannot have a Sunday dinner without discussing politics. The politicians are earning our votes, whilst dividing people. And the people are suffering for it. We need to build trust between us and repair the damage done."
For Malgorzata Bos-Karczewska, the situation in Poland is similar to what is currently happening in the United States. "There is a lot of polarisation and nobody knows how to reconcile both sides. I'm watching very closely how Joe Biden is coping with this task, because I think there will be lessons to be learned for Poland. For politicians and for the opposition."
In the end, she remains cautiously optimistic, convinced of a positive outcome as long as everyone is willing to do their part. "Each of us has to take small steps to bridge the gap and contribute. We need to talk to each other, communicate and try to find common ground. If everyone makes an effort, we can achieve greatness. I'm hopeful that it will happen, but it will take time."
Check out the complete overview of Dutch cultural activities in Poland in our database. If you are a cultural professional wishing to go to Poland, feel free to contact our Poland advisor  Tijana Stepanovic.