Safe art spaces in Kosovo, Albania, North-Macedonia and Serbia. Young artivists advocate for LGBTI rights through the arts
Safe art spaces in Kosovo, Albania, North-Macedonia and Serbia. Young artivists advocate for LGBTI rights through the arts
On December 8, the project Youth Artivists for Change will be discussed during International Queer & Migrant Film Festival. An interview with Arbër Kodra.
Youth Artivists for Change (YAC) is a project initiated by Stichting art. 1 and financially supported by the Creative Twinning scheme of the Dutch Ministry of Foreign Affairs. The purpose of the project is to set up a safe art space in four countries for young (LGBTI) people to come and make podcasts, films and storytelling performances together that are related to LGBTI (lesbian, gay, bisexual, transgender and/or intersex) rights and human rights more generally. 
Safe art spaces
Safe art spaces have been created in Kosovo, Albania, North Macedonia and Serbia. In Pristina, the office of Centre for Equality and Liberty (CEL) was turned into a bar with a small cinema; an old mall in North Macedonia transformed into a café with a pop-up espresso bar for in the afternoons, and an art space with workshops and screenings in the evening. 
What happens in those art spaces? What is the impact on (LGBTI) youth? Those and other questions will be addressed during the panel Safe Art Spaces: the Balkan Approach at International Queer & Migrant Film Festival (IQMF).
We talked to Arbër Kodra, YAC project leader in Albania and director of Open Mind Spectrum Albania, to give you an impression of the project. 
Could you introduce yourself and your organisation to us?
"I am Arbër, I was one of the first LGBTI activists in Albania, back in 2008. We were only with seven people at that time. It has been ten years since then and we have made a lot of progress. In 2013, I founded the organisation Open Mind Spectrum Albania (OMSA). We established OMSA to work with parents, to educate them on gender and sexuality so that they can accept their LGBTI children more easily. Since last year, we are involved in aproject from the Netherlands, called Youth Artivists for Change. I am the main leader of the project in Albania."
Art is really a soft form to promote LGBTI rights and gender equality – it is a nice and pleasant way to get people to think
Can you tell us more about the project, what is its main purpose and what do you hope to achieve?
"Youth Artivists for Change is a two-year project that started in November last year. It takes place in four regions, and in every region different organisations work together. In Albania, we are five: a women's right organisation, a youth organisation, a trainings organisation and the International Human Rights Film Festival Albania (IHRFFA). The main purpose of the project is to create art. Another important goal is to bring people together. We created a safe art space where young people – LGBTI and non-LGBTI – can mingle and make art together about LGBTI rights and human rights more generally. For me, it is very important that we involve non-LGBTI youth, because I would like them to get to know LGBTI people and see that we are all equal."
How did you go about the project? How did you set it up?
"During the first six months, we hosted six trainings for young people (15-25 years old). Each training consisted of four or five consecutive days of workshops in storytelling, radio/podcast, filmmaking or human rights and advocacy. We hosted follow-up trainings to 'train the trainer.' There, participants of the workshops were trained to become trainers themselves and to give workshops to their peers at the space.
I wanted to start with the trainings right away, because I expected that these workshops would stir people's interest for the space and make it come alive quickly. We would be paying rent anyway, so why not immediately use the space as much as possible? However, we were actually a bit worried about the project when we were setting it up. Would young people be interested in our trainings? Would they have any interest in coming to the space at all? As we were with four partners, everyone shared their contacts. We also had a lot of Facebook advertisements.
And then… The applications for the first training started coming in. Wow!, I thought. Thirty to fifty people applied! I was really surprised about the large interest of young people. We had to reduce the numberand select fifteen persons. We were very sorry to say no to people, but that was our capacity… Luckily, we will be hosting these trainings again next year!"
Media
Image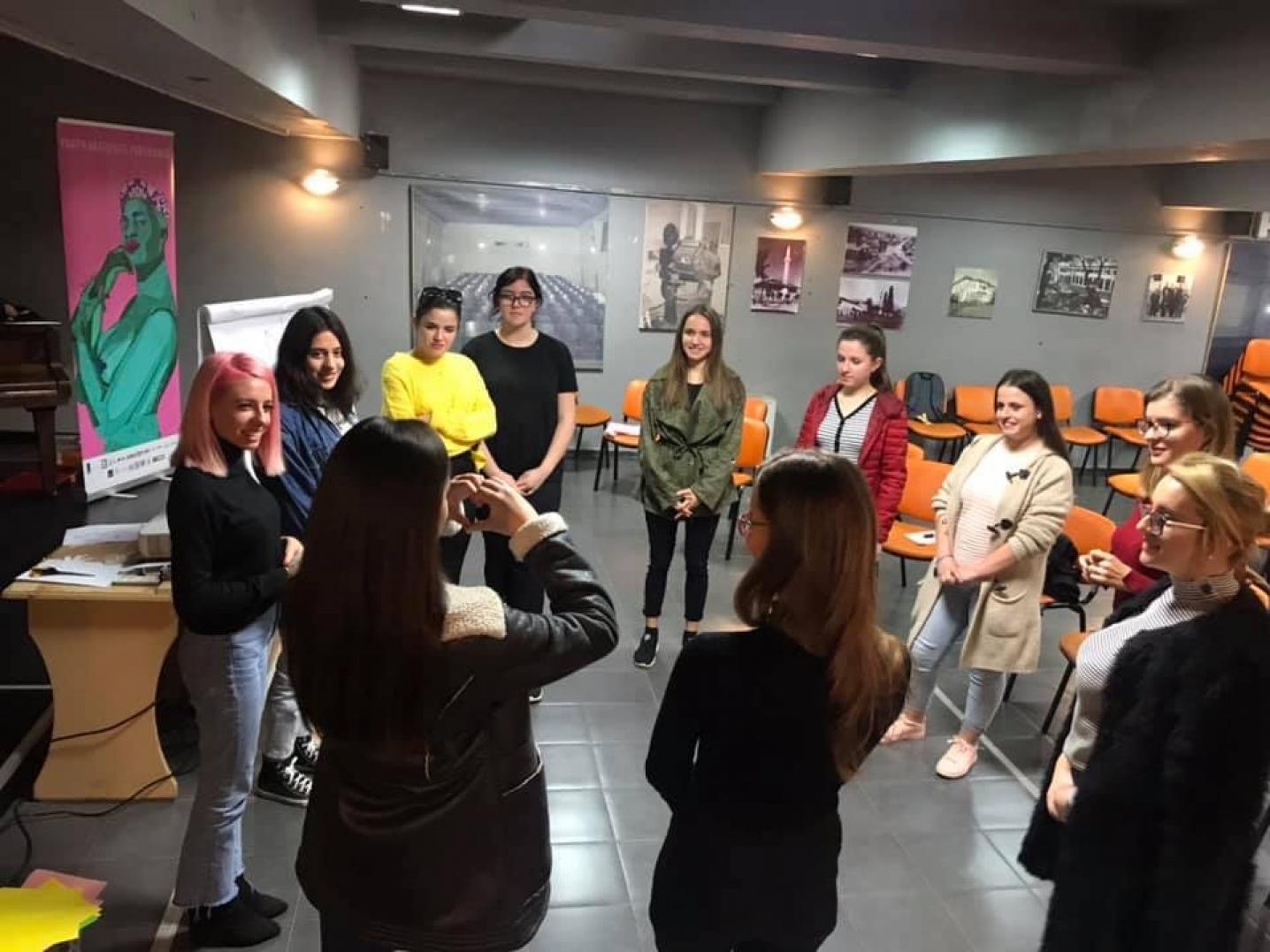 How do you connect art to LGBTI rights?
"People that come to our trainings know that our space is about art, and about LGBTI rights and human rights more generally. I always come out as a gay man at the beginning of the trainings. Thereby, I clearly signal that we are all equal at this space, and that bullying and discrimination is not allowed. I do this to make our LGBTI participants feel comfortable and safe. But I also do this for the others – a lot of them don't know people who are (openly) LGBTI. In the trainings, we give the participants homework or groupwork. In the filmmaking training, some came up with the idea to make a video about the discrimination and violence that an Albanian LGBTI person faces. It is not that we steered them in this direction, they choose to do this themselves. You can really see that they are doing it because they have started thinking about these issues and want to see change." 
Did you work with art before or was this new for you?
"We worked with exhibitions and screenings before, but only very little. When we started this project, we saw there really was a need to work with art. Art is really a soft form to promote LGBTI rights and gender equality – it is a nice and pleasant way to get people to think. Through art, things can be much easier. Trust me, there is a lot of work to be done still. But I am really happy about that. It is worth it when you see that so many people are interested and when you see results you would have never expected." 
They are doing it because they have started thinking about these issues and want to see change
Can you tell me about those results; what is the impact of the project so far?
"Well, I am really, really happy about this project because it brought many people together. In the first two months, we had more young people than LGBTI people, but it is really a mix now. Through word of mouth, we became quite well-known and many people like to hang out at our space. I am very happy to see that this younger generation is interested in coming to our space to learn more about LGBTI issues Together, they have made art such as short videos and films. Someone made a small brochure with information about sexually transmitted diseases. It is made with animations, so it actually becomes a funny topic. In that way, it also becomes more acceptable.
We have also organised the Queer Film Days. Initially, we were concerned that people wouldn't come, or that they would walk away during films – screening queer films is considered taboo. In the end, approximately 700 people in total showed up for the screenings. I was surprised, because LGBTI but also non-LGBTI people showed up, both young and older generations. The panel discussions were really successful. We screened the film Until Porn Do Us Part with the porn actor present. Afterwards, people really engaged in the discussion and asked him a lot of positive questions. Overall, you see that people in one way or another got some information, some education. Actually, now that I am talking to you, I realize that we have made a lot of progress!"