"We let the artists lead" – Recap Infected Cities #1: New York
Discipline
Digital Culture
Performing Arts
Journalism
Audiovisual Media
Visual Arts
Heritage
DutchCulture and Pakhuis de Zwijger organize cross-cultural and cross-national conversations about art in corona times. Recap of the first edition, New York.
On May 7th, artists, journalists, and advocates for change appeared over Zoom in the empty studio of Pakhuis de Zwijger, for a conversation led by moderator Zoë Papaikonomou. From their homes in New York, five Dutchman and four Americans gave an insight in their city with stories of inequality, grassroots community resilience, and the undervalued importance of the arts. (video below)
Media
Image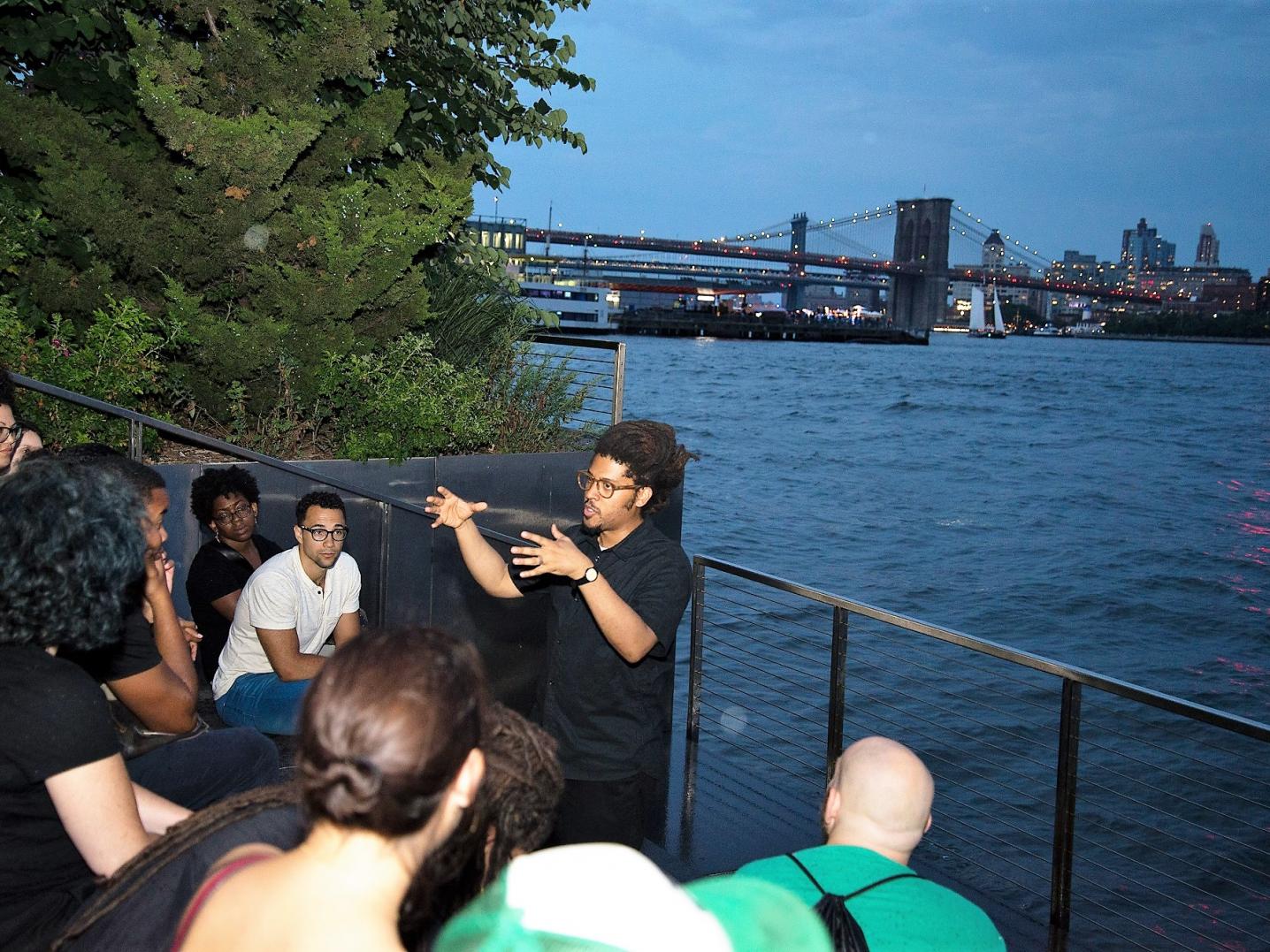 The scale of inequality
Kamau Ware, historian, artist, and founder of the New York Black Gotham Experience is a storyteller. He states the simple fact of inequality during COVID-19 measurements: "When someone tells you to go home, that is not the same for everybody." Kamau Ware embeds the wage gap between high- and low-income communities by referring to the history of slavery and forced relocation that the cultural capital of the U.S. was built upon. The different experiences of the COVID-19 crisis in NYC is more than the shade of orange your neighborhood has turned into.
Dutch actress, writer and podcast host Anousha Nzume writes on her platform Dipsaus: "Classmates of my kid made a videoclip about life in the 'Food Desert' – living in a neighbourhood without any affordable options for eating healthy. (…) Even where I live, ordering greasy take-out is more affordable than buying groceries for a healthy home-cooked meal. 'Gun wounds are not our problem, clogged arteries are', sang the children as they scattered their neighbourhood on 'a search for fresh vegetables they could afford"
Media
Image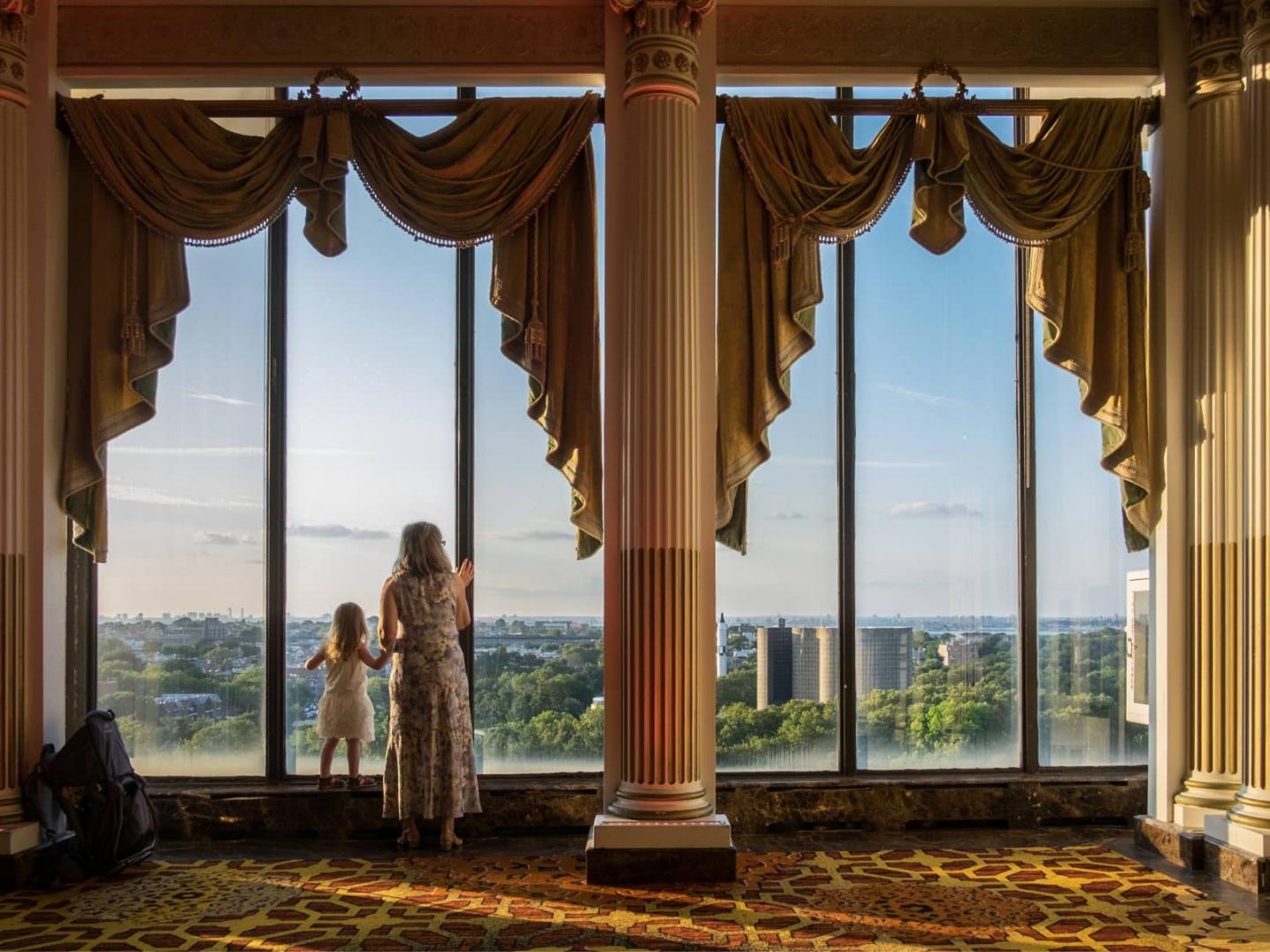 Michael Persson, US correspondent for De Volkskrant believes that the U.S. government is unprepared to provide support on this large scale. "I was in central park yesterday and there are a lot of undocumented immigrants there. They are getting nothing. Which is sort of ironic, as they have been keeping the city alive by working as long as possible." Countering this lack of government support are civilian initiatives in communities, in which artists play an important role. Kamau Ware: "Artists never shy away from overcoming challenges and that is the spirit that we need going forward. I am optimistic because throughout time, people in New York have been resilient."
Media
Image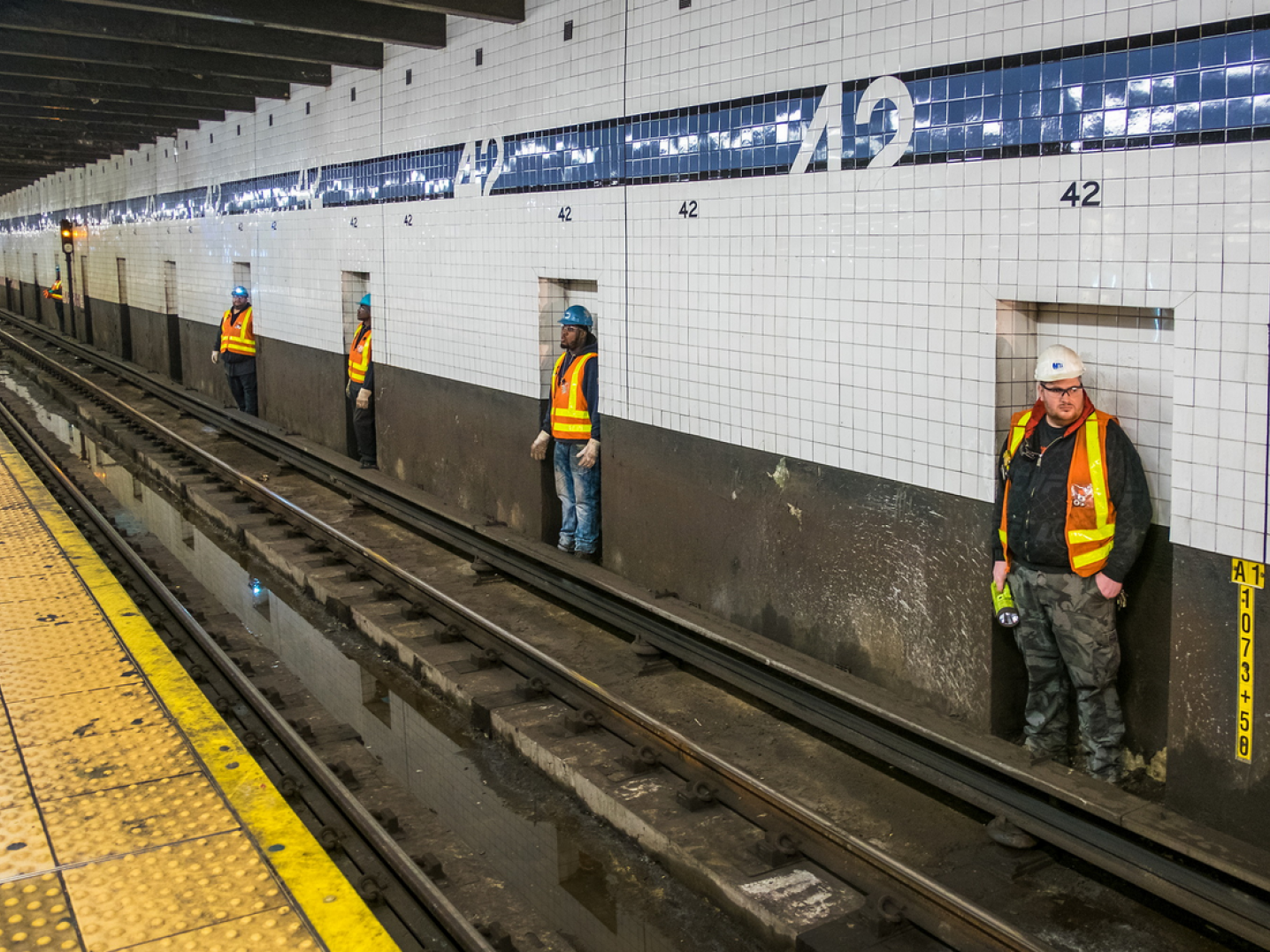 Resilience from within
Activism and community resilience have always been part of New York. It is a Big Apple tradition to enforce change bottom-up and to improve a situation through grassroots initiatives. Providing legal support for people from vulnerable neighborhoods, director Alice Fontier of the Neighbourhood Defender Service in Harlem, is confronted daily by the discrimination of the American justice system. "Immigration has used the stay-at-home orders as a weapon; they know where to find people. Their rates are higher than before the virus." In jail, the chance of obtaining COVID-19 is ten times higher than average. That is why Alice fights hard to keep people from ending up there.
Director of the Bronx Documentary Center, Michael Kember, took it upon himself to inform his community in the South Bronx about the importance of self-isolation. Besides stepping in to put flyers in houses and connect people to the internet when the public housing organization failed to do so, the community center is feeding 200 families and providing face masks and disinfectants. In the meantime, their photography classes and exhibitions are moved online and made available free of charge. "We believe in community-based arts, and I think that is what going to save lives here."
Media
Image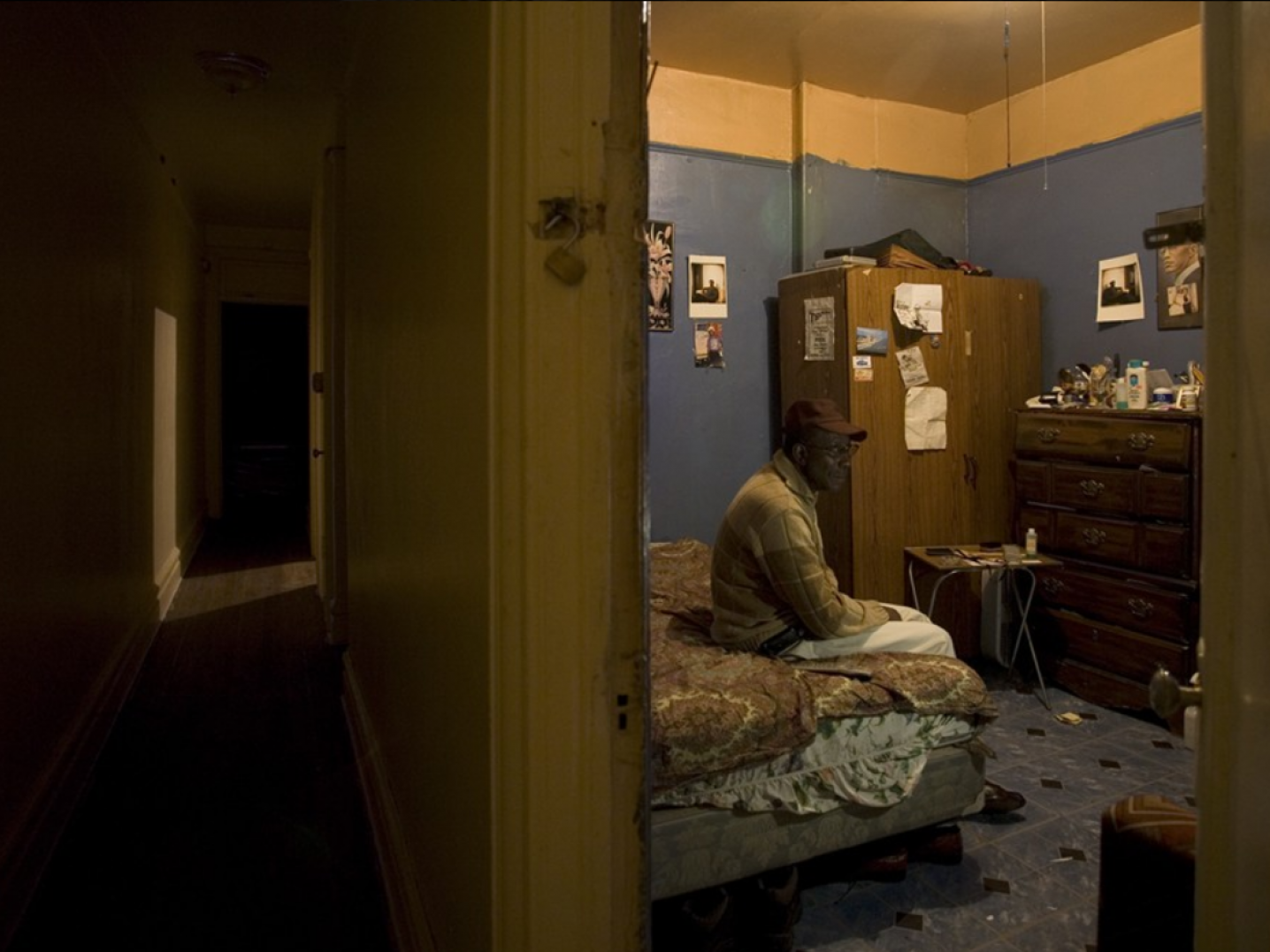 Photographer Chantal Heijnen works via The Lantarn Community in New York with people impacted by homelessness. She found a way to keep her students interacting with art because she believes everyone needs a way to express themselves and cope with the situation. Artists in New York City step in where the system is lacking. But how sustainable is the art scene itself?
The importance of art
Suzy Devalle is the director of New York based Creative Capital, a nonprofit that supports artists nationwide. Backed up by a recent report from Americans for the Arts, she states: "Artists are hurting. 95% of artists surveyed have experienced income lost due to COVID, with 62% fully unemployed. Unlike the Netherlands, we do not have guaranteed health care and unemployment insurance in this country. But despite that they are among the most affected in this crisis, I feel that artists have proven to be the most generous. 75% of artists surveyed are using their artistic practice to help their communities. That generosity of spirit should not be undermined. I think artists play a very critical role in society; they are the ones that bring us together, and I don't only mean physically. Artists are the ones that encourage conversation and dialogue, they present us with ideas, with ways of seeing the world. I really think they are essential, and often they are the ones helping us navigate uncertain times like these. So why are we not honoring and valuing their profession, why are we not supporting them in ways that we really need to be?"
In 2018, photographer Richard Koek published a book called New York, New York, a visual hymn on his beloved city. His work received much attention since the crisis started. "People love melancholy, and they love the old New York. It's all disaster porn what I see on the news and on my feed, so no politics for my feed, I just create beauty, show positivity. I hope it transcends to the people that look at it."
Philippe Lemm is a Dutch drummer, the leader of his own musical trio and teacher at Colombia. He lost 90% of his work and can't apply for financial aid because of his work visa. He believes art has a very strong healing power "Practicing any kind of art form gives you a sense of being present, which I think, heals. It will voice a lot of the emotions that are commonly felt now, like anxiety, confusion, or frustration. Art can present that in a poetic, beautiful way, and therefore connect people."
Media
Image
Creatively rethinking society
Considering how artists help their communities with their mental health as well as their physical health, they definitly play an essential role in surviving the COVID-19 crisis in New York City. What is the value of creativity for finding our way out of the corona crisis? Can artists contribute to rethinking society as well?
Suzy Devalle: "At Creative Capital, we let the artists lead. Imagine if we were to double down on the creative thinking and ideas that fueled the arts. Imagine if artists were really helping city officials think about how we reopen society. Artists are often ahead of the curve, they are self-organizing, uplifting us through their work. There are horrible challenges – inequalities are really showing their face right now, but also great possibilities to think about the way we want to show up and create a better society. Artists are essential for this kind of critical thinking and idea development."