'OUTSIDEINSIDEOUT': vibrant creative aspirations of a new generation
'OUTSIDEINSIDEOUT': vibrant creative aspirations of a new generation
For MINDSCAPES festival, Theater DEGASTEN made an online zine together with young artists and cultural professionals from Manchester.
OUTSIDEINSIDEOUT is an online zine opening up the imaginary world of a new generation, displayed by digitalised polaroid self-portraits of teenagers and young artists, self-written poems, hand drawings accompanied by scribbles and DIY-instructions. The digital zine is an initiative of Amsterdam-based Theater DEGASTEN and it's one of the five commissioned artworks for MINDSCAPES. Created by SICK! Festival in Manchester – developed with The Dutch Embassy in the UK and funded by DutchCulture – MINDSCAPES explores the effect cities have on residents' mental health, a theme that feels more important than ever in the light of COVID-19. DutchCulture talked with co-creative leads Rutger Esajas and Aike Jansen at DEGASTEN, about their contribution to the MINDSCAPES festival.
Young voices
"Some of the young people participating in the project live in challenging or precarious conditions, in youth care institutions or refugee centres. They experienced the lockdown on another level than the youths living at home, who were suddenly limited to the space of their own bedroom and imagination," says Rutger Esajas, co-creative lead at DEGASTEN. For OUTSIDEINSIDEOUT teenagers from various backgrounds worked together with students from the Academy of Dance and Theatre (ATD) in Amsterdam. Esajas points out the vulnerability of young people during the lockdown as an important reason to continue working with them, to compensate the lack of social contact, structure and creative inspiration.
Media
Image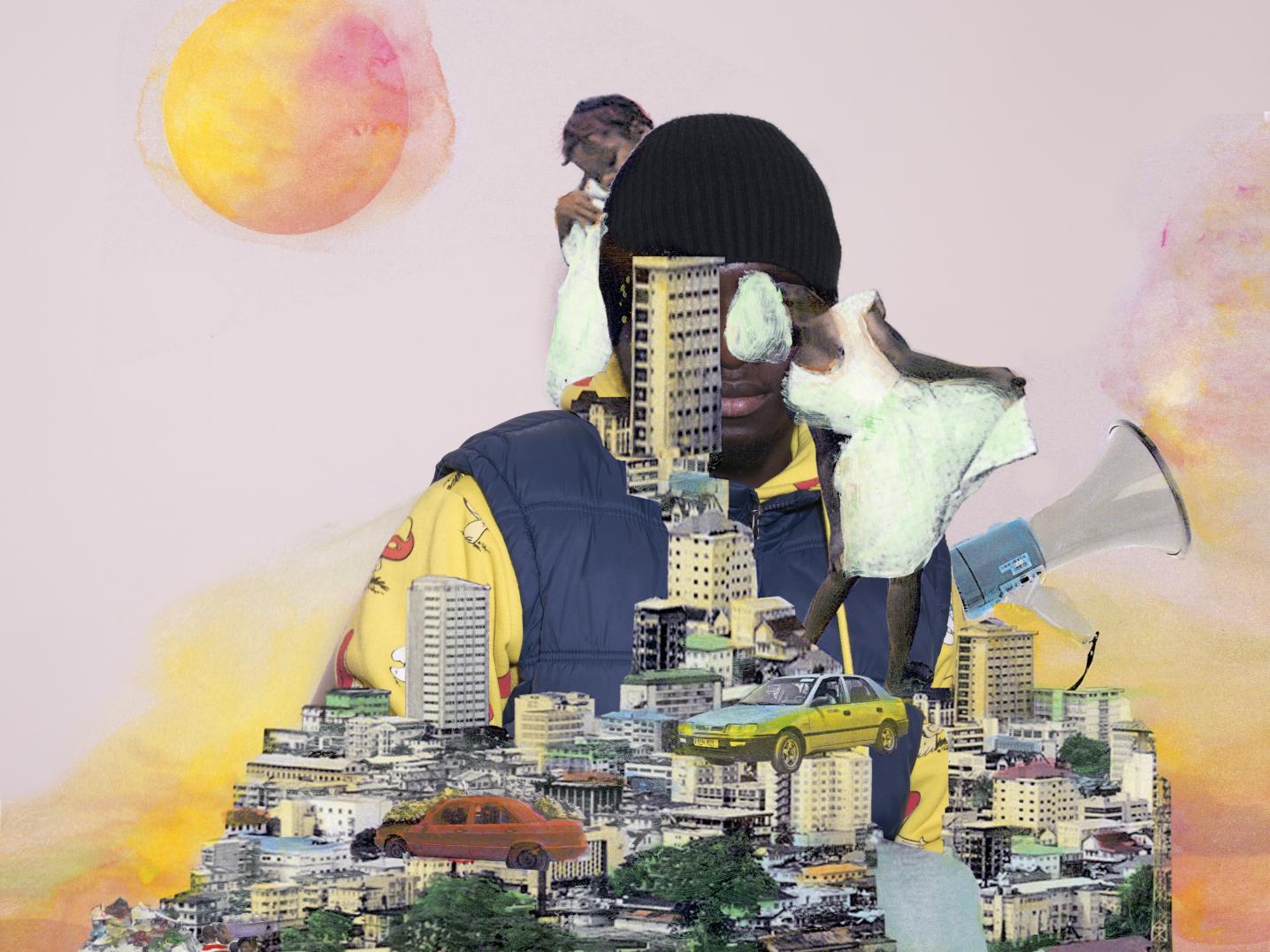 Switching plans
Theater DEGASTEN is an Amsterdam-based youth theatre group, creating raw, physical montage theatre with youngsters aged between 12-25 years. The shows are based on the experience of the young actors and expose topical issues exploring the voices of young people in the theatre. Diversity runs in the company's veins, influencing the style of the work, the composition of the staff team, the youngsters they work with and the audience.
Originally, Theater DEGASTEN was planning on producing a theatre piece for MINDSCAPES too, with help and inspiration from various international professionals, and travelling to the UK to meet with Manchester's cultural professionals physically. Due to the ongoing COVID-19 restrictions, the plan had to be altered and thus the artistic concept. Just like many cultural professionals and artists, DEGASTEN had to come up with new working methods and artistic forms. "As performers, we searched for acts of doing, to facilitate a conversation in a rather theatrical way within the limited space we had. The idea of making a magazine already existed but these were the perfect circumstances to do so," explains Esajas.
Working together with Manchester
A series of workshops, collaborations in duo's, online and offline meetings followed up. The joy and experimentation of this process has become visible in the finale product. Along the way, more cultural professionals from the Netherlands and Manchester were asked to facilitate a workshop or to contribute otherwise. From Manchester, textile artist Mimosa Ricketts and Cara Looij, founder of the platform (IN)SANE using mental health testimony as an expressive tool for young makers, gave online workshops. Ricketts and Looij also collaborated with some of the Amsterdam-based youngsters for their final creations featuring in OUSTIDEINSIDEOUT.
In addition, the students from the ATD were able to collaborate closely with the participants in duo's during weekly sessions and some of the students facilitated a creative workshop by themselves as well. Photographer Elza Jo portrayed each participant with mixed media collages based on personal one-on-one conversations. Artist Raul Balai contributed a piece of work based on rules and restrictions, while writer and journalist Babah Tarawally wrote an introduction to the project.
Themes such as personal identity and future ambitions reoccurred in the workshops and meetings, but also matters of social justice and activism. "Dutch activist, poet and artist Quinsy Gario, who is also a prominent figure in the Dutch anti-racism movement, formed a great addition to this socially engaged perspective so we invited him too to facilitate a workshop," tells Esajas.
Thus, the activist spirit is visibly present in the work of several young participants and artists. Take for example the photographs of Sam and Mimosa, picturing different interpretations of a drag performer. The work refers to the 'Kill the Bill' protest movement, against a new bill in the UK allowing the police more powers for managing demonstrations.
Media
Image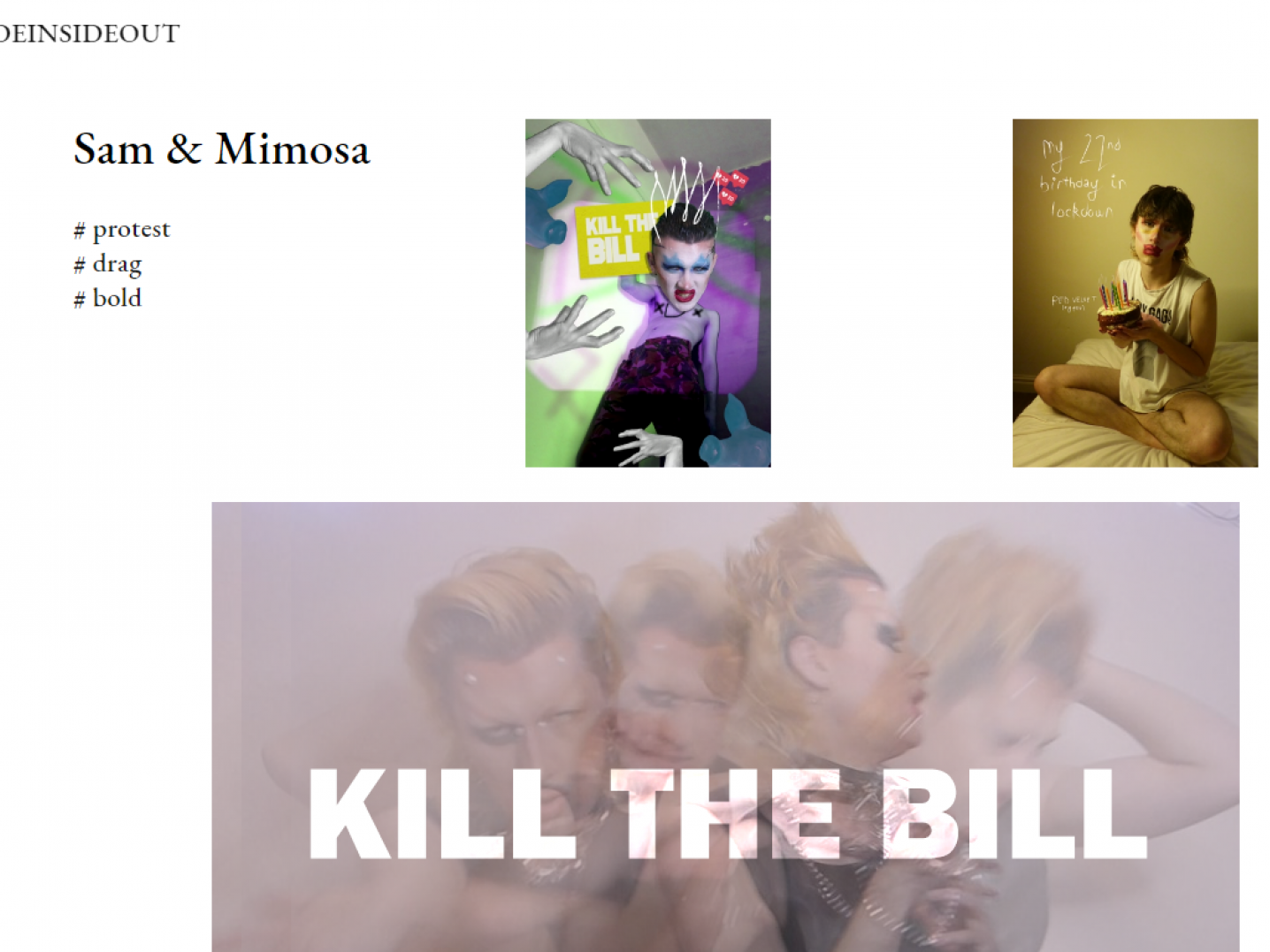 The zine culture
Aike Jansen, Creative Producer at DEGASTEN, brought background knowledge about zines to the table. Having lived and studied in Glasgow, she learned about the culture of zines, a well-known phenomenon under student population in the United-Kingdom and United States. A zine can be defined as a small sized and limited edition magazine, independently created and published for a niche audience, usually about a specific topic. Jansen: "The zine culture in Glasgow was great. Everyone was making and exchanging zines, sometimes trading for self-made stickers or badges but there was also a special zine library where you could loan copies."
This form of publishing refers back to revolution-era pamphlets: printed texts sending a strong message of social or political matter to a specific group of people. This form of print revived during the 1960s when the costs of mass production lowered tremendously, artists and social advocates were able to spread activist and artistic ideas quick and easily. In the 1980s, indie and punk subcultures adopted the zine culture and used it for promotion. Nowadays, digitalisation opens new doors for zine-makers. Instead of cheaply printed booklets, zines are now published online, accessible for maybe even more people than before.
What Jansen likes the most about zines is their accessibility and the anti-capitalist and community driven aspect of creating and trading copies. Above all, making zines gives one the ability to tell his or her story outside the mainstream media and enables a special kind of ownership. "For DEGASTEN it was great exploring a new medium, what the boundaries and possibilities are and how to merge it with theatre," she explains.
A living zine
The purpose of OUTSIDEINSIDEOUT was to create a 'living zine', offering space for different internal and external experiences of the youngsters in their (temporary) living spaces and surroundings, all the while connecting to experience of others, including online visitors, and thus create a dialogue.
Although many of the workshops and meetings could take place in an offline, physical environment, most of the artworks were created in bedrooms and domestic sphere, making use of the limited space and materials available. This resulted in creative solutions, such as the use of mirrors in photographs, mixing media and digital editing. The participants enthusiastically made use of the analogue polaroid cameras that were made available by the creative leads of the project. Their final art works were summarised by three hashtags, creating a kind of interactive game for the audience in the online exhibit space.
Media
Image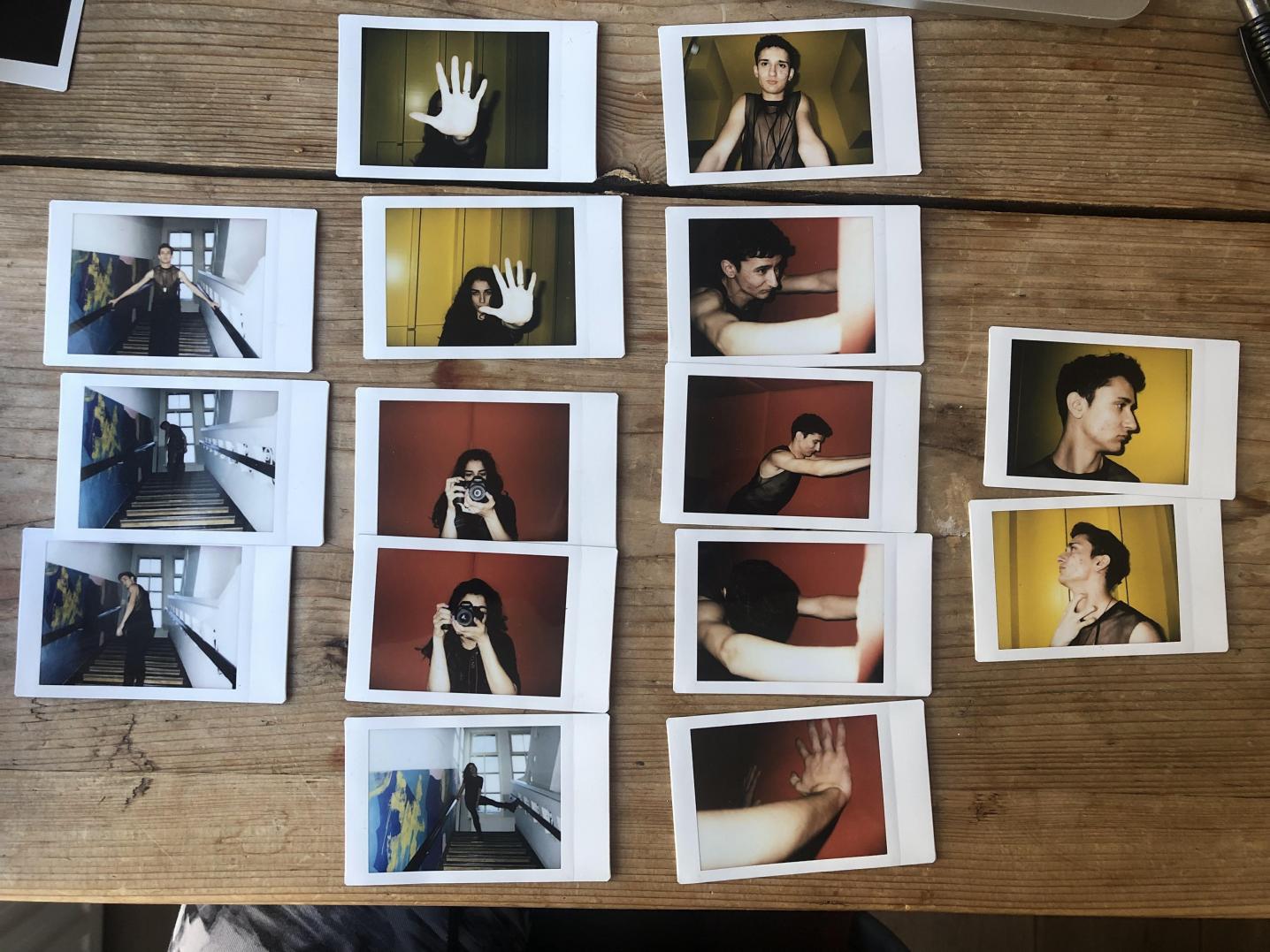 Message for policy makers
But this is not the end of it all. DEGASTEN are on a mission to create more visibility of the topics and issues that occupy young people's minds nowadays and how their lives and futures are affected by cultural and health care policy regionally, nationwide and even internationally. Moreover, the publication shows policymakers the artistic aspirations of the new generation. Thus, the theatre company decided to print a limited edition of eighty copies. Jansen is happy with the result: "It turned out to be an unavoidable object, because of its size and material. It doesn't fit on a bookshelf or in a drawer. It must be unfolded, laid out and touched all over to fully experience it."
They would like to offer the copies in a rather symbolic way. "With each copy, we hand over we give a second one for the recipient to pass to another party of individual who should get this message and maybe could make a difference," says Esajas. "We are aiming for the highest range of officers and policymakers and thinking about offering copies to public advocates for youth and directors of youth institutions and refugee centres, but also city councillors of health and culture, and other influential people in politics."
Jansen underlines the importance of a profound dialogue between young artists and policymakers, which starts with formulating questions: "Not all questions should be immediately responded with definite answers or a policy paper. Sometimes it's better to react with another question."
Media
Image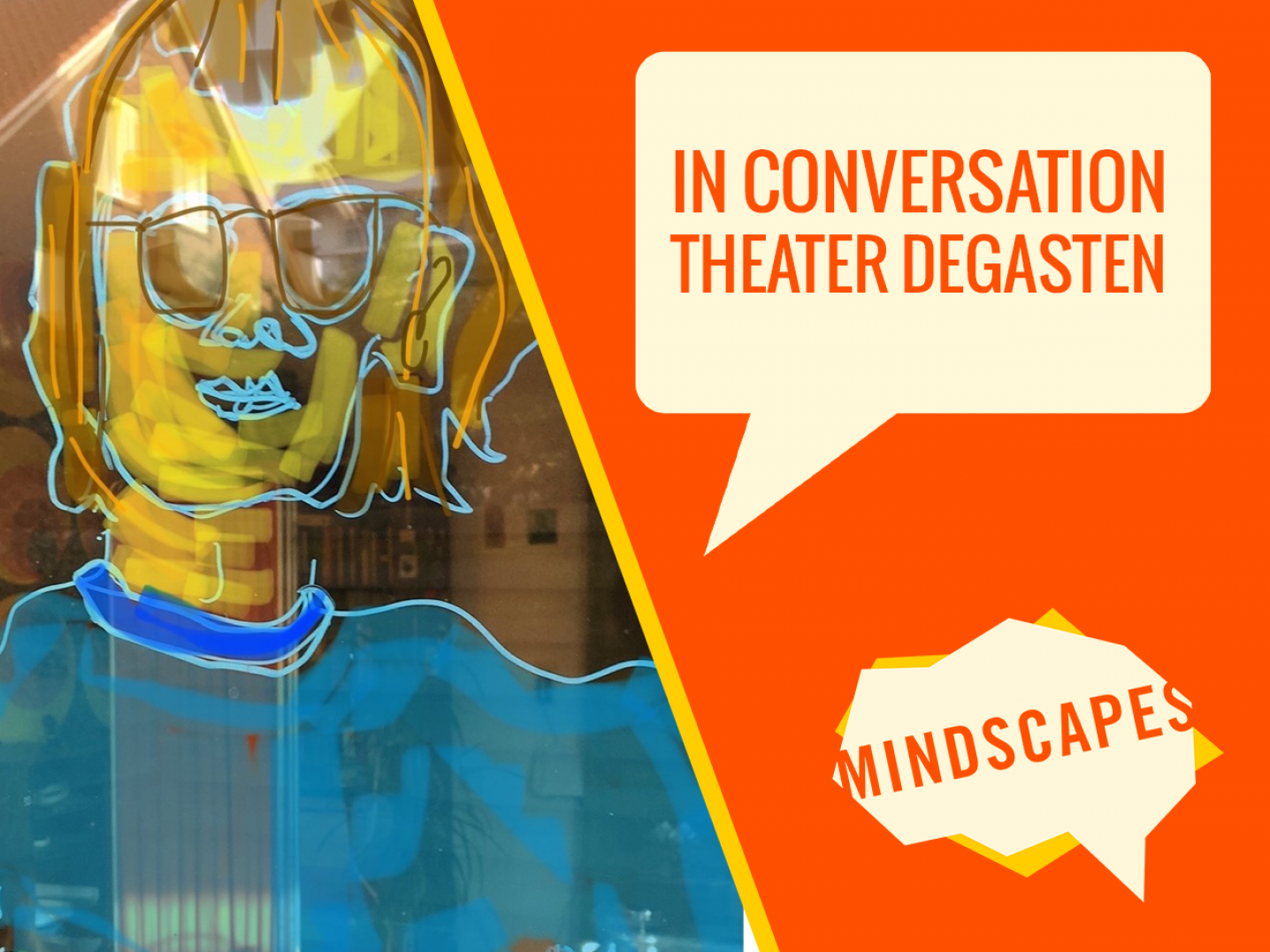 MINDSCAPES Artists in Conversation
All commissioned artworks by MINDSCAPES can be seen online or in the city of Manchester until 16 May 2021. The OUTSIDEINSIDEOUT zine will stay online after the festival. The online artist talk with co-creative leads Aike Jansen, Madelon van Riel and Rutger Esajas, workshop facilitator, writer and performer Basak Layic, artist Raul Balai and participants Sam and Yusuf will soon be available.
The festival has been commissioned by SICK! Festival in Manchester and funded by DutchCulture in partnership with the Dutch Embassy in the UK. It is the result of a two-year collaboration between arts organisations and artists in Manchester and The Netherlands who have been working together and within local Manchester communities. Check out the complete overview of Dutch cultural activities in the United Kingdom in our database.
If you are a cultural professional who wants to go to the United Kingdom, feel free to contact our Focal Countries Desk.